Day and weekend trips for history buffs, shoppers and foodies
Whether you enjoy art and culture, bargain hunting or craft-brewery tours, check out our itineraries for day and weekend trips in New York State
By Jennifer M. Wood Thu Jan 30 2014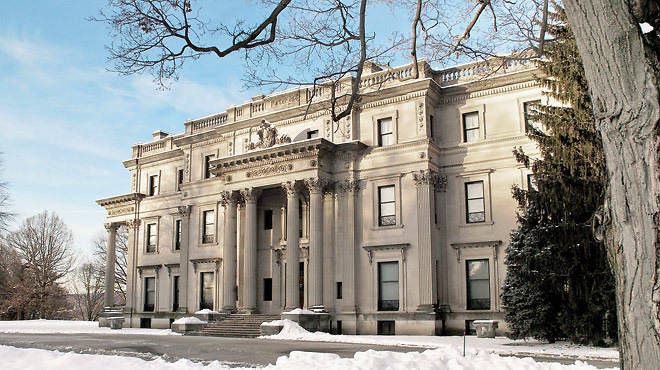 Vanderbilt Mansion

Explore New York State with our diverse ideas for day and weekend trips from NYC. See how the other half lived in the early 20th century on Long Island's Gold Coast, visit historic homes or take in some world-class art at Dia:Beacon. If that all sounds too highbrow, shop for designer bargains or sample local beer.

RECOMMENDED: See all day trip ideas
See how the Vanderbilts and Roosevelts lived
2 hours from NYC by car
Three National Historic Sites can be found in Hyde Park. First there's Vanderbilt Mansion (119 Vanderbilt Park Rd; 845-229-7770; nps.gov/vama; tours daily 9am–5pm; $8), the Gilded Age residence that hosted some of society's most famous A-listers, including former owner Frederick Vanderbilt and his wife, Louise, who insisted that her bedroom be designed in the style of Marie Antoinette's Versailles digs. Nearby is Springwood, the home of Franklin D. Roosevelt (4097 Albany Post Rd; 845-229-5320; nps.gov/hofr; tours daily 9am–5pm; $14). The 300-acre site is the birthplace and lifelong abode of the legendary four-term president, who created the world's first man-cave in 1938 when he built the Dutch Colonial–style Top Cottage to get some solitude at home. For more Roosevelt history, Val-Kill (54 Valkill Park Rd; 845-229-9422; nps.gov/elro; tours Mon, Thu–Sun 1, 3pm; $8), Eleanor's treasured cottage, is the only National Historic Site dedicated to a President's better half.
A "haunted" mansion and Hopper's house
45 minutes from NYC by car
A study in Gothic Revival architecture, Lyndhurst (635 South Broadway, Tarrytown, NY; 914-631-4481, lyndhurst.org; tours Fri–Sun 10am–3pm; $12)—a.k.a. the Jay Gould estate—was twice designed by architect Alexander Jackson Davis, first in 1838 for former New York City mayor William Paulding Jr. The second time was in 1864, when new owner George Merritt asked Davis to double its size. But this castlelike home has got some pop-culture cred, too: It starred as Collinwood, home to Barnabas the vampire, in the 1970 film House of Dark Shadows. A 15-minute drive away across the Hudson, Edward Hopper House (82 North Broadway, Nyack, NY; 845-358-0774, edwardhopperhouse.org; Thu–Sun 1–5pm; $5), the artist's childhood home, includes a gallery of Hopper's original works and memorabilia. It also shows work from emerging artists and hosts events and workshops.
Long Island's literary landmark and Gold Coast Mansions
1 hour from NYC by car
Each year more than 16,500 people make the pilgrimage to a small Long Island farmhouse. Walt Whitman's Birthplace (246 Old Walt Whitman Rd, West Hills, NY; 631-427-5240, waltwhitman.org; Wed–Fri 11am–4pm; Sat, Sun 11am–5pm; $6) contains original 19th-century furnishings and some of Whitman's manuscripts. The area's Gold Coast—which runs from Great Neck to Huntington—is a far fancier affair. A handful of the opulent dwellings built during the first three decades of the 20th century in the former high-society hub still stand. Now a full-fledged cultural center and planetarium, the Vanderbilt Museum (180 Little Neck Rd, Centerport, NY; 631-854-5579, vanderbiltmuseum.org; Tue, Sat, Sun noon–4pm; $7) is the 24-room private home of William K. Vanderbilt II, formerly known as Eagle's Nest. And the magnificent estate that Charles Foster Kane called Xanadu in Citizen Kane can be your home (for the night, $395–$1,095): The 1919 Oheka Castle (135 West Gate Dr, Huntington, NY; 631-659-1400, oheka.com) is the country's second-largest private residence, constructed on a 443-acre plot atop the highest point of Cold Spring Harbor. Tours of the estate's public areas and gardens (designed by the Olmsted Brothers) are available by appointment ($25).
---
Here are the ten New York experiences you simply can't miss.
Don't fret, penny-pincher—each of these fun cheap date ideas will cost you $30 or less.
Tired of swamped tourist traps, huh? Check out these alternative things to do in New York.
Find more popular Things to Do features