Day and weekend trips for history buffs, shoppers and foodies
Whether you enjoy art and culture, bargain hunting or craft-brewery tours, check out our itineraries for day and weekend trips in New York State
By Jennifer M. Wood Thu Jan 30 2014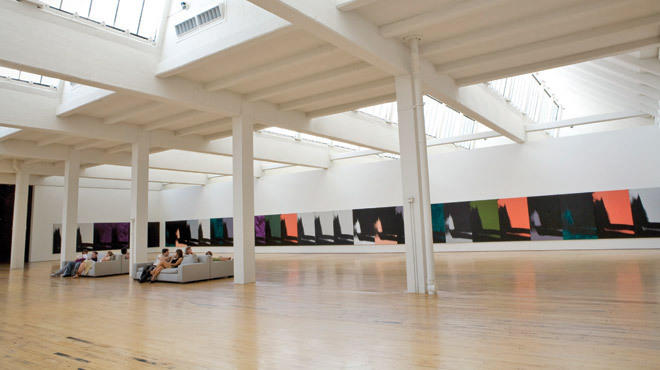 DIA Beacon Photograph: Michael Kirby
For baseball fans
4 hours from NYC by car
A dream destination for devotees of America's favorite pastime, Cooperstown is best known for its famous hall of rawhide ephemera, old pine-tar-stained lumber and October memories. But there is more than Major League history to be found at this single-stoplight village (population 2,000) on the shores of Otsego Lake. Settled by 19th-century novelist James Fenimore Cooper, the area's wooded hills indeed look like something straight out of the Leatherstocking Tales. The National Baseball Hall of Fame and Museum (25 Main St; 888-425-5633, baseballhall.org; daily 9am–5pm; $19.50) draws approximately 300,000 visitors a year. The actual hall is exactly what it claims to be: a corridor full of plaques. So the museum is the real diamond here. A timeline—beginning with Abner Doubleday's first layout of the game in 1839—provides some context for the goods. You'll see everything from Babe Ruth's actual locker, to hate mail sent to Jackie Robinson in 1951, and the glove worn by Willie Mays when he made his 1954 World Series basket catch.
Though all this baseball may leave you wanting nothing more than a hot dog, treat yourself to an intimate dinner at Alex & Ika (149 Main St; 607-547-4070, alexandika.com), where chef Alex Webster and hostess Ika Fognell provide an international twist to your weekend of Americana, with creative dishes like tandoori roasted lamb spareribs ($14) and star-anise roasted duck ($24).
Where to stay: The four-poster beds, afternoon tea and smoldering fireplace at The Inn at Cooperstown (16 Chestnut St; 607-547-5756, innatcooperstown.com; $110–$485) form a cozy backdrop for the seemingly endless array of board games.
For an art-cation
80 minutes from NYC by train
You can easily spend a whole day exploring Dia:Beacon (3 Beekman Sts, Beacon, NY; 845-440-0100, diaart.org; Mon, Fri–Sun 11am–4pm; $12), the Dia Art Foundation's extensive, topflight art collection. In the hangarlike former Nabisco factory, you'll see large-scale works dating from the 1960s to the present by the likes of Louise Bourgeois and Richard Serra—namely his fantastical quartet of towering rolled-steel sculptures, Torqued Ellipses.
Stroll past galleries and antique shops on Beacon's quaint Main Street and grab a bite at The Hop (458 Main St; 845-440-8676, thehopbeacon.com), an unpretentious bistro that serves craft beer and artisanal small plates, such as pork rillettes ($11) and a vegan Reuben ($14).
Where to stay: The artist-run Mount Beacon B&B (829 Wolcott Ave; 845-831-0737, mtbeaconbedandbreakfast.com; $170–$220 per night) is set in a 1911 Colonial Revival home.
---
Here are the ten New York experiences you simply can't miss.
Don't fret, penny-pincher—each of these fun cheap date ideas will cost you $30 or less.
Tired of swamped tourist traps, huh? Check out these alternative things to do in New York.
Find more popular Things to Do features