Day and weekend trips for history buffs, shoppers and foodies
Whether you enjoy art and culture, bargain hunting or craft-brewery tours, check out our itineraries for day and weekend trips in New York State
By Jennifer M. Wood Thu Jan 30 2014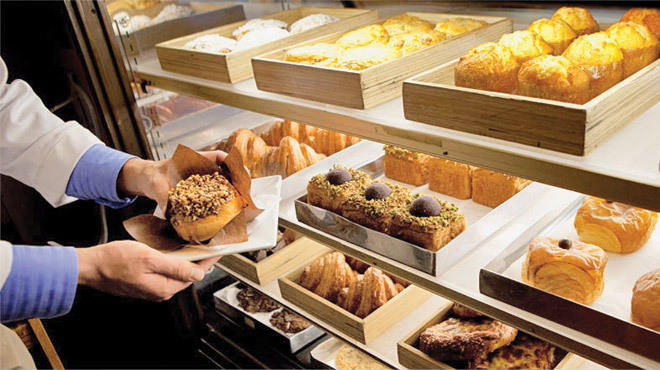 Apple Pie Bakery Cafe
Gourmet Destinations
At Anthony Bourdain's alma mater, the Culinary Institute of America (1946 Campus Dr, Hyde Park, NY; 845-452-9600, ciachef.edu), students sharpen their skills in five on-campus restaurants, including the regionally focused American Bounty and the super-sweet Apple Pie Bakery Café. Sustainability-minded foodies should make a pilgrimage to chef Dan Barber's award-winning Blue Hill at Stone Barns (630 Bedford Rd, Pocantico Hills, NY; 914-366-9600, bluehillfarm.com; Wed–Sat 5–10pm, Sun 1–10pm). At the country sibling of Barber's NYC eatery, many of the ingredients on the menu are sourced from the surrounding 80-acre farm.
Distilleries
Taste the difference potatoes make at the sampling room of LiV Vodka (2182 Sound Ave, Baiting Hollow, NY; 631-630-9322, lispirits.com), Long Island's sole vodka distillery, where small batches are crafted exclusively from homegrown L.I. taters. Mere steps from the field that hosted Woodstock, the Catskill Distilling Company (2037 State Route 17B, Bethel, NY; 845-583-8569, catskilldistillingcompany.com) mixes traditional methods with state-of-the-art technology to concoct fun spirits like Wicked White whiskey and Most Righteous bourbon, which can be sampled, along with live music, in the tasting room. "One batch at a time" is the motto of John Curtin and Matthew Jager, owners of Albany Distilling Company (78 Montgomery St, Albany, NY; 518-621-7191, albanydistilling.com); the duo offer twice-a-week tours of their whiskey- and rum-making facilities.
Wineries
Tour the country's oldest winery— at Brotherhood Winery (100 Brotherhood Plaza Dr, Washingtonville, NY; 845-496-3661, brotherhood-winery.com) you can amble through an enormous network of underground cellars to see where the vintners produce top-notch riesling, pinot noir, burgundy and other wines. Listed on the National Register of Historic Places, the Winery at St. George (1715 E Main St, Mohegan Lake, NY; 914-455-4272, thewineryatstgeorge.com) is housed in a historic church and produces limited-edition, locally grown wines; it also offers a host of classes that will help you fine-tune your palate. Millbrook Vineyards & Winery(26 Wing Rd, Millbrook, NY; 800-662-9463, millbrookwine.com) cultivates Hudson Valley chardonnay, pinot noir and more on its 130-acre estate. Get a taste of six wines and Villa Pillo olive oil, plus a commemorative glass, with the Portfolio Sampler ($10).
Craft breweries
Nestled in the foothills of the Adirondacks, the Saranac Lake Brewery (830 Varick St, Utica, NY; 315-732-0022, saranac.com) has been perfecting the art of regional beer-making since 1888. Get in on the secret with an aromatic tour of the brewery (Fri, Sat 1, 3pm ) and a tasting in the 1888 Tavern. Set in a Belgian-style farmhouse, Brewery Ommegang (656 County Hwy 33, Cooperstown, NY; 607-544-1800, ommegang.com) makes five award-winning Belgian ales ranging from the light and citrusy Witte to the unusually strong and chocolaty Three Philosophers. At Captain Lawrence Brewing Company (444 Saw Mill River Rd, Elmsford, NY; 914-741-2337, captainlawrencebrewing.com), get two free three-ounce pours of each of six tap offerings in the small tasting room.
Set off on a beer and wine crawl
Quench your thirst from the Hudson Valley to the Berkshire Mountains on the Hudson-Berkshire Beverage Trail (hudsonberkshireexperience.com), a unique conglomeration of award-winning beverage producers including Brookview Station Winery (1297 Brookview Station Rd, Castleton, NY; 518-732-7317, brookviewstationwinery.com), a near-century-old family farm that produces award-winning wines from its own fruit; Harvest Spirits (Golden Harvest Farm, 3074 US Rte 9, Valatie, NY; harvestspirits.com), producers of the Hudson Valley apple-distilled Core vodka; Chatham Brewing (30 Main St, suite 2, Chatham, NY; 518-697-0202, chathambrewing.com), which nanobrews innovative batches of beer weekly; and Hudson-Chatham Winery (1900 Rte 66, Ghent, NY; 518-392-9463, hudson-chathamwinery.com), a renovated dairy farm turned winery that also offers an enormous selection of Hudson Valley cheeses.
---
Here are the ten New York experiences you simply can't miss.
Don't fret, penny-pincher—each of these fun cheap date ideas will cost you $30 or less.
Tired of swamped tourist traps, huh? Check out these alternative things to do in New York.
Find more popular Things to Do features