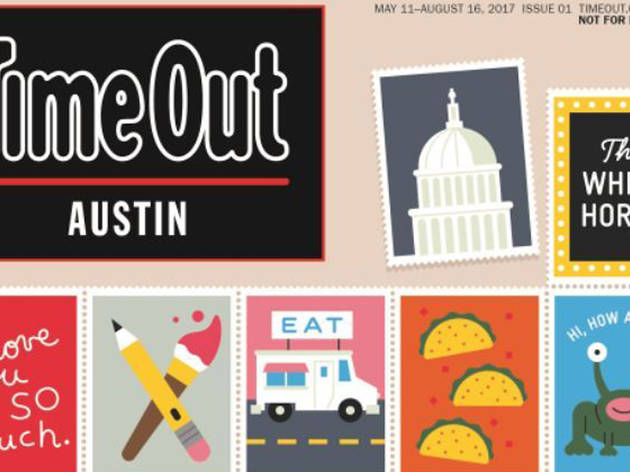 Time Out continues US expansion with launch of its first Austin magazine
Posted: Wednesday May 3 2017, 10:14am
Time Out Austin today announces the launch of its first magazine. The quarterly free print magazine will be out from May 11 and will cover the very best things to do in Austin for both locals and visitors to the city through early August.
Time Out, the leading global media and entertainment brand that enables and inspires people to make the most of a city, is present in 108 cities across 39 countries and has a global monthly audience reach of 156 million. Launching a magazine in Austin to complement its digital presence at timeout.com/austin and live events program is part of the brand's expansion in the US and its positioning as a national player.
The first edition of Time Out Austin comes on the heels of its sister titles' successful launch as free magazines. Time Out London went free in 2012, Time Out New York and Time Out Chicago in 2015, and Time Out Los Angeles and Time Out Miami followed last year as part of a wider group strategy which has seen the global brand taking a unique approach to print distribution. The aim is to further grow brand awareness, digital reach, audience and engagement. It also provides increasing value to advertisers who can connect through new creative opportunities across the brand's digital, mobile, social, print and live events platform—globally, nationally and locally.
With a circulation of 75,000 free copies, the Time Out Austin magazine will be available at local venues such as restaurants, bars, coffee shops, retailers, hotels and cultural institutions across the city. For additional reach, Time Out branded street teams will hand out free copies of the magazine directly to consumers in Downtown Austin and on South Congress.
At the heart of Time Out Austin magazine, readers will find inspirational and entertaining content previewing the best things to do in Austin, including the latest eating and drinking trends, best events, movies, concerts, theater and art. Readers can also expect unique features, including a highlight of Austin's best ice cream shops, a guide to the city's trendiest neighborhoods and an inside look at Austin's up-and-coming female DJ crews.
"Time Out is about inspiring people to discover, book and share what the world's cities have to offer and we are thrilled to launch a free magazine in Austin—a truly unique and thriving city that has taken a deserved place on the world stage. We are constantly expanding our national footprint across the US where we continue to see strong growth" said Christine Petersen, CEO of Time Out Digital. "Magazines are a fantastic marketing channel for us as it is simply unique to get such a highly-curated product packed with positive, inspirational content and great advertisement into the hands of millions of consumers. In fact, demand from advertisers has been strong and it is great to offer our partners who are increasingly seeking cross-platform solutions new opportunities to connect with our huge, global audience."
Erin Kuschner, Editor of Time Out Austin, said: "Time Out is dedicated to discovering and championing the best of the city and we are incredibly excited to launch our first Time Out Austin magazine, bringing our unique voice and insider knowledge to life in print for the very first time in May. Austin is a perfect fit for Time Out—a city robust in its cultural offerings with an ever-changing food, drink, music and theater scene. We're delighted to bring our hyper-local know-how and unique, curated content to Austin digitally and now also in print to inspire and enable people to make the most of this city. We hope people will use our first issue as a trusted guide to come back to time and time again this summer as we share the best events to check out, talented Austinites to know, favorite restaurants and bars to visit and more."