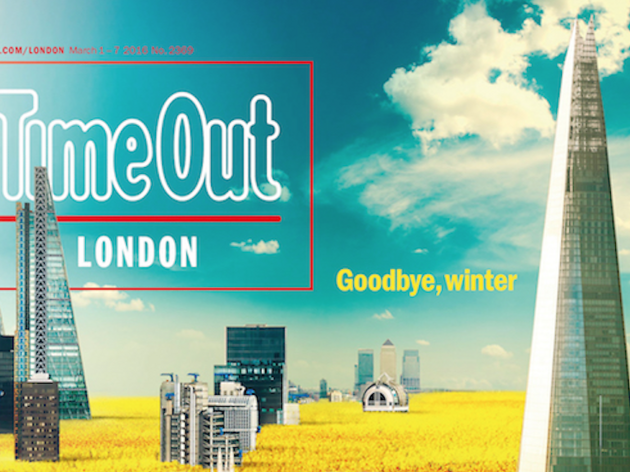 Time Out Reveals New Look Magazines in London and New York
Posted: Tuesday March 1 2016, 10:01am
Time Out Group, the trusted global brand for inspiring and enabling people to make the best of their city, today revealed a new design for its London and New York magazines. The new look free magazines will be available in the world's two leading cultural capitals on Tuesday March 1 in London and Wednesday March 2 in New York City.
In London, Time Out leads the freemium market, with the greatest market share. The new layout aims to create a cleaner layout for the magazine, with a punchy, graphic feel, and a distinct partnership between immediate, browsable content, and longer and richer stories.
Time Out's London and New York magazines now have the same look and feel, and align with its digital platforms across mobile, web and social channels, reflecting the way audiences now move seamlessly between print and digital.
The new design includes a simple, more vibrant colour palette and a new poster feel to help readers discover the best cultural events and stories in the city by underlining the identity of Time Out specialist channels in Film, Music, Theatre, Eating and Drinking. The new design is the first major change since the London magazine adopted a free distribution model in 2012.
Other new features and changes in the new look Time Out magazine include:
· A new agony aunt/uncle page – London's Problems – where each week a different comedian tackles the city's issues. This week's features Shazia Mirza dealing with Londoners' filthy kitchens, leg-shaving issues and how to impress their bosses
· More hyperlocal content, reflecting the way that the city and its newest culture is happening on a hyperlocal level
· A distinct partnership between immediate, browsable content and in-depth stories
· A new dedicated drinking section, focused on emerging trends and the city's best and newest bars
· A new themed lifestyle section, with ranges beyond core Time Out coverage of going out in London, with specials on property, travel, homes, kids, shopping and style. This replaces the shopping and style section
Caroline McGinn, Editor in Chief, Time Out UK, and Art Director Mark Neil led the redesign process for both London and New York magazines, supported by Time Out New York Editor Carla Sosenko and Creative Director Tom Hislop.
Caroline McGinn said, "Our audience tells us that they're drowning in information, much of which is manipulative clickbait, irrelevant, or junk. They trust us to help them find something genuinely excellent. That's been Time Out's aspiration since it was founded in London in 1968. Time Out is independent and trusted. Its new look reflects our confidence right now, and the desires of our energetic, active, curious audience, who want to be surprised and delighted by the culture of the cities that most of the world now lives in."
Mark Neil said, "For this redesign, we wanted to make it quicker and easier for readers to find the content they want, and I was particularly keen to inject a visual personality that mirrors the humour and confidence of Time Out's tone of voice. The graphic use of colour is key to the new look, with pictures and text creating a poster-like identity for highlighted content in print, on site and across our social media channels."
The reveal of the new magazine design comes a week after Time Out Group unveiled its refreshed visual identity and branding to support its strategy of discovery and enablement, reflected in the introduction of the strapline Discover|Book|Share. Time Out now operates in 107 cities and 39 countries, with a total monthly audience reach of over 100 million across its global platforms.
The new brand identity has been simplified to be more flexible in digital, print and physical channels, and is reflected on the first front pages of the new magazines.
The new rebrand includes new treatments for Time Out's global digital channels, new city-specific logos and for social channels, as well as the business's own corporate communication and advertising.