The best Austin gay bars and LGBTQ nights
Whether you're looking for friends or a hookup, the best Austin gay bars and LGBTQ nights are prime for dancing and drinking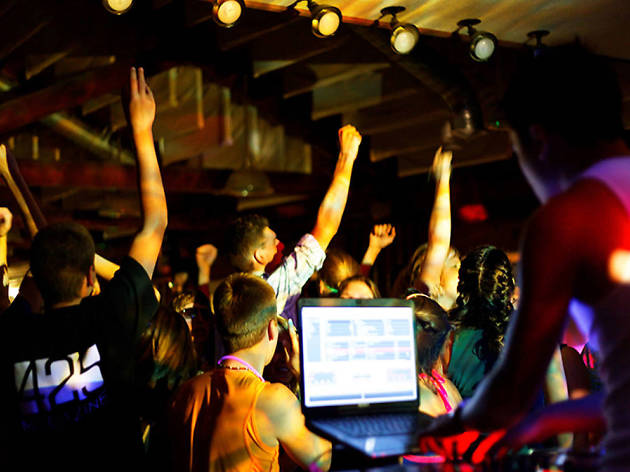 Though Austin's gay scene may not be as sizeable as those in NYC or Miami, the LGBTQ community is a proud presence in our city, with a handful of lively gay bars and LGBTQ nights to prove it. True, there's plenty else to do in town—we're home to some of the best live music venues in the country, and the best dance clubs in Austin are all guaranteed to leave you sweaty and breathless. If you're looking for a dive bar, we've got plenty. But you'll always have a memorable night (or day!) out within Austin's small but mighty LGBTQ bar scene. Whether you're looking for a night working it out on the dance floor, a spectacular drag extravaganza or a chill place to get some drinks with friends, we've got you covered.
Best LGBTQ nights
LGBT
Swedish Hill Historic District
Local drag heroes host regular shows at Elysium including the Hail Yasss party pitting drag queens against each other through the music of two classic divas. The party also includes Die Felicia screenings of throwback horror films with drag accompaniment. Every third Thursday and various other dates. $5 to $10 cover.
Night Tropics is a monthly dance night featuring local artists like DJ Mouthfeel spinning dark dance at an eastside dive bar. This spot is a bit off the beaten path—make it your own before everyone else finds out. Held every third Thursday. No cover.
Drag Queen Chique Fil-Atio recently relocated this monthly variety show to Carousel Lounge after it outgrew its original home at the Austin Toy Museum. Head up north to see comedians, queens and performance artists moving to the beats of DJ Isabella Von Black. Proceeds go to Hops For Heroes college funds. Third weekend of every month; $5 cover.
The first Monday of every month, Barrel O' Fun hosts Queer Film Theory 101 to educate while you drink. Three local guests share films and clips that influenced their queer identity. Have you ever noticed how Batman Forever is a queer narrative? Oy, they'll tell you all about it! No cover.
Austin's top rooftop bars
Spend your night looking out over the city with a cocktail in hand.