12 New Year's resolutions every Austinite should make
New year, new you—especially if you make (and keep!) these 12, oh-so-Austin New Year's resolutions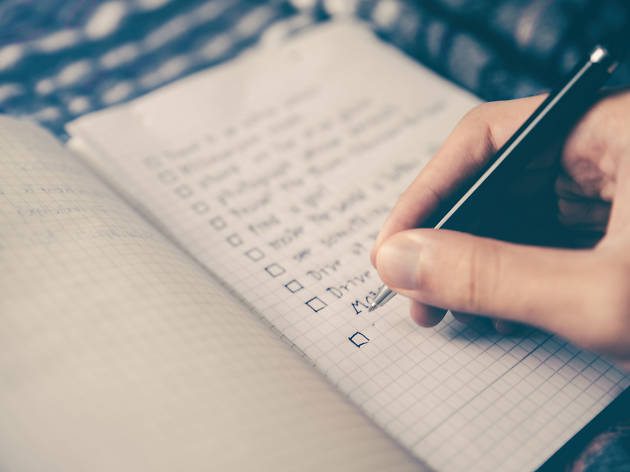 We all want to be better versions of ourselves, and what better time to begin that journey to love, enlightenment or skinny jeans than January 1? In Austin, we're surrounded by others who also desire balance and quality in their lives and a city that meets and exceeds our demands. Might we suggest these 12 New Year's resolutions that will assist us on our path to balance? Now, let's all say it together: "2018 will be the year I get my shit together." (Well, at least until March.)
12 Austin New Year's resolutions
Pump the brakes on your Favor habit
It's easy to just hit a few buttons and watch a turquoise t-shirt clad person show up and hand you a lukewarm bag of goodness. But instant gratification is expensive, y'all.
Bring the drinking down a notch—or six
Yeah, so we like to party. Spending three nights a week at our plethora of dive bars is good for the soul, but bad for the liver. Maybe try a juice cleanse instead?
Give back to Austin's animal community
Support your local bookstore
Buy books and actually read them instead of just collecting and stacking those babies—ahem, you know who you are. BookPeople is a great place to start. The shelves are full of book recommendations handwritten by employees and you'll get the yasss-i'm-shopping-local feels.
Choose healthy over heavy
Make time for your parents
Call them up—or better yet, take them to dinner at 'rent-friendly Jack Allen's Kitchen, Moonshine Grill or Matt's El Rancho. Pro tip: If they're paying, order top shelf margs.
Check out CRAFT, the Eastside DIY crafting studio where you can either walk in during business hours—with access to all of their art/craft supplies for $10 an hour—or attend (or, optionally, host) a crafting workshop.
Now that you've cut back on your Favor orders, it's time to learn how to cook—or at least upgrade your current skill set. Sign up for classes with Kitchen Underground and learn to bake bread, make sage ravioli with browned butter and gumbo yaya with fun and quirky chef Maggie Perkins. Bonus: all classes are BYOB!
Be more focused and present
Learn to meditate: benefits include reduced stress and anxiety, a longer attention span, improved sleep and blood pressure. Check out Meditation Bar for casual mediation or Austin Zen Center, Kadampa Meditation Center and Diamond Way Buddhist Center for Buddhism-based meditation.
More to explore