Heads up! We're working hard to be accurate – but these are unusual times, so please always check before heading out.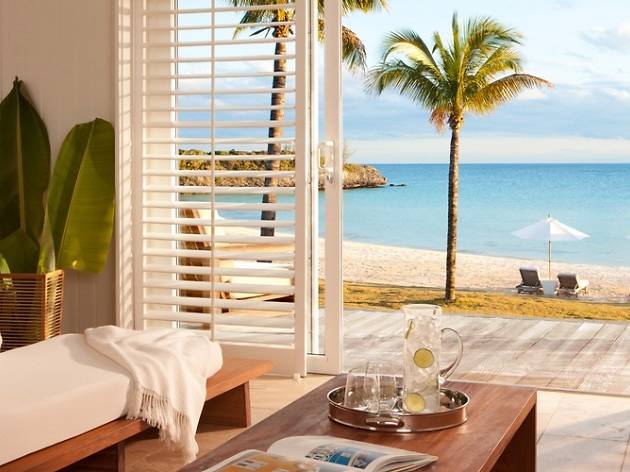 The best hotels in the Bahamas
Whether you prefer a lavish resort or quiet boutique stay, you'll be waking up in paradise at these top Bahamas hotels
There are so many things to do in the Bahamas—and what you discover all depends on which island and hotel you check into. From nature preserves with unbelievably crystal clear water and sandbar beaches to megaresorts with every amenity under the sun, there's a Bahamian experience calling your name.
For peaceful tranquility without another soul in sight, look to the Abacos and Eleuthera in the Out Islands where offshore pleasures mean days spent sailing, fishing, snorkeling and island hopping. For lavish resorts, check into the new Baha Mar on Nassau or the classic Atlantis on Paradise Island, where you'll find everything from a nightclub designed by Lenny Kravitz to a five story waterslide submerged in a shark tank (no joke!).
Ancient fishing yarns await in Bimini, swimming pigs and pink sand beaches in the Exumas and a private island with an oversea spa in Andros. No matter what you choose, chances are the gentle sea breeze, big, beautiful sky and pale blue waters swishing this way and that will lull you into a deep state of sublime relaxation… and you won't want to leave, because it really is better in the Bahamas. Here are the top hotels across every island.
Best hotels in the Bahamas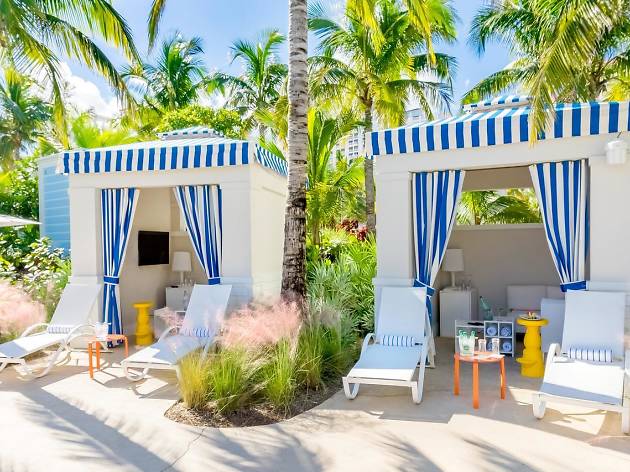 Photograph: Courtesy Booking.com
Three resorts are rolled into one at this mega-complex on Nassau boasting multiple swimming pools, restaurants by celebrity chefs and a late-night club designed by Lenny Kravitz
Nassau's long awaited $4.2 billion Baha Mar megaresort complex opened in Spring 2017 on 1,000 beachfront acres of Goodman Bay. It's composed of 2,300 rooms spread across three hotel brands: SLS, Grand Hyatt and Rosewood. As you might expect, the sprawling property is flush with amenities including the Caribbean's largest casino at 100,000 square-feet, an 18-hole Jack Nicklaus Signature Golf Course, 40 restaurants (yes, 40!), 11 swimming pools and an Espa Spa. While the scale might be mind-boggling, there are plenty of hideaways that make the experience feel more intimate. Stick with SLS when it comes to stylish dining destinations, like Katsuya for Chef Uechi's take on the classic Bahamian conch salad alongside his world-famous sushi preparations. For late night revelry, Bond nightclub opened on the property in January with interiors by Lenny Kravitz's design firm.
Time Out tip: Slip into SLS's Privilege Pool on Fridays and Saturdays for a raucous, DJ-fueled pool party atmosphere reminiscent of Vegas or Miami.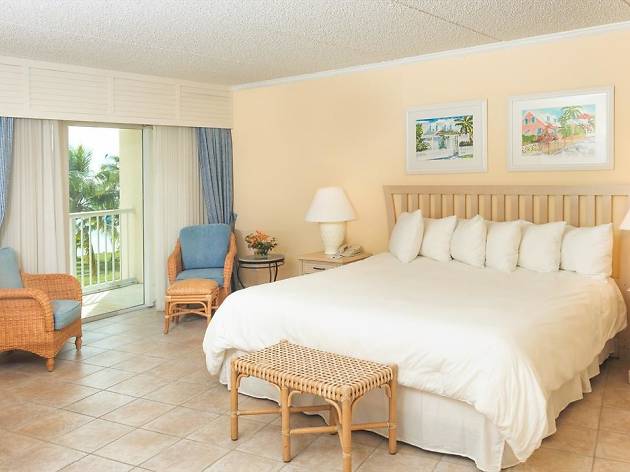 Photograph: Courtesy Booking.com
2. Abaco Beach Resort (Abacos)
A boater's paradise awaits overlooking the Sea of Abaco at this tranquil hideaway with a 198-slip marina
There's a single stop light on Great Abaco Island and locals will tell you it's one light too many. This is what your castaway Bahamas dreams are made of: secluded sandbar beaches, unbelievably crystal clear water and island hopping to open air tree house bars serving deceptively strong Goombay Smashes. Abaco Beach Club is the perfect embarkation point for all your Out Islands explorations. It's situated on Marsh Harbour at a point that juts into the Sea of Abaco, an archipelago of 100 tiny barrier islands that await exploration. Rooms might be no frills, but they're clean and plenty comfortable. The resort also boasts a lovely beach, two swimming pools and a restaurant. Anyway, you're here to discover what lies beyond their 198-slip marina: Elbow Cay, Tahiti Beach, Great Guana Cay and lots of clear blue water.
Time Out tip: If you're not an experienced boater, charter a guide through the resort or island hop aboard convenient public ferry service.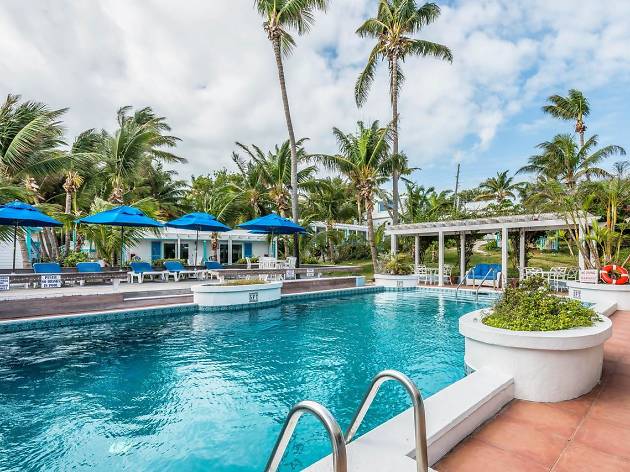 Photograph: Courtesy Booking.com
3. Hope Town Harbour Lodge (Abacos)
Check into a funky cottage overlooking Hope Town Harbour at this laidback destination in the Out Islands
For a truly local experience of the Abacos, check into the Hope Town Harbour Lodge, located on Elbow Cay and accessible by ferry from Marsh Harbour on Great Abaco. This tiny spit of sand is home to the Hope Town Lighthouse, colorful Bahamian cottages and laidback dining options. Hope Town Harbour Lodge is a funky little enclave positioned directly on the harbor composed of a main lodge, poolside cabanas and oceanfront cottages painted turquoise and white with big wooden patios offering plenty of space and privacy. The onsite restaurant has an air of tropical sophistication with white table cloths and cushioned wooden chairs, and specializing in classic dishes like surf and turf made with local lobster.
Time Out tip: If you're traveling with family or a large group, reserve the two-story Butterfly House, which sleeps six with a full kitchen and second story sun deck.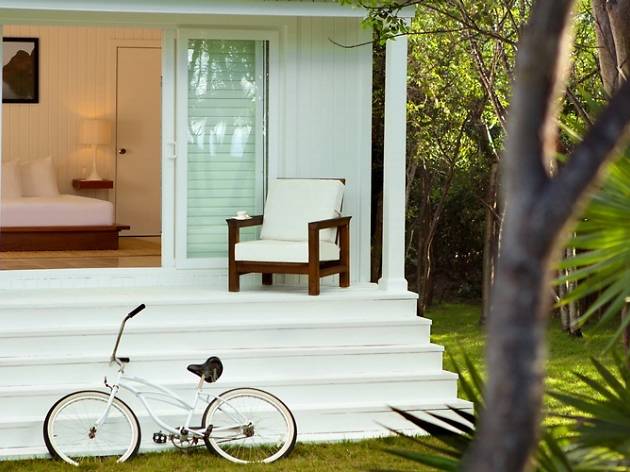 Photograph: Courtesy The Cove Eleuthera
Bathed in white linen and natural wood finishes, The Cove is a sublime and stylish slice of paradise in dreamy Eleuthera
If you're seeking sublime barefoot luxury with an edge of hipster cool, then look no further than The Cove. At only 57-rooms spread across seaside villas and cottages, the aesthetic is tropical modern with clean lines, vaulted ceilings, sliding glass walls and natural materials like polished wood, stone and linen. Nestled into a rocky bluff with a white sand beach on either side, the stress of the real world slips away when suspended from a crochet-fringed hammock or in the sleek infinity pool. You'll eat well, as the resort's restaurant and sushi bar committed to sustainable, organic locally sourced produce and seafood.
Time Out tip: Make Point Bar, carved into the bluff's edge for sublime sunset views alongside craft cocktails, a nightly ritual.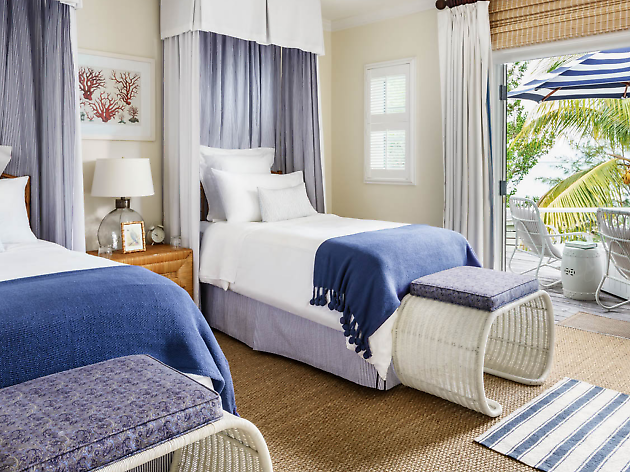 Photograph: Courtesy The Dunmore Eleuthera
5. The Dunmore (Eleuthera)
Retro beach club chic meets the pink sand beaches of secluded Harbour Island at The Dunmore for a stylish and idyllic Bahamian getaway
Situated on the pink sand shores of Harbour Island, a tiny barrier island accessible by ferry from the northern stretches of Eleuthera, The Dunmore is styled after retro beach clubs of bygone days. Think, free-standing cottages, striped umbrellas and cushioned lounge chairs, chic rattan furniture and subtle flourishes of mid-century glamor, all tucked into lush green landscaping at the foot of the turquoise sea. The Clubhouse restaurant is a modern ode to fine dining serving craveworthy dishes like lobster risotto and Thai red curry grouper. The island is an ideal launching point for sailing or fishing charters that the hotel's concierge can arrange.
Time Out tip: Save room for dessert! The banana fritters with rum caramel and homemade vanilla ice cream at the Clubhouse are on another level.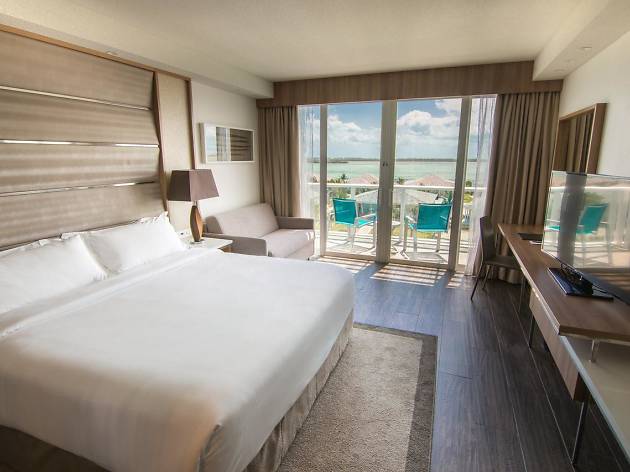 Photograph: Courtesy Booking.com
6. Resorts World Bimini Hilton (Bimini)
Once a beloved fishing destination of Hemingway's, Resorts World Bimini offers travelers a luxurious resort to explore this rustic, charming island
Bimini is the stuff of salty anglers' legends that date back to the 1930s when Hemingway spent his days reeling in giant tuna and his nights drinking heavily inside dark, cool bars—and provoking the occasional dockside brawl. Since 2013, the tiny 10-square-mile island, located just 50 miles due east of South Florida, has experienced a tourism boom with the development of Resorts World Bimini and their convenient and affordable ferry service from Miami. Anchored by a luxurious, newly built Hilton, the resort features a marina, multiple restaurants and swimming pools and a casino. These modern comforts are great, but it's the island's undeveloped, rustic charm just beyond the property line that's the real draw.
Time Out tip: Rent an electric golf cart from the concierge and tool around Alice Town's classic haunts: Edith's Pizza, Stuart's Conch Shack, A Taste of Heaven Bakery, Sand Bar and Browns Marina where Hemingway once docked his boat Pilar.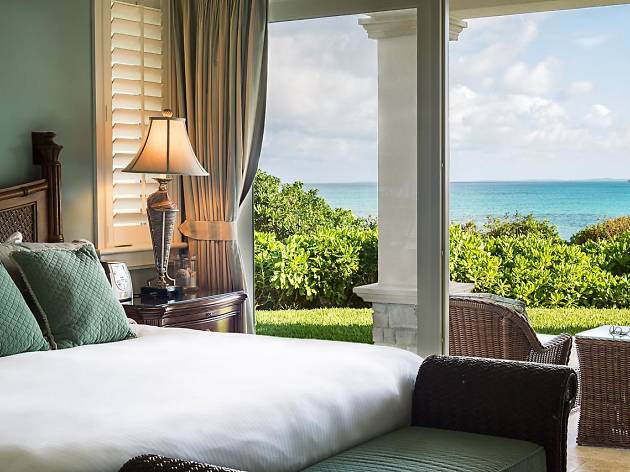 Photograph: Courtesy Booking.com
7. Grand Isle Resort (Exuma)
Discover the beauty of the Exumas at Grand Isle Resort with its luxe Victorian villas and pink sand beaches, where pigs swim!
So you've heard of a place in the Bahamas with pink sand beaches where pigs swim, right? Such a place does exist: it's the Exumas. Get to know it by checking into Grand Isle Resort on Great Exuma, situated on the idyllic crescent beach of Emerald Bay. The property boasts 78 villas ranging in size from one-bedroom to the four-bedroom grand penthouse designed in a classic, tropical Victorian style. Each allows for plenty of space and privacy. The resort also features a lagoon-style swimming pool, spa and restaurant. Oh, and they can hook you up with a tour to the island, complete with piggies.
Time Out tip: Guests also have access to the adjacent Emerald Reef Golf Club if an afternoon on the links is your thing.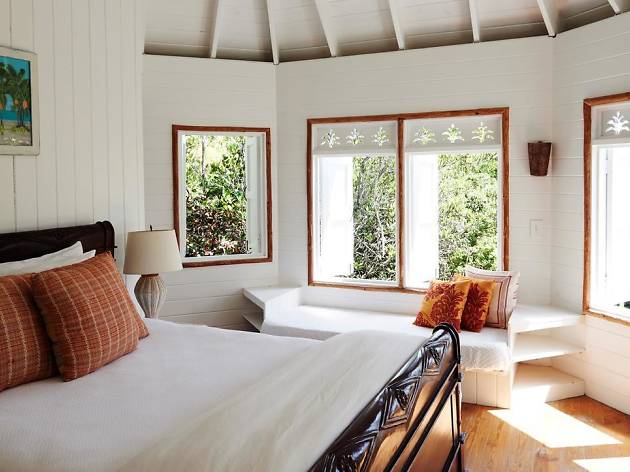 Photograph: Courtesy Booking.com
A private island in the Bahamas, Kamalame Bay is the stuff of barefoot luxury daydreams on white sand beaches with not another soul in sight
Situated on a 96-acre private island off the coast of Andros, Kamalame Cay is a family-owned resort composed of secluded beach houses spread throughout the island. This is the definition of barefoot luxury and getting away from it all. With accommodations ranging from chic marina-facing rooms to four bedroom villas that sleep up to 10 people, the resort accommodates no more than 70 people at a time. It's home to the only overwater spa in the Bahamas for an otherworldly experience that gently rocks you into deep relaxation. The island also boasts a marina and tennis courts.
Time Out tip: Opt for the all-inclusive "Guest of the House" rate, which includes unlimited meals, beverages, spirits and wine in addition to a continental breakfast basket waiting on your doorstep every morning.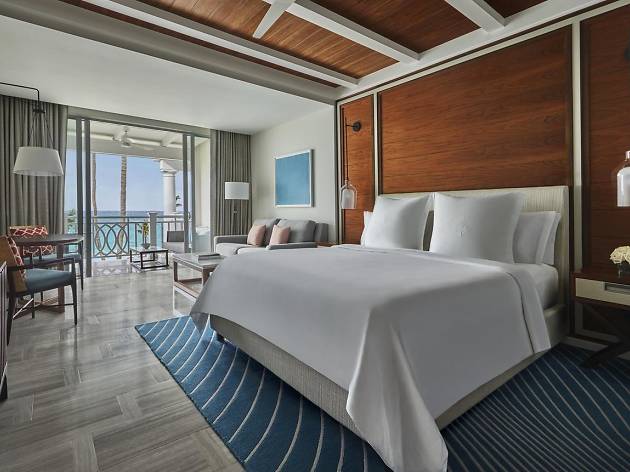 Photograph: Courtesy Booking.com
9. The Ocean Club, a Four Seasons Resort (Nassau)
The Ocean Club is a historic resort on Paradise Island with restaurant helmed by Jean-Georges and formal gardens worthy of Versailles
The historic Ocean Club on Paradise Island recently changed hands to become a Four Seasons Resort. Famous for its intimate cottages set amidst formal gardens inspired by Versailles, the property offers an air of European opulence intermingled with laidback Bahamian luxury. The property boasts three oceanfront swimming pools, a tranquil spa and five restaurants including Dune, helmed by acclaimed chef Jean-Georges Vongerichten. The resort also features tennis courts and a golf course to ensure every ounce of paradise is at your fingertips.
Time Out tip: Seek out the adults-only Versailles pool for a relaxing afternoon in the sun and views of the Versailles garden and cloisters.
Photograph: Courtesy Booking.com
10. Atlantis Paradise Island (Nassau)
A list of the Bahamas best hotels really isn't complete without a nod to Atlantis on Nassau's Paradise Island—the original Bahamas megaresort. Inspired by the lost city of Atlantis with novel amenities like a massive waterpark, immersive aquarium, casino and comedy club, you'll have to try hard to not have fun here. If all that sounds a little too Disney-ish, then consider booking a room at The Cove, a high-end, high-design enclave with a private pool that caters to adults. The beauty of Atlantis is the wide variety of accommodations available catering to a range of budgets, while offering a sprawling resort experience to all with multiple pools, restaurants, beaches and spa.
Time Out tip: There's a five-story water slide tube that sends you through a submerged lagoon surrounded by sharks. How cool is that?
Discover more of the Bahamas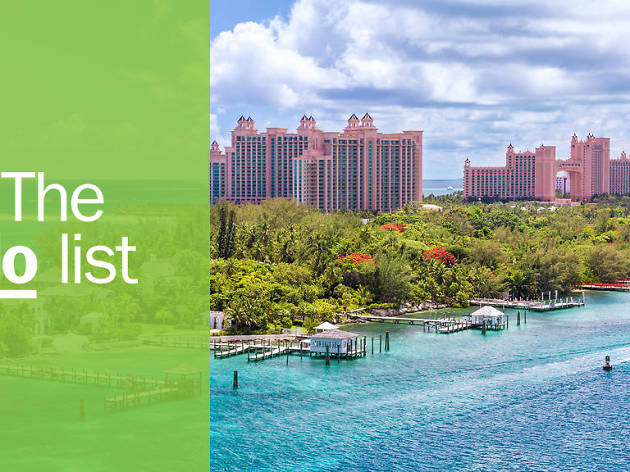 With 700 islands, countless outdoor adventures and grand resorts, there are plenty of great things to do in the Bahamas.