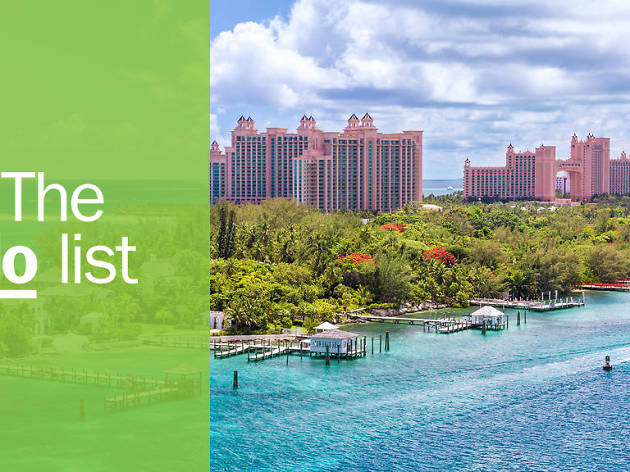 The 10 best things to do in the Bahamas
With 700 islands, countless outdoor adventures and grand resorts, there are plenty of great things to do in the Bahamas
Of the 700 islands that comprise the Bahamas, roughly 30 are inhabited. Still, there are countless cays and sandbars beyond that, all ripe for exploration. This is a "choose your own adventure" destination where the island you land on will inform the type of experience you have. Of course, the life aquatic is always on the horizon with the unbelievably crystal clear waters of the Caribbean Sea swirling to and fro across the shallow basin.
The Abacos and Out Islands are a boater's dream where you can spend an entire day island hopping. Go flats fishing in Andros, swim with pigs in Exuma, delight in conch plucked freshly from the sea in Bimini, sunset gaze with a craft cocktail in hand in Eleuthera. Wherever you are, it won't take long before you realize you've arrived in paradise. Read on for the very best things to do in the Bahamas.
Done something on this list and loved it? Share it with the hashtag #TimeOutDoList and tag @TimeOutEverywhere.
Find out more about how Time Out selects the very best things to do all over the world.
Best things to do in the Bahamas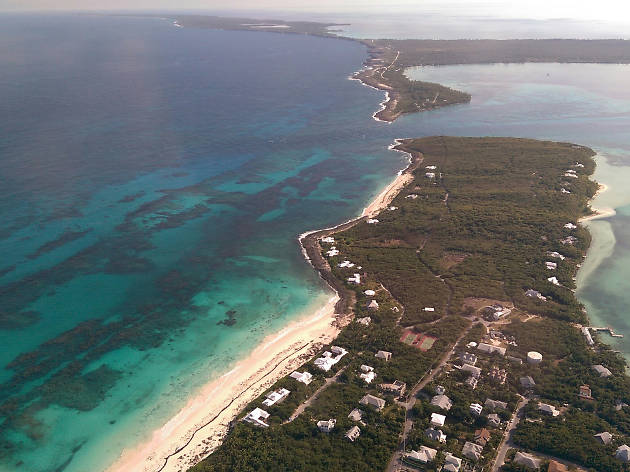 Photograph: Courtesy CC/Flickr/Daniel Piraino
What is it? A 100-island archipelago in the Bahamas' Out Islands, the Abacos are a boater's paradise.
Why go? Charter a boat and captain from Abaco Beach Resort's Boat Harbour Marina and spend the day island hopping across the impossibly clear, shallow waters of the Out Islands. Navigate from Marsh Harbour to Elbow Cay. From here, scale the Hopetown Lighthouse and cool off in the shallow waters of Tahiti Beach. Then, chart a course to Cracker P.'s Bar & Grill, a restaurant balancing on stilts on its own private island. Order smoked fish dip and marinated conch doused with the homemade hot sauce, which you can take home by the bottle. Finish the afternoon snorkeling from the beach at Great Guana Cay where a coral reef is just offshore.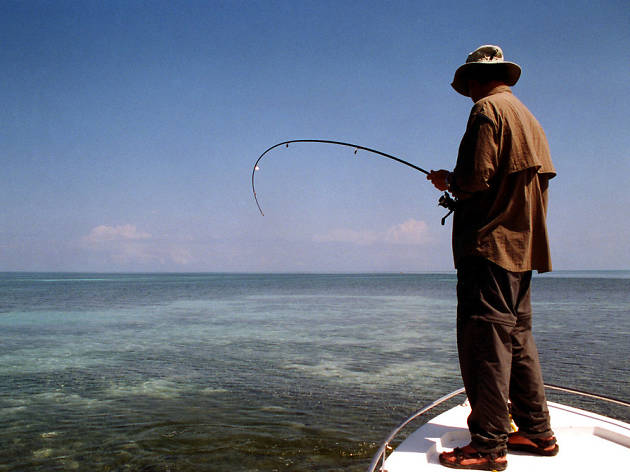 Photograph: Courtesy CC/Flickr/Anoldent
What is it? Andros is the Bahamas' largest island and more than half is comprised of West Side National Park, making it an eco-tourist's dream.
Why go? A fringing barrier reef, blue holes and a vibrant ecosystem for birding, Andros is also considered the "bonefishing capital of the world." Whether you're an avid angler or just want the experience of casting a line into crystal clear Bahamian waters, Andros is teeming with marine life. The shallow sand flats are where you'll find bonefish, and deep sea fishing along the famed Tongue of the Ocean deep water trench promises a bounty of giant tuna and mahi-mahi. Swain's Cay Lodge located in the center of Andros can tailor make the fishing charter of your dreams.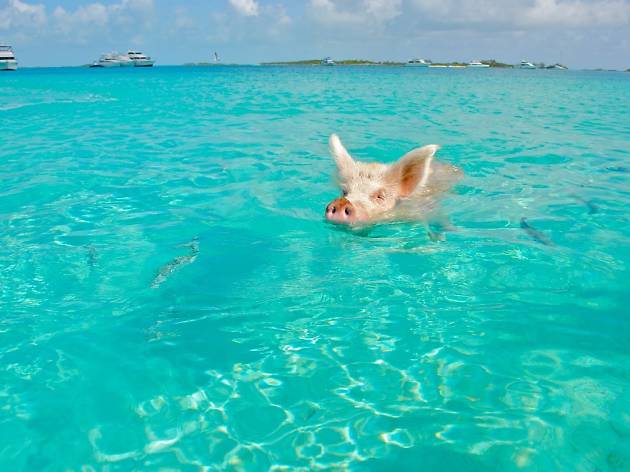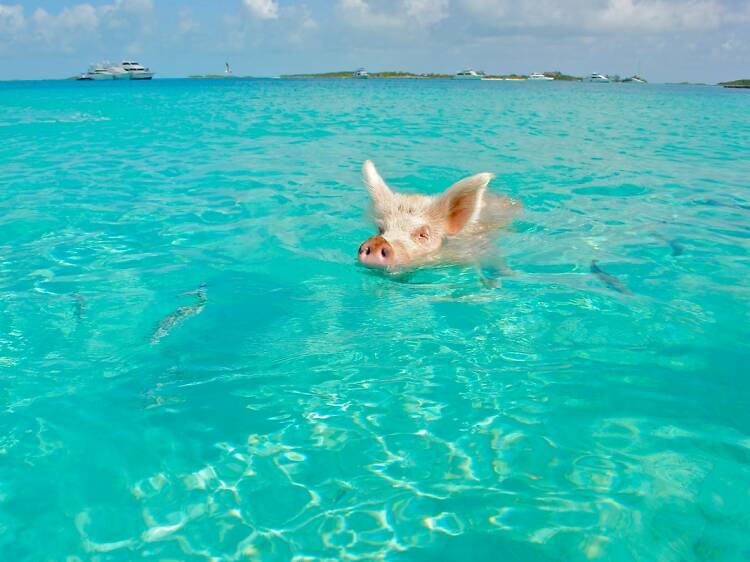 What is it? Join the fun on a deserted island off Exuma where pigs swim freely.
Why go? One of the most unusual attractions in the Bahamas is found on Exumas' pink sand beaches on an island solely inhabited by pigs. Yes, you heard that right. No one knows for sure how the hooved creatures got to Major's Spot Cay, but they've become a major tourist fascination. Join a half or full day cruise with Exuma Water Tours and discover the swimming pigs along with other offshore delights.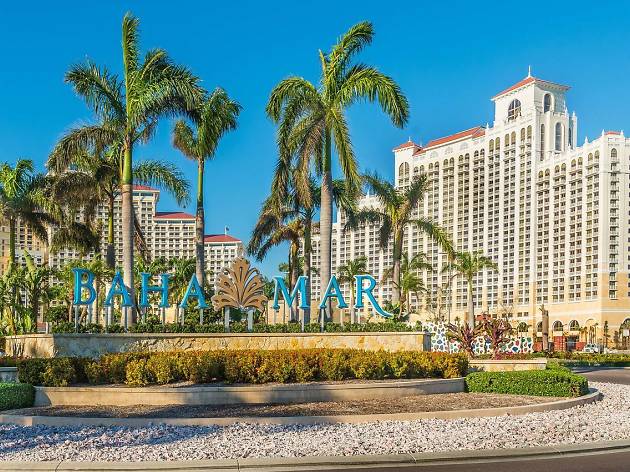 Photograph: Courtesy Booking.com
What is it? Three resorts rolled into one oceanfront mega-complex, Baha Mar on Nassau boasts 11 swimming pools, 40 restaurants, a golf course and more.
Why go? Take your pick! Spanning 1,000 acres, Baha Mar is home to the Caribbean's largest casino, a freestanding Espa Spa, an Italian restaurant helmed by James Beard Award-winning Miami chef Michael Schwartz, a nightclub designed by Lenny Kravitz and your choice between a swanky room at Rosewood, SLS or Grand Hyatt.
What is it? A humble shack on Bimini where conch is plucked directly from the sea and onto your plate.
Why go? Conch simply doesn't get fresher than this! The tough, savory meat inside those beautiful pink conch shells is particularly delicious when tenderized and marinated in fresh lime juice and then chopped up with red onions, tomatoes and peppers. It's a Bahamian delicacy not to be missed.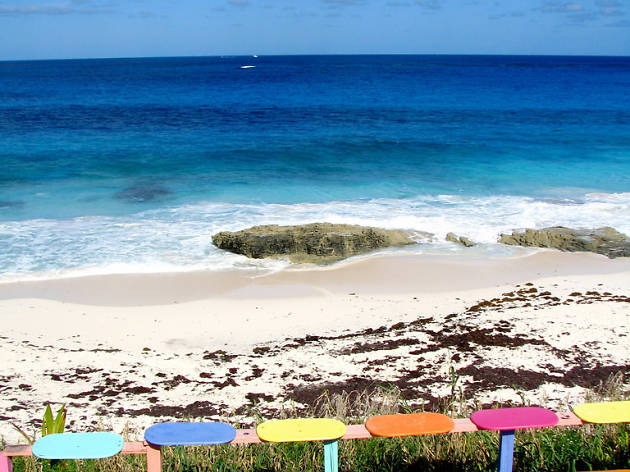 Photograph: Courtesy CC/Flickr/Lorenia
6. Nipper's Beach Bar & Grill
What is it? The castaway Bahamian beach bar of your dreams serves up Goombay Smashes on Great Guana Cay.
Why go? A multi-level open air beach bar with a riot of pastel painted wooden furniture and beach umbrellas, Nipper's is always a party. Teetering above seven miles of powder soft sandy beach on Great Guana Cay, upbeat music is always wafting along the sea breeze and mingling with a crowd that's there for a good time. Beware of their deceptively strong Goombay Smashes made with dark rum, coconut rum, peach brandy and pineapple. We know, we know, you'll have another one!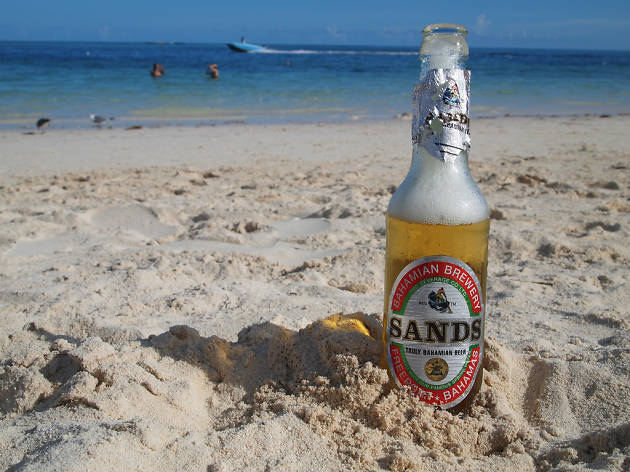 Photograph: Courtesy CC/Flickr/Steve Bennett
7. End of the World Saloon & Sandbar
What is it? A delightfully ramshackle bar near the end of the road in Alice Town, Bimini where Hemingway used to hang.
Why go? After a sizzling hot day in Bimini, there's nothing like ducking into the cool, shadowy End of the World Saloon & Sandbar, a favorite of Ernest Hemingway's in the 1930s. Dance hall music blares from a boom box, locals and tourists play dominos at high top tables and the floor is literally covered in sand. The sea breeze is never hard to come by with an outdoor patio overlooking the sea. Order a Kalik and soak in the scene from this tiny bar on this tiny spit of sand floating in the Caribbean.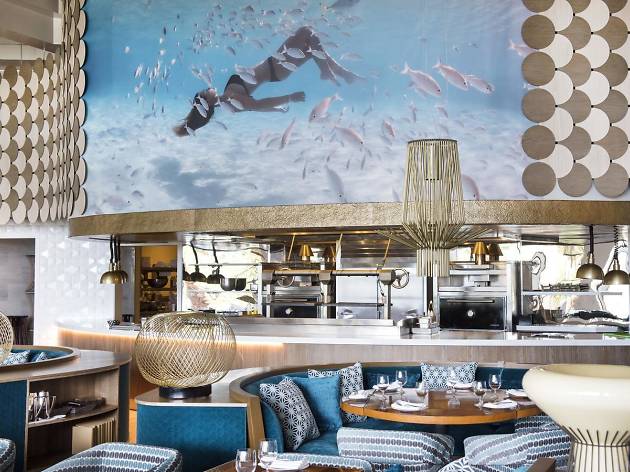 Photograph: Courtesy Booking.com
8. Fish by José Andrés at The Cove
What is it? A fine dining restaurant at The Cove Atlantis highlighting fresh, local seafood by one of the world's most creative chefs.
Why go? If you seek sophisticated, modern cooking and a playful interpretation on classic Bahamian flavors, then a reservation at Fish by José Andrés is a must. The Spanish chef takes it one step further with an emphasis on sustainable fishing practices, putting the invasive (yet delicious) lionfish front and center on the menu.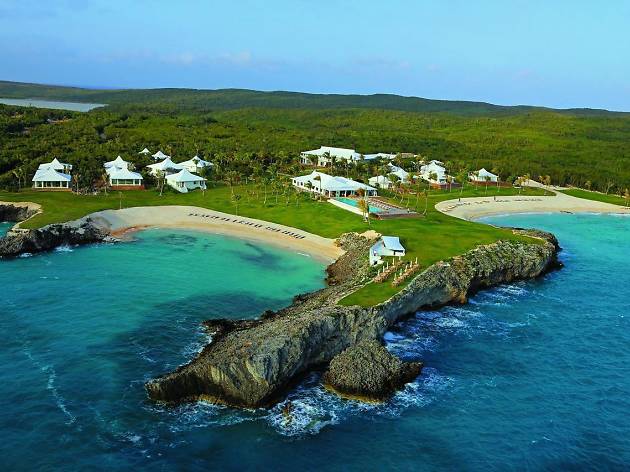 Photograph: Courtesy Booking.com
What is it? A tranquil cocktail bar perched on a bluff at The Cove Eleuthera.
Why go? The name says it all. Nestled on the edge of a point between the resort's north and south beach, Point Bar offers unbelievable views of the Caribbean Sea, especially at sunset with a craft cocktail in hand. Opt for the Caribbean Old Fashioned made with pineapple-infused local rum, peach bitters, orange oil and brown sugar.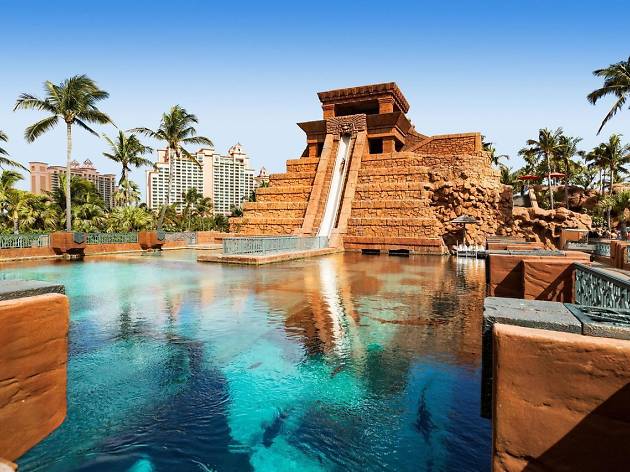 Photograph: Courtesy Booking.com
10. Atlantis on Paradise Island
What is it? The five-story corkscrew Serpent Slide plunges you through a tube submerged in a shark-infested lagoon.
Why go? I mean, why not? When else are you going to have the chance to zip down a five-story water slide surrounded by sharks? Only at Atlantis. It's famously home to the Aquaventure waterpark with more than eight slides, a splash zone and a lazy river.
Best selling Time Out Offers