Barcelona's best mojitos
Presenting nine bars in Barcelona where you're guaranteed to get that refreshingly minty rum drink known as the mojito done right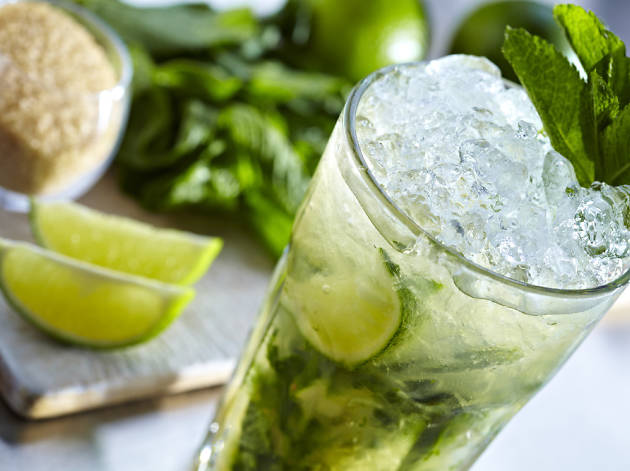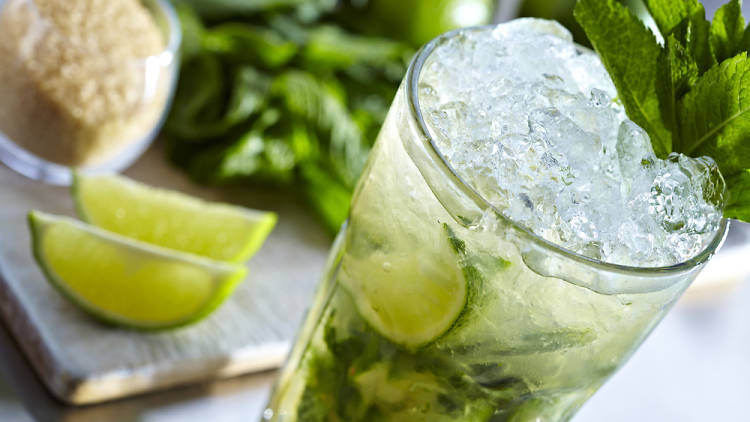 Barcelona fell in love with the Cuban cocktail par excellence ages ago, but that doesn't mean all mojitos in town are created equally. If you want the flavour of the Caribbean without leaving the city, stop into one of these bars, where their mojitos won't let you down.
With the same urgency that you might run out in your pyjamas and slippers to find an all-night pharmacy, in the Sarrià neighbourhood you can do the same when you're in desperate need of a good mojito by heading to cocktail bar Twist (though possibly consider slipping into something less comfortable). As famous as they are for their gin and tonics, their drinks menu boasts something of a genetically modified concoction, the Cuban G&T, a cross between a mojito and a G&T that kills during the summer months. Obviously, they also serve the classic mojito. No matter what you order, what you get is always the same: a perfect cocktail.
That sentence written in all the guidebooks about the 'incomparable setting' was likely invented to talk about Torre Rosa. Drinking a cocktail in a house formerly owned by one of the 'indios' or 'Americanos' (Catalans who left and made good on the other side of the pond and then returned to spend their wealth) can have a hand in making your heart skip a beat or two. This is possibly one of the most perfect places in Barcelona. Behind the bar you'll find Jordi Reig, who will tell you everything anyone could ever want to know about the different types of rum and how to mix a good mojito. If you aren't in the mind space for explanations and would rather imagine yourself in Havana, just head out to the terrace and do a bit of moon gazing.
Located very near to Santa Caterina market, Lupara is the perfect place for refreshing your taste buds during the day, whether it's with one of their teas or their cocktails, which can restore your faith in life. They serve quality liquor and mojitos that will blow your head off. And all at a good price.
The cocktail bar owned by Javier Cejas, which is just outside his own unbeatable Negroni, is a tiki bar where waiters with slicked hair and skinny ties serve up refreshments mostly based on traditional recipes from tiki culture. In case you're wondering what that is, it's the aesthetic that was born in the United States after World War II, when returning soldiers found themselves strangely nostalgic for the South Pacific beaches. Cejas' obsession with this period makes the mixologists real experts with rum cocktails. And yes, that includes the revered mojito.
Here's another top place for mojitos in Sarrià, a neighbourhood that some of us who inhabit lower-income areas of the city don't always dare to enter. But it's time to leave our prejudices behind in order to get in on these fantastic cocktails served in glasses so ultra modern we might think they'll break to bits in our clumsy working-class hands. Accustomed as they are in Zanzíbar to conversations about the Seychelles and Polynesia, it makes sense that they dare to offer mojitos such as their passion fruit and strawberry, or their mango and coconut.
On quiet nights, this discreet little wood-panelled cocktail bar, its long mahogany counter burnished by the same well-clad elbows for years, has something of an Edward Hopper feel. Friday and Saturday nights are an altogether different proposition, however, and you'll need to make yourself noticed to get a drink from their menu – and be aware that they have one just for mojitos. You can try mojitos with coffee, red berries, ginger, or exotic fruits like the kumquat, as long as you have the patience to wait your turn.
For those of us who haven't been to Cuba, the Raïm bar looks just like those old photographs of Havana we've seen. The flaking walls, black-and-white pictures of Cuban Son singing stars, layers of dust, speakers playing Cuban music, and enthusiastic staff serving up mojitos. Raïm has stood on its corner in Gràcia for over a century, opening every night of the year, and it's always absolutely full, just like its mojito glasses. See how long it takes you to read all the varieties of rum on the menu.
Conveniently located in Passeig del Born, Cactus is a place where they take their mojitos very seriously: fresh mint, brown sugar, crushed ice and a good quality rum are the ingredients in Ariel's mojitos. He's the king of these refreshing concoctions, and puts all the dedication in the world into making his own delicious version in this little music box of a space where, instead of a ballerina, a disco ball spins round and round every night.