Top bars to drink on the cheap
Our guide to quenching your thirst without breaking the bank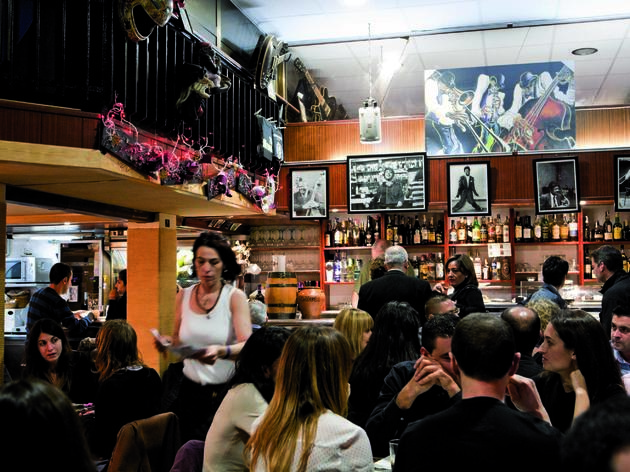 When you find yourself wandering around Barcelona, hankering for a drink yet all you find in your pockets is a bit of lint and the shrapnel that is the copper-coloured coins, don't fret. You can still quench that thirst with our guide to bars where you can drink on a budget.
La Saltó is a pioneering venue that has helped to turn Poble Sec into one of the liveliest districts in the city. And even though their opening hours are more night-time bar than local shop, neighbours often drop by in the evening to fill up their jugs of wine from the barrels. But the wine is not Bodega Saltó's main attraction. There are not many places as picturesque as this in Barcelona. Renovated by designer Steve Forster in 2002, the bar operates as a small, quirky exhibition with all kinds of weird and wonderful things – antiques, stuffed tigers or dolls drinking from porrones.
This place grabs you for two reasons - one's right on the sign and the other isn't. The sign reads, 'Specialising in tapas and pintxos'. And special is just what they are. The pintxos are scrumptious and varied, hot and cold, assorted omelettes and croquettes, sausage with caramelised onions, scrambled eggs with ham, and cheese and anchovies ... Wash it all down with a glass of Estrella Galicia for just €1.40, natural cider or quality wine and cava. Taverna Blai Tonight also gets you with their youthful energy: the staff average age is about 25, and the clientele ranges from 20 to 30-something, all lending to the friendly and relaxed atmosphere.
If you're wandering exhausted along the Ramblas and looking for somewhere to rest your feet, this place is ideal: It's a 120-year-old bar that offers delicious menus, inexpensive beers and a cosy atmosphere.
Casa de la Pradera is a friendly local gay bar with a varied clientele and a fun, relaxed atmosphere. They serve good beer and a free tapa with every drink. On Friday and Saturday nights they have a DJ, while in the evening there's always a fun, lively atmosphere at the bar.
This bar is dedicated to the memory of cartoonist Ivà and his popular character, Makinavaja, a Robin Hood of sorts. There's a warm ambience here where everyone is welcome and the music is ecclectic - you'll hear AC/DC as much as flamenco or reggae - anything but electronica, really.Try the bravas - the sauce is fantastic, and the bombas are incredible. Tuesdays are for jam sessions and Saturdays at noon feature a gig with vermouth.
Yes, it's another red bar, but here you can enjoy a beer for just €1 before 10pm as you watch Betty Page, projected on the ceiling with a red rocket, do her thing along to the rockabilly rhythms rocking this joint stuffed with vinyl records and walls dotted in posters.