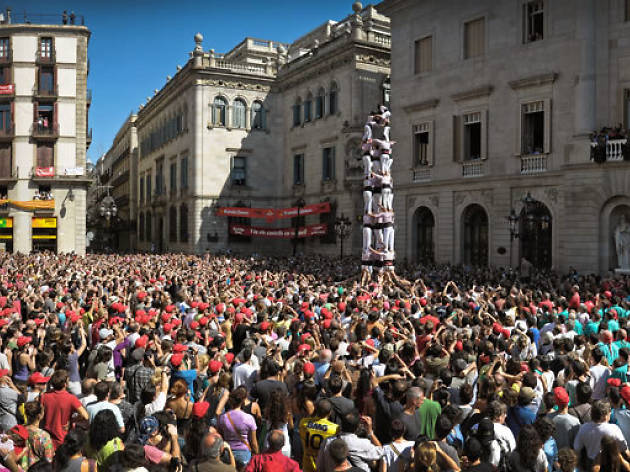 Big festivals and major events in Barcelona for 2015
From Catalan traditions to some of Europe's biggest music festivals, Barcelona's calendar is packed.
PLEASE SEE 'BIG FESTIVALS AND MAJOR EVENTS IN BARCELONA'

The Catalans' seemingly endless enthusiasm for festivals and parties means that there's scarcely a week in the year that doesn't include at least a couple. These range from the full-on traditional knees-up, with giants, dwarfs and dragons wheeling through fireworks, to gentle street fairs selling artisanal honey and sausages, and perhaps lying on a bouncy castle.
The array of religious events and old-fashioned pageants, all of which spotlight what makes Catalonia unique, are supplemented by a wide variety of more modern celebrations. You're just as likely to stumble across a festival of rock documentaries, graffiti art, hip hop or cyber sculpture as you are to see a traditional parade: the Sónar electronica music festival alone attracts upwards of 80,000 people each year.
The key annual events are September's Festes de la Mercè, the main city celebrations in honour of Barcelona's patron saint, that offer a wild variety of events. The Mercè and the other 30 or so neighbourhood festes share many traditional ingredients: dwarfs, castellers (human castles), and gegants (huge papier-mâché/fibreglass giants dressed as princesses, fishermen, sultans and even topless chorus girls), and two unique exercises: the correfoc and the sardana.

The correfoc ('fire run') is a frenzy of pyromania. Groups of horned devils dance through the streets, brandishing tridents that spout fireworks, and generally flouting every safety rule in the book. Protected by cotton caps and long sleeves, the more daring onlookers try to stop the devils and touch the fire-breathing dragons being dragged along in their wake.

The orderly antidote to this pandemonium is the sardana, Catalonia's folk dance. Watching the dancers executing their fussy little hops and steps in a large circle, it's hard to believe that sardanes were once banned as a vestige of pagan witchcraft. The music is similarly restrained; a reedy noise played by an 11-piece cobla band. The sardana is much harder than it looks, and the joy lies in taking part rather than watching. To try your luck, check out the sardanes populars held in front of the Cathedral (Jan-Aug & Dec: Sun noon-2pm; Sep-Nov: Sat 6-8pm; Sun noon-2pm) and in the Plaça Sant Jaume (Oct-Jul: Sun 6pm), or see www.fed.sardanista.cat for monthly displays around the city.
Public Holidays
Most shops, banks and offices, and many bars and restaurants, close on public holidays ('festius'/'festivos'), and public transport is limited. Plenty of locals take long weekends whenever a major holiday comes along. If the holiday coincides with, say, a Tuesday or a Thursday, many will take the Monday or Friday off, in what is known as a 'pont'/'puente' ('bridge').
New Year's Day (Any Nou) Jan 1
Three Kings (Reis Mags) Jan 6
Good Friday (Divendres Sant)
Easter Monday (Dilluns de Pasqua)
May (Labour) Day (Festa del Treball) May 1
Mon after Whitsun (Segona Pascua) Jun 1
Sant Joan Jun 24
Verge de l'Assumpció Aug 15
Catalan National Day (Diada de Catalunya) Sep 11
La Mercè Sep 24
All Saints' Day (Tots Sants) Nov 1
Constitution Day (Día de la Constitución) Dec 6
La Immaculada Dec 8
Christmas Day (Nadal) Dec 25
Boxing Day (Sant Esteve) Dec 26
Best selling Time Out Offers