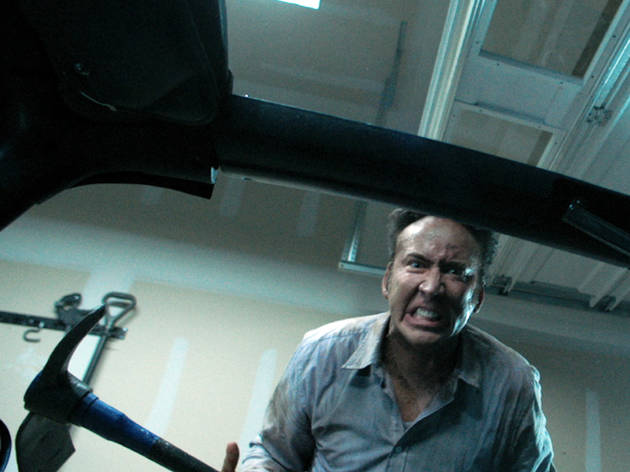 Nicolas Cage hits pylon-lickingly crazed form in this erratic but barbed horror-comedy
Powered by a vintage Nicolas Cage wig-out, this merrily tasteless horror-comedy plays like a frantic mash-up of 'The Purge', 'The Crazies' and 'Serial Mom'. For reasons never explained, let alone explored, parents start butchering their offspring: mothers murder newborns, granddads kill grandsons, and school runs mutate into rabid massacres. As the epidemic burns across America, siblings Anne Winter and Zackary Arthur find themselves bunkered in the basement of their suburban home. Can they fend off a home invasion staged by their own frothing parents? And can anyone survive Cage's freeform jazz interpretation of a raging dad?
Whether he's delivering a monologue about anal beads or singing 'The Hokey Cokey' while sledgehammering a pool table, Cage's performance is wildly in sync with Brian Taylor's over-caffeinated direction. As a horror movie, 'Mom & Dad' is a fiasco – Taylor's frantic visuals suggest a man mainlining Red Bull, a style too impatient for anything remotely approaching tension. As a satire, however, it's a scream. Granted, the delivery's as shrill as a banshee stepping on a Lego brick, but here's a film with something to say about ageing anxiety, Middle America's materialist vacuum and the parasitic resentments triggered by raising children. Luis Buñuel he most certainly isn't, but Taylor wack-a-moles taboos with an infectious glee that will have anyone with kids emitting a cathartic howl. Fun for all the family, then.
Release details
Cast and crew
Director:
Brian Taylor
Screenwriter:
Brian Taylor
Cast:
Selma Blair
Nicolas Cage