Heads up! We're working hard to be accurate – but these are unusual times, so please always check before heading out.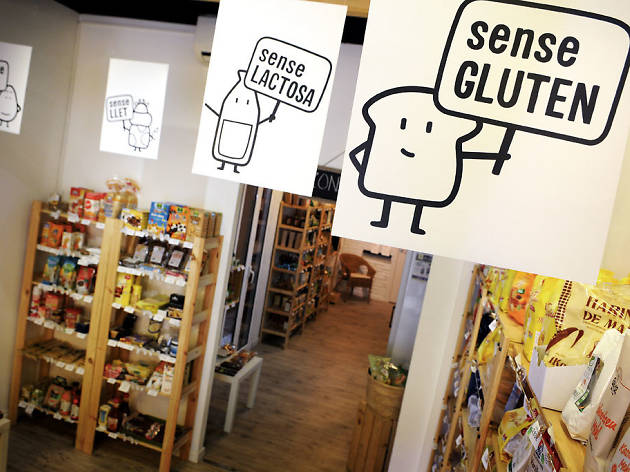 Allergy-friendly Barcelona
If you have food allergies or intolerances, you've got a growing range of gluten- and dairy-free options in Barcelona
For anyone with allergies or food intolerances, going out for a meal can be anything but fun. In BCN it's often the traditional soupy, stewy dishes that are most suitable.

Allium (Call, 17. T. 93 302 30 03) is a model of its kind. Owner Jordi Casanovas, a passionate champion and pioneer of the 'km 0' concept, tells us that what gives him most satisfaction is to see someone tucking in happily. 'People send me emails, and I fine-tune the menu as much as I can.' His biggest allergy-friendly hit is the battered squid, although you'll also find dishes suitable or adapted for coeliacs and diners with dairy, soya, nut or egg allergies. His amazing breaded artichokes, locally sourced in El Prat del Llobregat, are made with chickpea flour, while none of his sauces contain dairy products, and his selection of cured meats and sausages is 100-percent gluten-free.
The allergy-friendly options at Ca l'Estevet (Valldonzella, 46. T. 93 302 41 86) are also rooted in Catalan tradition: bacallà a la llauna – pan-baked salt cod – the Café de Paris entrecôte and the Paella Parellada (made without the Catalan picada breadcrumb base sometimes used) are three unbeatable options for people allergic to gluten, dairy or eggs who are also fans of great food. But if there are kids in the party, the safest bet is pizza: Il Piccolo Focone (Dos de Maig, 268. T. 93 450 24 52) is the only place in the city dedicated heart and soul to gluten-free pizzas. They offer 30 pizzas and fresh filled or dried pastas, as well as risottos and puddings. Owner Eloy Caicedo tells me that 15 years ago, back in Ligúria, he got together with other pizza makers to devise a standard dough for gluten-free pizzas. Today, he makes an updated version, with cornmeal, buckwheat and potato starch. He describes it as a light dough, because 'a normal pizza takes two hours to digest, whereas this one only takes half an hour'. Bingo! It looks like a typical Neapolitan pizza, but it's light and crunchy with no trace of rubberiness. Delicious. The spicy sausage topping – all the cured meats here are gluten-free – goes straight into my top ten.
However, if you want a traditional dining experience that is also allergy-friendly, you need have no fear of making a reservation at 4 Capellans, the restaurant at the Hotel Barcelona Catedral (Capellans, 4). Surprisingly for a four-star hotel, the menu offers great value for money. Few of the main dishes cost more than €10, and most can be adapted to make them allergy-friendly. And if we're talking about traditions, El Gat Blau (Consell de Cent, 139) is also a safe option. Chef Pere Carrió works with local organic produce, and adds his creative touch to reasonably priced dishes that include a low-temperature confit of octopus with jowl bacon and rosemary, which is free of gluten, dairy and egg.
If an allergy triggers anaphylactic shock, it can be fatal. A food intolerance can cause serious discomfort. Shops that cater to people with allergies have to know their stuff.

You're definitely in good hands at La Botteghina (Clos de Sant Francesc, 55. T. 93 222 95 52): the owner, Silvia Fiorilla, is a biomedical engineer who decided to start her own business. The shop is divided into three areas: one for organic products, one dairy- free and one gluten-free, with a point where all three areas intersect. You'll find biscuits, pasta, bread and Italian delicacies, including dairy-free pannacotta and gluten-free sauces – ragù and squash or artichoke pesto.

At Jo També Sóc Al·lèrgic (Vilamarí, 26. T. 93 426 49 48) everything has a personal touch: Núria Canturri and Joan Riedweg's son was diagnosed with multiple allergies to milk protein, eggs, seafood and nuts at a young age. He's now 15, but the experience of raising him left his parents with a store of expert knowledge that they have channelled into the shop – 'It's like a pharmacy for food,' says Canturri. Everything is organised by allergy, and the shop is great fun for kids: there are chocolate bars and chocolate spreads without the ominous warning, 'may contain traces of nuts', dairy-free ice cream, and gluten-free pizza and pastries. The world of allergy-friendly foods is a small one, and many of the brands are also run by the parents of children with allergies. Canturri wrote 'Mama, em pica!' ('Mum, I'm itchy!') (Angle, 2014), an entertaining chronicle of dogged persistence against the odds, which also functions as a handy guide to the unwanted ingredients you'll find in supermarket biscuits. Another pocket-sized family business is the well-established Dietètica Glòria (Entença, 175. T. 93 329 92 51), a replica of a conventional supermarket for allergy sufferers, stocking mostly handmade products. The shop opened 50 years ago as an herbalist's, and was converted to focus on allergies 25 years later. Eighty percent of their products are aimed at customers with coeliac disease, but you'll find a little of everything. Owner Laura Gràcia is slightly downbeat about the future of the human race: 'We're getting more and more delicate, and seeing more and more combined allergies.'

At all these establishments I'm told that a small but growing proportion of their clientele is not gluten intolerant, but finds that a gluten-free diet makes them feel better. At Gluten Free (Major de Sarrià, 119. T. 93 280 38 72, from 4pm to 6pm) Rosa La Cruz confirms this. 'Bread is the big ongoing challenge for coeliac sufferers,' she says, so as well as ready meals, pasta, milk and biscuits, she has a good selection of sliced and round loaves. For sweets, the choice is clear: at Papabubble (Ample, 28) everything is hand-made and gluten-free.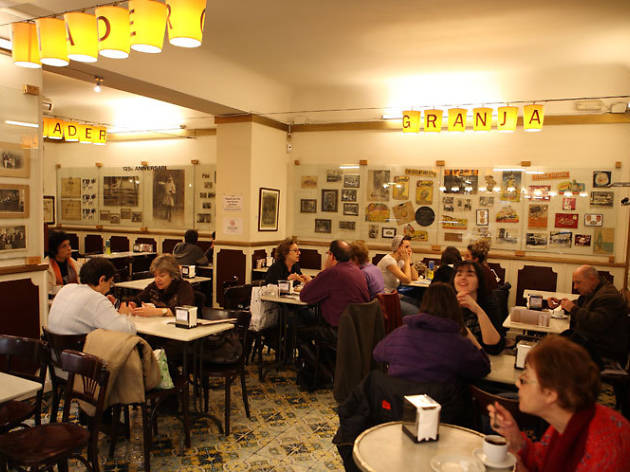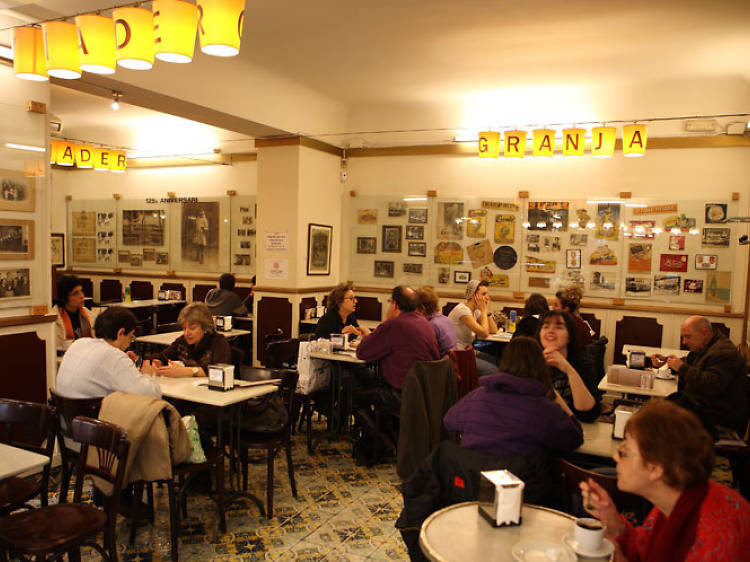 ©Scott Chasserot
At the temple to dairy produce that is Granja Viader (Xuclà, 4-6), the lactose-intolerant may not be able to partake of a suís (hot chocolate topped with whipped cream), but they can sample the thick, Spanish-style hot chocolate, made only with water, cocoa, chocolate and cinnamon. It also has plenty of coeliac-friendly edibiles: their home-made chocolates, sponge fingers, cheesecakes, 'crema catalana' and creme caramels are 100-percent gluten-free. At Syngluten (Galileu, 115) they make delicious gluten-free 'churros con chocolate' – you can get them lactose-free too.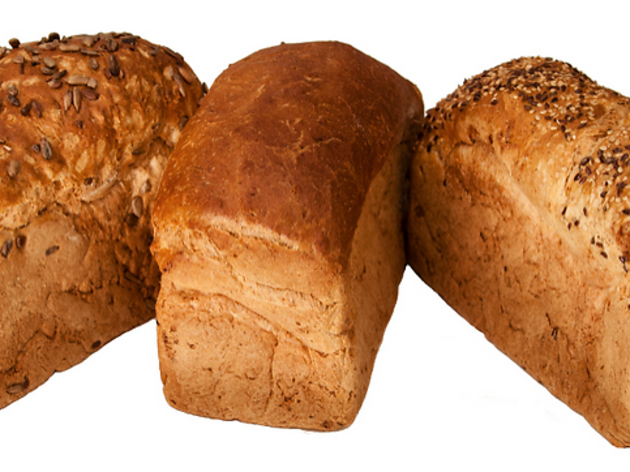 There's only one Barcelona bakery exclusively dedicated to gluten-free bread: Celiadictos (La Pobla de Lillet, 5. T. 93 409 31 31), which also covers dairy intolerances, as none of their breads contain milk. Isabel Trullenque says that their products have nothing to do with cheap ersatz breads made from cornmeal. Instead, by blending flours made from gluten-free grains – eg, quinoa and buckwheat – they make traditional country loaves, baguettes and sliced loaves that are tasty in their own right. They're not cheap: the quinoa loaf costs €13 a kilo, thanks to international futures markets.