Dipping chocolate and where to get it
These snack bars, called 'granjas', brew up a mean cup of thick dipping chocolate for your churros, buns, croissants, and fingers!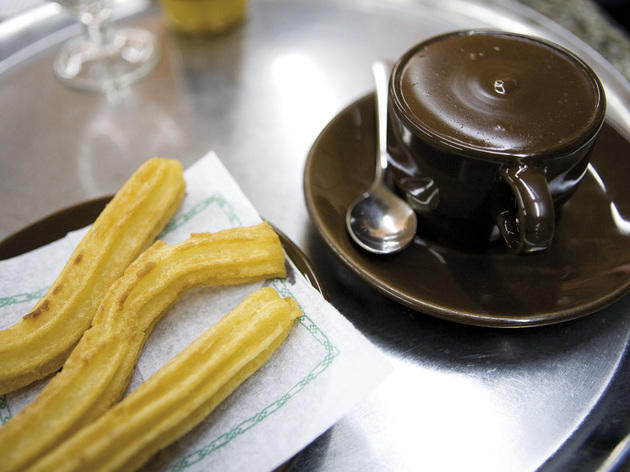 O, sweet cup!
Some traditions, customs and trends, fortunately never go out of style One of them in Barcelona is treating yourself to a breakfast or an afternoon snack in one of the city's historical café bars called 'granjas'. These are where you can find Cacaolat, Catalonia's own drinking chocolate, served warm or cold, and do not forget to ask for a 'suizo' – sweet thick drinking chocolate topped with unsweetened whipped cream. The charm of the place, the career waiters and the picturesque clientele make even the coffee take on a nostalgic and evocative flavour.
Read more
The queues outside will tell which are the best 'granja' café bars on C/Petritxol. One is La Pallaresa, where they'vebeen serving superlative breakfasts and snacks since 1947. THe classic thick cup of drinking chocolate ('a la tassa') and the version with unsweetened whipped cream on top ('suizo') are the stars of this former dairy.
Read more
Jesus, Mary and Joseph! And don't take that as blasphemy: it's the exclamation you might come out with when you visit this shop in Barcelona's old quarter. They sell all kinds of sweet treats made by monks and nuns in monasteries and convents around Catalonia. There's also a small café, with a good selection of teas. A divine temptation.
Read more
With whitewashed stone walls, piles of books and games, and a gaily painted table-and-chair set for children, La Nena is wonderfully cosy – or would be if the staff would only lighten up. The speciality is sugar and spice and all things nice: waffles, crêpes, hot chocolate, fresh juices and ice cream. Savoury delights include sandwiches and toasted bread with various toppings. Note there is no alcohol and that, rather infuriatingly, it's closed at lunchtime.
Read more