Fresh hipster pasta!
Where to find modern, artisan ravioli and tortellini – pasta cooked fresh in Barcelona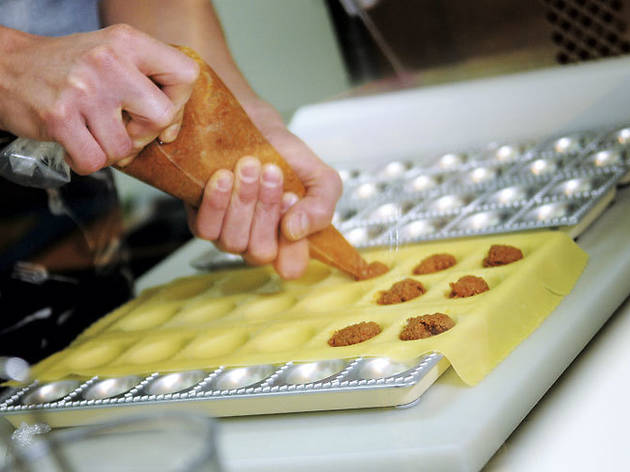 These are dark times for fresh industrial pasta, if there even is such a thing. With horse parts finding their way into supermarket ravioli, it's easy to see why more and more consumers are being driven towards artisan pasta. If it's made right, it's tasty, healthy, easy to cook and rather inexpensive. And the market is on the rise, feeding off the liberal professional crowd. To give an example, as we head up to the more rural part of Gràcia, towards Plaça Rovira i Trias, we'll pass by La Chitarra and La Spada, two shops specialising in fresh pasta.

Our destination is Pasta Celentano, the new neighbourhood shop version of the stall of the same name in Mercado del Clot. What is it about this corner of Gràcia that makes fresh pasta so popular? Enric Morán, from Celentano (introduced to Italian cuisine in Dublin), explains that this product 'is a slow-fast: fast food with the philosophy of slow food'. They don't want to saturate the local market, but both owners are from the neighbourhood and have a deep relationship with it. 'We all have our own style, and the more of us there are, the more pasta we'll eat.'

The other owner is Ramon Garriga, a musician and engineer who finds pasta to be 'something more tangible to make a living off of'. The magic comes from the pastry bag: they're the only ones in the city who prepare the ravioli one piece at a time, and fill them individually. This keeps the ingredients from getting mixed up, instead letting them coexist happily. For example: a smooth mix of Majorcan sausage and ricotta cheese, or a delicious cod brandade with pepper, which, with a glaze of truffle oil, is sinfully delicious. They received the greatest praise from a renowned Italian pasta chef: 'He told us that we made pasta della nonna - like his grandmother used to.' Every day they offer seven or eight varieties of filled pasta, or closer to ten at weekends. Some of the most attractive options are the chicken curry and the roasted veal, along with fresh, innovative sauces (like artichoke pesto, where toasted almonds replace the basil), and the dish of the day: for €4 you can get some freshly-made fusilli all'amatriciana to take away.
The stand-out tavern
The pasta market is also growing in Guinardó, near Gràcia. The unexpected rise of the Ficus tavern deserves a whole novel, but I'll try to get it across in a few lines: Sara Santacana, with a degree in audiovisuals, runs Soimagic as a producer with the music studio in el Guinardó. Her husband, David Antón Llapart, is a mathematician, professor and self-educated cook since youth. A few years ago, they bought a little restaurant in front of the studio and kept it rented out for a while. Between cuts in educational funding and the decline of the music industry (along with the renters' return to Ecuador), they ended up taking the place over and remodelling it, with the care and ingenuity of a pair of true restaurateurs. They focus mainly on familiar Mediterranean cuisine - a few well-chosen and well-made recipes - and the preparation of fresh pasta.

'I prefer not to call it fresh,' says Santacana, 'but homemade. We make it here, so of course it's fresh.'

Their schedule is a bit frantic: they continue at their respective jobs Monday-Thursday. 'And on Friday at midday we go to the market and spend all day cooking.' The empty refrigerators during the week are proof of that. And from there, they work until Sunday afternoon.

And they've come up with a system that keeps their board up to date: a laminated menu with different sections: cakes, appetizers, rice, homemade pasta, salads and specialties. Every weekend, they put two dishes from each section on the menu and mark them with a tic from a marker on the plastic, leaving white spaces for inspiration from the chef. 'This way we assure that everything is fresh and, if we change our minds or make something new, we mark another plate and that's it.' It's worth it to head over to el Guinardó: Ficus is right next to the metro and their ideas for fresh pasta are revolutionary. Example: rigatoni filled with fresh llonganissa (sausage) from Térmens and peas from Maresme, or with red scorpionfish fillet. A quality product at a low price: about €22 on average. 'The idea is that the difference in price between eating at home and here is minimal.' You'll find them open every weekend, except when there's a solar eclipse - they cover this phenomenon all over the world for major newspapers.

Machine-made
Let's go back to Gràcia. There, at La Màquina, they've stuck to the 'slow-fast' philosophy. This fast food place depends on a pasta machine that, according to what they told me, spits out fresh pasta in the morning and at midday. The process is simple: at the counter we choose pasta, a sauce and an appetizer. The pasta comes out and is sauced before our very eyes, and whoever wishes can add ingredients. For €9 I enjoyed a fantastic cream of vegetable soup and tagliatelle with a spicy tomato sauce. I don't know if they come from the liberal arts, but after eating pasta with the sounds of The Stooges coming through the speakers, I figure they must be hipsters.
Useful info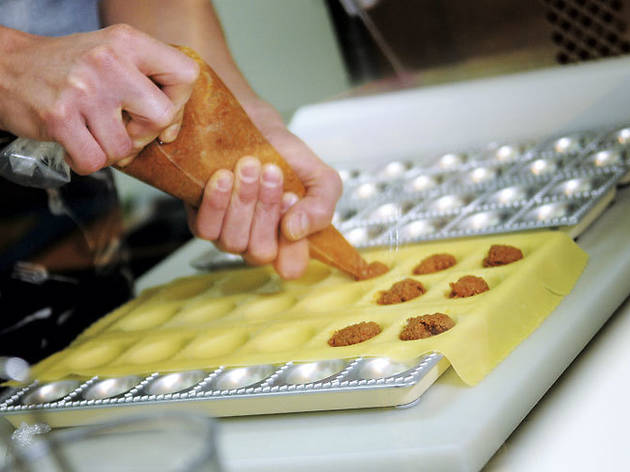 This pasta shop, which also has a location in the Clot market, offers fresh pasta made daily. And as they'll tell you, their ravioli are filled by hand, individually, with a pastry bag: this is where they stand out. The varieties of ravioli fillings include sobrasada sausage and ricotta, and a delicious cod brandade with roasted peppers. Every day features seven or eight varieties, and weekends up to ten. Four euros will get you the dish of the day to take away.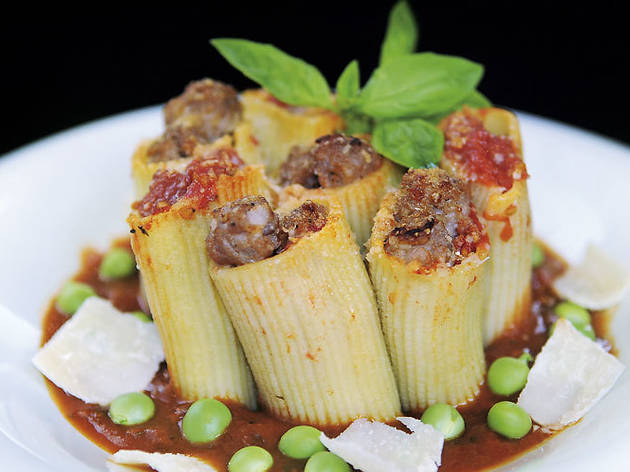 The twists and turns of the history of Ficus are the stuff of novels: a mathematician and an audiovisual expert open a recording and production studio, and at the same time buy a little restaurant opposite. The music business slows down, but the restaurant picks up: every weekend, after the duo close the studio, they themselves prepare the homemade pasta dishes at Ficus: rigatoni stuffed with fresh longaniza sausage from nearby Térmens and local peas from Maresme, for instance. They also serve their share of Mediterranean cuisine, with coques, tapas and rice dishes. Everything is homemade by them.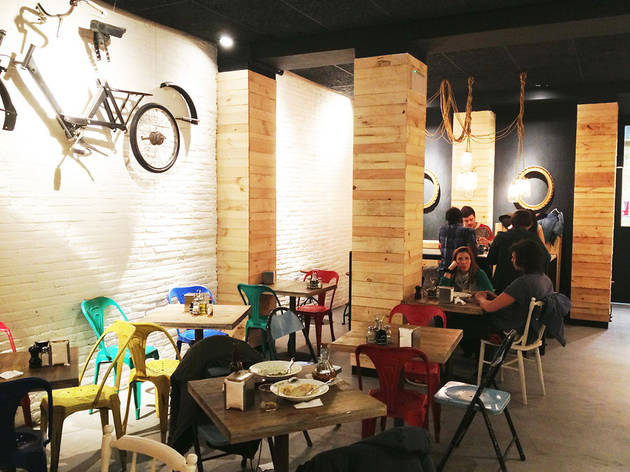 Presiding over this fast-service restaurant is a pasta machine which, I am told, churns out fresh, homemade pasta twice a day, in the morning and at midday. The idea is simple: you go to the counter and choose a starter and the type of pasta and sauce you want. The pasta is cut and sauced before your eyes, and if you want you can add extra ingredients. For €9 euros, for example, you can slurp up a delightful cream of vegetable soup, and a tagliatelle with lightly spicy tomato vegetable sauce.
More to explore