The new premium burgers
The unstoppable advance of the gourmet burger marches on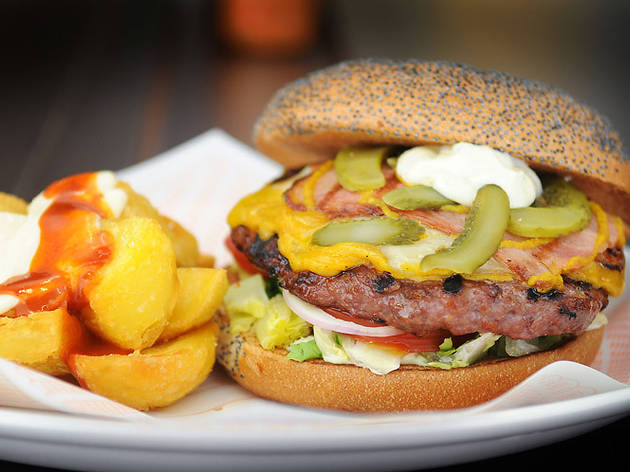 More new burger joints in Barcelona? Some will sneer, lamenting imperialism and the infantilisation of the palate, but we beg to differ, especially when the burgers in question are of such high quality and so relevant as these. Read on, and try not to drool. Super-Bacoa
Bacoa has opened a new restaurant on Ronda Universitat. In a stroke of genius, Australian owner Brad Ainsworth, largely responsible for the emergence of the premium burger with Bacoa, hangs the sign over a bigger space and changes the name of the original near the Santa Caterina market to Little Bacoa.

It had to be done: Bacoa (2010) and Kiosko (2011) were bursting to the point of discomfort (in the latter you had to take the pen out of your shirt to get in). 'We have never had any complaints about the food, just about the space itself and the queues,' says Ainsworth, 'but in life if you don't change you don't grow.' To maintain the quality, they had to open a central kitchen (just outside of town in Sant Joan d'Espí). 'Nothing is as simple as people think,' he says. 'It's not just bread and meat. We make everything from scratch, even the alioli.'

Though the new Bacoa is enormous, it still bears its trademark informality and excellence. So what's new? Ainsworth is betting that thinking locally will pay off: with the change of seasons, Bacoa will offer a burger with products grown nearby, such as artichokes from El Prat, for example.

Among the top creations: 1. the San Jacobo burger with Iberian loin and Serrano ham with manchego cheese in panko, Japanese bread crumbs, and 2. a vegetarian option made ​​from chickpeas, and yes, apart from being tasty, it's got a surprisingly meaty texture. Bonus: you'll find artisanal mustard on the tables to spice up your dish. Indieburger
'The hamburger scene has become so brutal here, that you have to constantly come up with something new. Maybe you've got a really good burger, but that's not enough,' says Eduard Minobis, one of the three partners at Oval, which opened recently in the Eixample. First let's talk about the burger: for €8.60, you can get 180 g of beef from Girona (add €1.50 if you want a nice Angus from the plains of Nebraska) plus four ingredients. Or there's the option of the aforementioned Nebraska, bread from the Forn Boix bakery, goat's cheese, caramelised onions, baked peppers, crispy Iberian ham and barbecue sauce. Strong flavours come together in a combination you'll devour. They've calculated that their ingredients allow for a billion different recipes, but we haven't counted them all yet. We just know the ones we've tried are phenomenal. As for what's new, Minobis says 'We believe that gourmet burgers go very well with wine.'

A superstar sommelier (who wants to remain nameless) has crafted a small and winning wine list so punters can drink a good wine by the glass or the bottle, at friendly prices. And you won't pay more than €1.40 for soft drinks. 'We wanted to create a place where we'd go,' Minobis says. This includes an exquisite playlist and musical connections that had Barcelona-based rock band Mishima taking Daniel Johnston out for a bite when he was in town: 'He ordered a burger without bread, chips and chocolate cake. Food fit for a little kid.' A cosy and impeccable interior design and good PR have helped Oval really take off. Now that the Apolo Diner has closed, we've got space for the new indieburger. Reinvention once again
Every burger bar has a story, and reinvention is not the most uncommon: the latest economic crisis has caused a crisis of faith in architects, leaving them to believe in bad luck over vision and hope. Maybe that's why Sergi Ibáñez, unemployed architect surveyor, hustled to open Timesburg at the end of 2012, and not in 2013.

Ibáñez together with engineer M. A. Rodríguez and chef Maiol Rodríguez have created 15 scrumptious recipes: all made from Burgos beef (or you have the option of organic beef from Lleida) - all honed through trial, error and try, try trial again. The DF burger, with the spiciness of good Mexican food is a fine example, with its 200 g of beef, chipotle chili, coriander, cheddar, Jalapa chili, shredded lettuce and bits of tortilla chips.

They use the now-essential volcanic-rock grill, but with a result that is not too smoky. In addition to a good hamburger bun, you have the option of mollete, a muffin-soft bread from Huelva, and cut chips with the delicious peel left on. Lounging on the functional yet welcoming Nordic furniture, kids from the nearest schools down these burgers two at a time. The bigger, the better
With all these new recipes and burger joints, it's worth giving a nod to the pioneering role of the Hard Rock Café, especially now that they're celebrating their 15-year anniversary with a total redesign. Of course the burgers are gargantuan, but that doesn't bring down the quality of their German beef with a low percentage of fat that is so very lip-smackingly good.

We're told that you won't have order envy if you ask for the Legendary, which is the house special: a ridiculously huge burger of nearly 300 g that's topped with onion rings, bacon, cheddar, lettuce, tomato and pickles. They serve it cut in half, presumably so you don't give up before even trying to get stuck in. 'We have no intention of offering smaller portions,' says manager Eric Swanson. 'It's what brings in the customers.'

As I sit among double-extra-large portions and families, the music videos and paraphernalia bring to mind stories and memories.