Carnival in Barcelona: celebrations, parties and what's on
From February 23 to March 1 Carnival takes over Barcelona: costume parties, traditions and general debauchery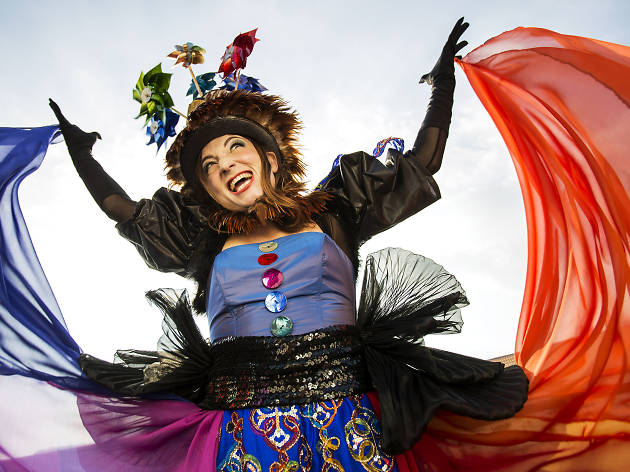 Between the 16th and early 17th centuries, Barcelona's Carnival was one of the tops in all of Europe – more for its wild reputation than for its roots in tradition – but all that disappeared under Franco. When the city started celebrating again, it was with bits borrowed from Brazil, all leggy and sequinned, as if Barcelona had forgotten that Brazil initially imported Carnival from here, and not the other way round.

Six years ago, Barcelona decided to bring back its historical and traditional Carnival, with all its glorious satire, dancing and costumes, and especially encouraging the participation of all. With that in mind the Ajuntament (City Hall) brought back the Taronjada, an innocent 'battle' between the Carnival players and the public of orange balloons and confetti, recalling the actual oranges that were once thrown as far back as the 14th century; the Fuegos Antiguos fireworks show, just after the Arrival of Carnival (Thu 23, 5.45pm), when His Majesty officially gets the party started; and the King's ambassadors, who represent the seven historical villas of the city: Magòria, Sol de Baix, Tres Torres, Camp d'en Grassot, the Horta laundries, Sant Genís dels Agudells, Fabra i Coats and Clot de la Mel.
'Fat Thursday' is the first day of the Carnival cycle, when the King of Carnival (Carnestoltes) makes his triumphant entrance into Barcelona with 'l'Arribo' (The Arrival), the central event of the Barcelona Carnival festivities. The big party involves the King and his Court: the Prime Minister, the Seven Ambassadors with their attachés, musicians, flag bearers, the Barcelona Carnival giants Rodanxó and Rodanxona and more revellers. The parade will be received in Plaça Sant Jaume, and at 5.45pm the party starts with Frank-i-fals, the King's prime minister, who gets things underway. At 6pm the parade of the Seven Ambassadors sets off from the Palau de la Virreina, and they're accompanied by their entourage and the Carnival giants. They head along through various spaces in the Barri Gòtic until they get to Plaça Sant Jaume, where the King proclaims his reign over the week of abandon.
Read more
More than 30 parades and processions will be winding through Barcelona's neighbourhoods on Saturday the 25th during Carnival. Huge floats, troupes of players and over-the-top costumes – all choreographed and starring locals of each neighbourhood, organisations and associations from around the city – transforming the streets into one big celebration.
Read more
Costume shops
In 1919 the doors opened at Comercial Bolsera, Barcelona's go-to shop for party decorations, gifts, costumes and more, located in the Raval. In 2000 the name changed but the spirit stayed the same: party packs live alongside wrapping paper and bows, as do decorations and materials for crafts. It's hard to leave here empty-handed.
Read more
On both sides of C/Torrent de l'Olla there's a small emporium dedicated to the world of party decorations and costumes. But the beginnings of El Relámpago, established in the 1940s, had more to do with pyrotechnics (thus its name, which means Lightning). You'll find it all here, from table settings for Christmas to balloons and gift bags for birthdays, and Halloween/Carnaval costumes and accessories.
Read more
Since 2001, Atucom has dedicated itself to selling and renting costumes and accessories for theatre, cinema and TV, but it's also a place of great pilgrimage for big dates on the calendar that require fancy dress – Carnaval and Halloween. If you're looking for a made-to-order costume, ask for a measurement and an estimate.
Read more
At once enchanting and disturbing, El Ingenio's handcrafted toys, tricks and costumes are reminders of a pre-digital world where people made their own entertainment. Its cabinets are full of practical jokes and curious toys; its fascinating workshop produces the oversized heads and garish costumes used in Barcelona's traditional festivities.
Read more
This veteran costume shop sells party favours, Christmas decorations and fireworks. At E Carnaval, kids and adults alike will find costume and accessories perfect for any fancy dress parties or events they're going to, whether it's Carnaval, Halloween or a themed birthday party.
Read more
A place where you can find what you need to change a bathroom tap, buy a lamp for the living room, pick up a new shower curtain or a set of knives, and lose yourself among metres and metres of ready-made costumes and material to make your own. Servei Estació isn't just a dream space for those handy around the house, but also a shop where every member of the family can find what they need for whatever activity or hobby they're into.
Read more