Celebrate with Barça
All you need to know to cheer the local champs along their celebratory route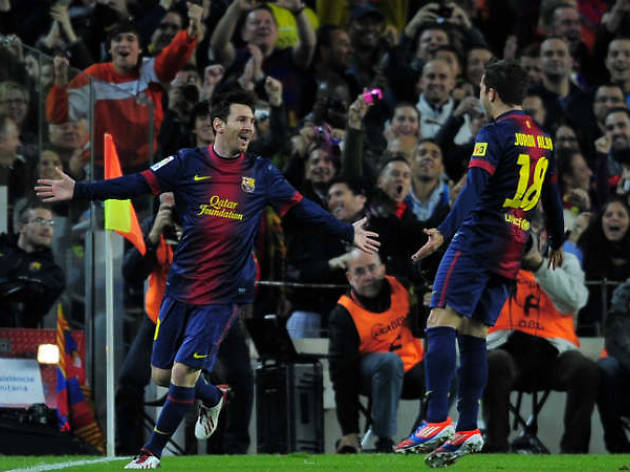 Today the 'culés' have an important date: Barça will be making their way through the streets of Barcelona to celebrate their Champions League win, starting at 6.30pm at the World Trade Center. The celebratory route, which, as in previous years is a mobile party on a convertible bus, will get rolling in Plaça Drassanes and carry on through Passeig Colom, Via Laietana, Plaça Urquinaona, Ronda Sant Pere, Plaça Catalunya, Passeig de Gràcia , C/Aragon, C/Urgell and Av Sarrià to Plaça Doctor Ignasi Barraquer, just below Diagonal, where the journey ends. Accompanying the No. 1 team will be the women of 'Femenino A', who have also earned their spot as League champions, making Barça the first club to win both spots (male and female) in the same year. This time round the route doesn't end in Camp Nou, but the party in the stadium with the usual suspects will take place on Sunday the 19th, after the Barça-Valladolid match.
The best spots to wait for the champs
To keep the party going
A FAD ('Foment de les Arts i del Disseny', or 'Fostering Art and Design') prize for interior design is always a great calling card, even if Snooker won back in 1985, the year it opened. A cocktail bar where you can also play pool, Snooker is reminiscent of a British pub, with custom designed furniture by Carles Riart. A great place for a last round and to celebrate Barça's success.
Read more
The bar 131 Fahrenheit, at the same street number in C/Aribau, was intended to be a full-throttle sports bar. But forget about the Irish-pub style bars round town with scarves and flags on the walls and uncomfortable wooden tables and benches. The Fahrenheit is the complete opposite. Their 16 televisions (one is 103 inches!) betray their love of sport, but the leather sofas, designer chairs and décor in dark tones let you know that it's also a restaurant and lounge club. Even the appetizers are stylish. And don't forget to try one of their house specialities: gin and tonics.
Read more
Bikini lost some muscle in recent years, with the big-name stars it once booked replaced by little-knowns and ageing rockers. Gigs are staged with the professional vigour of gold-ticket shows, and the club nights that follow are legendary. Divide your time between the rooms playing hip hop, pop, lounge or Latin sounds.
Read more
This lovingly renovated old music hall, garnished with chandeliers and classical friezes, is a mainstay on the live music scene and is one classy joint. In between visits from international artists and benefit concerts for local causes, you'll find nightly residencies: blues on Mondays, Dixieland jazz on Tuesdays, disco on Wednesdays, pop-rock on Thursdays, soul on Fridays and vintage and Spanish rock on weekends.
Read more