Corpus Christi 2016: L'ou com balla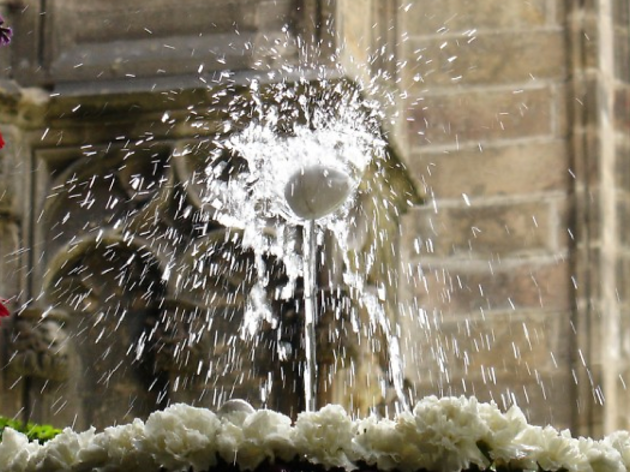 Every year on Corpus Christi, Barcelona celebrates with L'ou com balla, that is, the dancing egg. If you think seeing an egg being tossed and turned atop a water fountain sounds silly or boring, think again. Visitors are mesmerised yearly when they come upon the few fountains around the city that are elaborately decorated with flowers, and of course the egg on high. The first L'ou com balla reportedly took place at the Barcelona Cathedral in 1637. Corpus Christi this year is on Thursday May 26, and up to 19 buildings in the city will feature the dancing egg for three days, from May 26 to 29, including the Cathedral, the cloister of the Puríssima Concepció Basilica (Aragó, 299), the gardens of the Frederic Marés museum, and the Sant Jeroni de Montbau church (Plaça Mossèn Ferran Palau, 3). As timetables vary for each location, we recommend you check the website of the place you plan to go to find out when you can see the egg doing its thing.

Another activity you'll want to check out this Corpus Christi in Barcelona is the traditional Open Day in various spaces around the city on May 26. It's a great chance to get to (re-)discover emblematic buildings such as the Ajuntament, the cloister of the Pedralbes Monastery, the gardens the Ateneu Barcelonès, Casa de l'Ardiaca, the cloister at the Santa Anna church, La Casa dels Entremesos and the Reial Acadèmia de Bones Lletres.

What's more, on Sunday 29 you can catch the traditional festive parade that closes out the celebrations. It leaves from Plaça Sant Jaume at 7.15pm and carries on along C/Bisbe and Plaça Nova, where it joins up with the Corpus Christi parade leaving at 7.45pm from Av. de la Catedral and heading on past Plaça Nova, C/ dels Arcs, Portal de l'Àngel, C/Comtal, Via Laietana and C/Joaquim Pou, before finishing up where it started in Av. de la Catedral.