Heads up! We're working hard to be accurate – but these are unusual times, so please always check before heading out.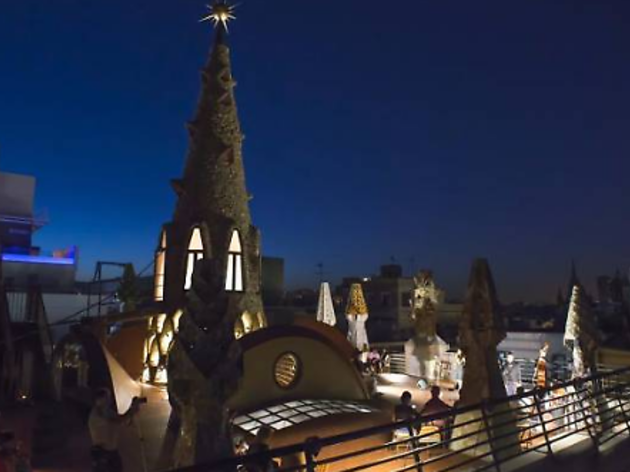 Evenings at the Palau Güell: Live Music Among Gaudí's Chimneys
The rooftop of the Modernist building is the setting for unforgettable evenings which include a visit around this original site
It is, to plagiarise the Bard, a midsummer night's dream. Once reserved for a privileged few, the experience of being on Gaudí's unique rooftop terrace while watching live music and observing the panoramic views of Barcelona as the cool evening breeze slowly defeats the heat of the day is truly memorable. And it needn't be just a dream thanks to the Evenings at the Palau Güell cycle of concerts, which will take place every Thursday from 6 th July until 17 th August 2017. If the music alone is not enough to tempt you, before the first chord has even been struck the events offer an express visit to one of the most important spaces in this World Heritage Site situated on Carrer Nou de la Rambla. Plus, this enchanted evening will end with a glass of cava and modest appetisers.
All that remains is to explain which groups you can enjoy this summer on the Modernist terrace, set among the first chimneys which Gaudí conceived as architectural sculptures.
6 th July: The Velvet Candles
Barcelona doo-wop group, the a cappella variation on rhythm and blues which was highly popular in the '50s and '60s.
13 th July: Mayte Alguacil and Her Trio
Young jazz formation which brings its own style to famous compositions.
20 th July: Wax & Boogie Rhythm Combo
The band headed by Ster Wax takes us on a musical journey ranging from boogie-woogie and swing to rhythm and blues.
27 th July: Quinteto Dequera!
The five musicians take a new approach to works by Argentine composer Astor Piazzolla.
The musical variation you will hear this evening is different from most other jazz formations. The Oldians will be presenting their fifth album of Jamaican jazz, of which they are masters.
10 th August: The Lindy Hoppers Band
Have you heard of lindy hop? We'll explain a little, just in case you haven't. It is a dance for couples which blends swing with African-American roots, popular in the States from the 1930s onwards. Close your eyes as The Lindy Hoppers Band play their music and let yourself be transported back in time.
17 th August: Pol Prats Quartet with Mayte Alguacil
The last summer evening concert for 2017 will offer a traditional repertoire of swing, jazz and blues from the Pol Prats Quartet and vocalist Mayte Alguacil, who makes her second appearance in this year's cycle on Gaudí's magnificent terrace. All the evening visits begin at 8.30 p.m. and the concerts commence an hour later. Tickets can be bought in advance on 93 472 57 75 or at palauguell@diba.cat.