Festa Major de Sants 2017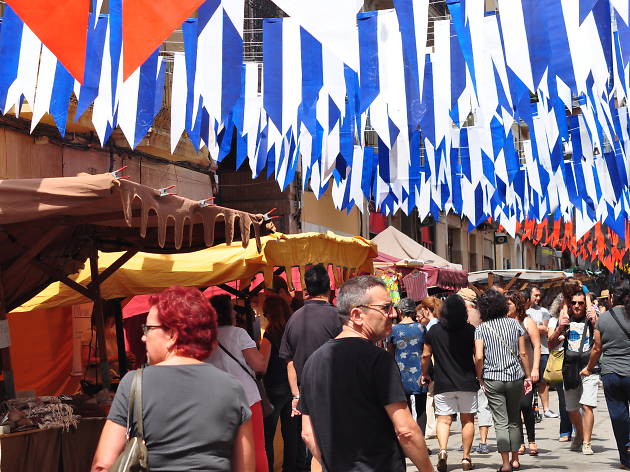 Time Out says
It's not the most well-known of Barcelona's Festa Major celebrations throughout the year, and it's not the biggest either, and that's why we love the Sants Festa Major. From Saturday August 19 to Sunday August 27 (that's two weekends as well as during the week!) the neighbourhood of Sants and its residents throw their big street party for themselves, each other, and visitors.

Take a stroll
You'll want to wander around the decorated streets to see all the hard work the residents have put in to spruce them up for the occasion. C/Sagunt will be trying to defend its first place award from the competition last year, but Alcolea de Dalt, which took the prize in 2015, won't be making things easy. And don't miss stopping in at Plaça Farga, where they'll be trying to win back the glory they had a few years back. Place your bets!

Fill your stomach
After all that walking around, you'll want to refuel, and that's just what you can do among the many neighbourhood meals on offer – it's also a great way to fit in with the local vibe. Try a 'botifarra' sausage in C/Canalejas (Thu 24, 9pm), a 'fideuà' noodle-based dish (Thu 24, 9.30pm), a barbecue in Santa Cecilia (Fri 25, 2pm) or a paella in Vallespir de Arriba (Sat 26, 2.30pm), among other tasty options.

Get your boogie on
Yes, there's dancing involved. In the Espanya Industrial park you'll find concerts that are part of the alternative Festa Major. If that's not your scene, how about some classical music with orchestras such as La Montecarlo (La Farga, Wed 23, 11pm), Celeste (Valladolid, Sat 26, 11pm) and Krater (Robrenyo, Sat 26, 11pm). Among the other various live music shows, check out Cesk Freixas (Sagunt, Fri 25, 11pm) and BAnda Trapera del Río (Vallespir de Baix, Sat 26, 10pm).

The alternative fiesta
If you're not into dancing or drinking 'cremat' (a spicy rum drink set on fire!) while listening to habaneras in Santa Cecilia (Wed 23, 11pm), at Papin you can watch a silent film with live music featuring Buster Keaton's 'The General' (Tue 22, 10pm). In C/Sagunto they're also putting on open-air cinema with the brilliant Argentinian film 'Relatos salvajes' (Sun 20, 10.30pm), in addition to a 'Night of Cabaret' (Thu 24, 10.30pm) with stars like Gilda Love.
Details
Users say