Santa Eulàlia 2017: Open doors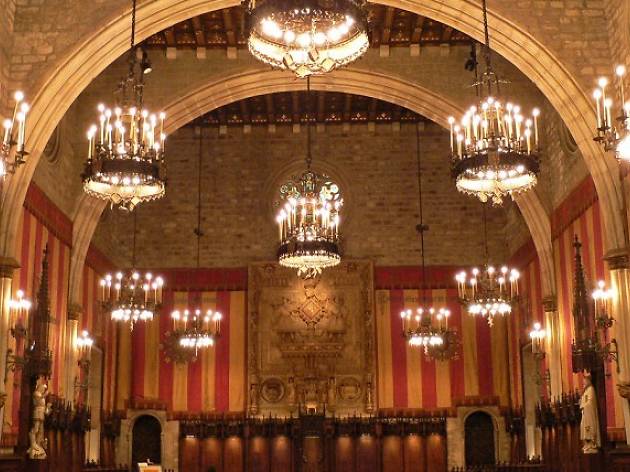 The Santa Eulàlia winter festival is full of all kinds of activities, but the Open Doors events are always the most popular. This year most of the Open Doors events in celebration of Santa Eulàlia fall on Saturday the 11th and Sunday the 12th.

The Ajuntament (City Hall), as usual, is expected to be one of the most visited participating locations. Between 10am and 8pm on Saturday you can get in to the most emblematic spaces of the city hall, including the Bon Consell, the Cent hall, the Consolat de Mar hall, and even the Mayor's office. New this year, you will also be able to access the Maria Aurèlia Capmany lookout point on the ninth floor of the Novíssim building (enter via Plaça de Sant Miquel between 10am and 6pm).

Some of Barcelona's most important museums are also throwing their doors open to welcome the public in for free. For example, you can get into the Museo Nacional de Arte de Cataluña (MNAC) for free on Sunday the 12th from 10am to 3pm. And between February 7 and 12, anyone named Eulàlia or Laia can get into the MNAC for free along with a guest and proper ID.

Get your good walking shoes ready for Sunday, as other museums offering free entry are the Picasso Museum (9am-7pm with advance booking on the museum's website), the MACBA (10am-3pm), the Joan Miró Foundation (10am-3pm), the Frederic Marès museum (11am-8pm), the Museu Blau (10am-8pm), Can Framis (11am-6pm), the Music Museum (10am-7pm), the Ethnological Museum (10am-8pm), the Archaeological Museum (10am-2.30pm) and nearly all of the History Museums (MUHBA) around town.

And that's not all! Other landmark buildings in Barcelona welcome you with open doors on Sunday the 12th. Palau Güell opens until they run out of tickets from 10am to 5.30pm. The Cathedral, the Sant Pau Art Nouveau Site and the Pedralbes Monastery also await you at no charge to celebrate the feast day of Barcelona's co-patron saint.