Heads up! We're working hard to be accurate – but these are unusual times, so please always check before heading out.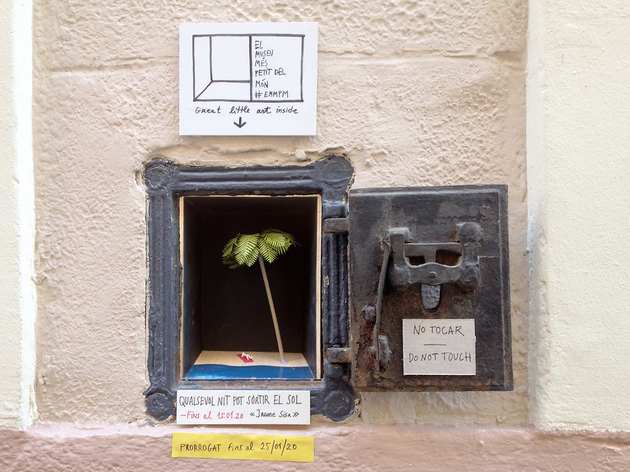 The 'smallest museum in the world' has just opened in Barcelona
One mother and daughter have set up their own miniature museum in old water meter boxes near their house
Traipsing around labyrinthine museums can feel like a bit of a chore – especially if you've been trying to squeeze as many as you can in a whistlestop weekend break.
Sometimes, when you're a time-pressed traveller, smaller is smarter. And definitely less likely to fuel holiday-ruining arguments. So next time you're in Barcelona, first on your hit list should be the Smallest Museum in the World, which comprises ten or so miniature exhibits in former water meter boxes dotted around the Gràcia neighbourhood.
Photograph: Noemí Batllori
With its lush plazas and cobbled alleyways, this is one of the Catalan capital's most picturesque and walkable areas. You should definitely kick back and hang out at a terrace café here. But what better way to explore than by going on an art hunt?
Noemí Batllori, who runs the Toy Hospital on nearby Calle de la Virtut, and her daughter Gala came up with the idea for the museum after Gala and her friend took to hiding objects in a similar box in their Gràcia house. Street culture is king in Barcelona, so the natural next step was to take the concept outside. 'It's a way of taking play out of the house,' says Noemí. 'And, of course, showing that you don't have to go to a park or plaza to feel like the streets are your own.'
Photograph: Noemí Batllori
From a far-out alternative universe to delightfully out-of-proportion jungle and beach scenes, the exhibits are as wacky as they are cute. You'll now find around ten of them scattered between Carrer del Torrent de l'Olla, Carrer de Martínez de la Rosa and Carrer de Laforja. Just remember not to reach inside – a couple have already been vandalised or disappeared, says Noemí.
So hit the streets and keep your eyes peeled for those dinky eye-height doors. And if you want to get involved yourself? Drop by Noemí's Toy Hospital to buy a kit containing a 9x13cm wooden box and instructions on how to create your own. It's not often you'll get your handiwork featured in a museum, after all.
Want more out-of-the-box inspiration?
Daunted by the prospect of a trip to Barcelona? There's so much to do in this thriving cultural capital that you run the risk of going away convinced that you haven't really seen the place. Don't fear – we're here to make sure you get the most out of your visit.