Gràcia
Popular and vibrant, Gràcia is a buzzing barrio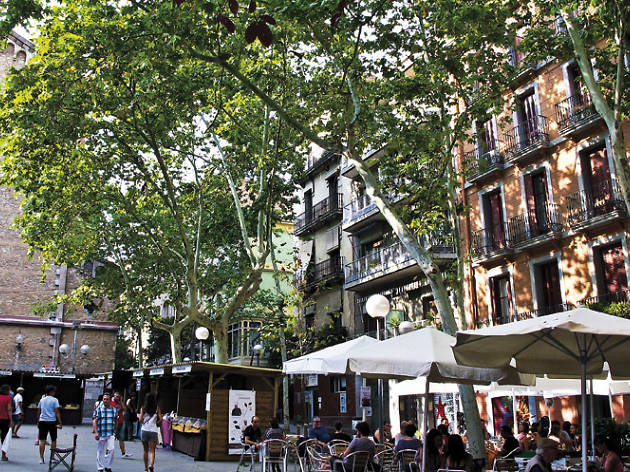 Beyond the Eixample lies the low-rise barrio of Gràcia. Like workaday Sants and well-heeled Sarrià, it was an independent town that was swallowed up as the city spread, but it retains its own identity and is one of the most popular and vibrant districts in the city. You can't think of Gràcia without thinking of its 'Festa Major', a district-wide weeklong street fair and party that takes over the barrio every August, complete with neighbourhood decorating competitions that are taken very seriously, and activities all day and into the wee hours. Architecturally, Gràcia can hold its own with the likes of the clock tower in Plaça de la Vila, the modernist Casa Fuster, Gaudí's Casa Vicens and, stretching the boundaries a bit, Park Güell.
Restaurants in Gràcia
Gut is a very attractive restaurant, with its pristine white furnishings and venerable wooden chairs. It's a small, elongated space, but thanks to the lighting they have made the most of it. They serve breakfast, lunch (a special menu at a very good price), dinner and drinks. Their modest menu offers a fusion of Mediterranean and Asian cuisine, with dishes such as prawn and mango curry and the tasty mushroom and foie brick. It's always full, and with today's economic problems, that says a lot about the place.
Contemporary Catalan cuisine that shies away from over-sophistication or pretentiousness. The menu is extensive, and you should come here armed with patience and a desire to enjoy a wide range of dishes at very different prices, but all of them top-quality!
Imaginative tapas, special Mediterranean dishes of the day and fresh auteur cuisine. Chef Xavier Codina calls it 'rumba cuisine'.
An Asian restaurant with a difference: they don't do fusion cuisine, they just take the best dishes from each country represented. The chef and owner, Jordi Brau, lived in Southeast Asia for seven years, and came back with recipes for tuna tartare, gyoza and nems which, for price and quality, set them apart from the rest. As they say here, tapas with chopsticks.
Somodó restaurant used to be called Shojiro. Chef Ochi has combined traditional Japanese cooking with Mediterranean cuisine, with dishes like poached egg on cream of anchovies or the excellent steamed turbot with mayonnaise fumet. While everyone else does tapas, Ochi goes for grand cuisine.
What to see & do in Gràcia