Heads up! We're working hard to be accurate – but these are unusual times, so please always check before heading out.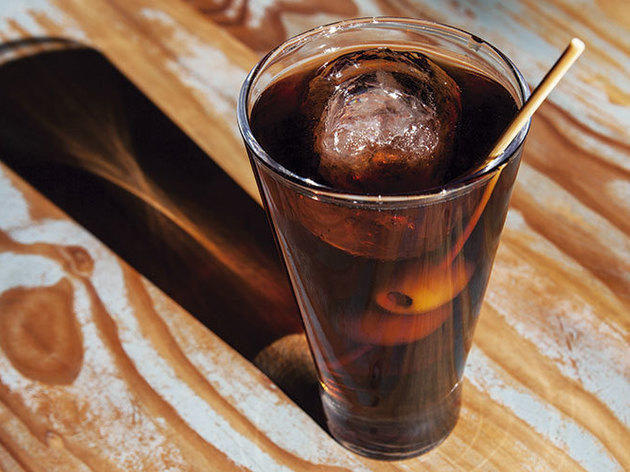 Vermouth meets music
Forget fancy food pairings – vermouth, olives and live music are where it's at
There's no denying that in Barcelona, the tradition of having vermouth and snacks around midday has come back in fashion in full force. The locals look for a sunny spot or a cool bar to enjoy their vermouth hour, which, like cocktail hour, doesn't really have a time limit, and places that feature vermouth and its accompaniments along with live music or great DJ sessions are the current place to be. Here are some of our recommendations of hot spots that put on these daytime parties, where no one goes thirsty, and a good time is had by all.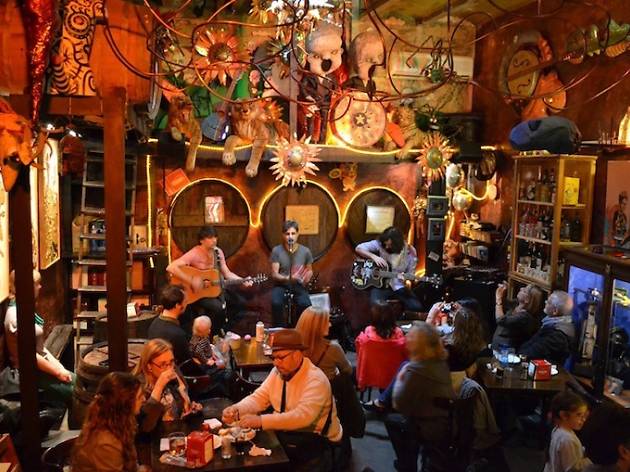 Long before the craze for vermuts musicals hit the city, before taverns became fashionable hang-outs, and Poble-sec filled with bar terraces and tourists, the owners of the Gran Bodega Saltó (Blesa, 36) had already decided that a civilised aperitif would slip down easier to the accompaniment of an acoustic concert. Dropping by Saltó is a worthwhile outing, if only to appreciate the friendliness of the staff and the delirious kitsch of Steve Forster's interior design. Every Sunday – and most Saturdays – there are live shows from 1.30pm. Admission is free, but they ask everyone to bring a bottle of olive oil for charity Voluntat en Acció, which distributes them to local people in need.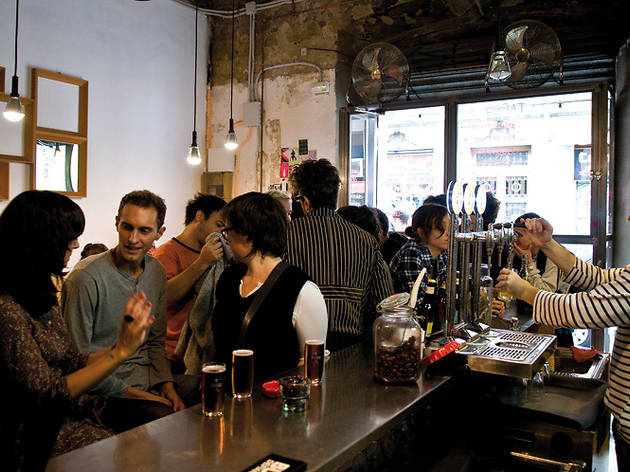 Not long ago we were contacted by a Mr Pam Pool, DJ, whose mission in life is to promote a grand festival of aperitifs at El Rufián (Nou de la Rambla, 123) in which vermouth (specifically Vermut Medusa, made in La Secuita in the southern Catalan town of Tarragona), Spritz and Martini duke it out for the title of most popular tipple. Mr Pool, who DJs in a traditional Catalan red-and-black hat or barretina, delights the public with a select playlist of essential party tunes, emits euphoric cries whenever the spirit moves him, and urges on the crowd as if his life depended on it. El Rufián is, without a doubt, the ultimate tongue-in-cheek Eurotrash Sunday party.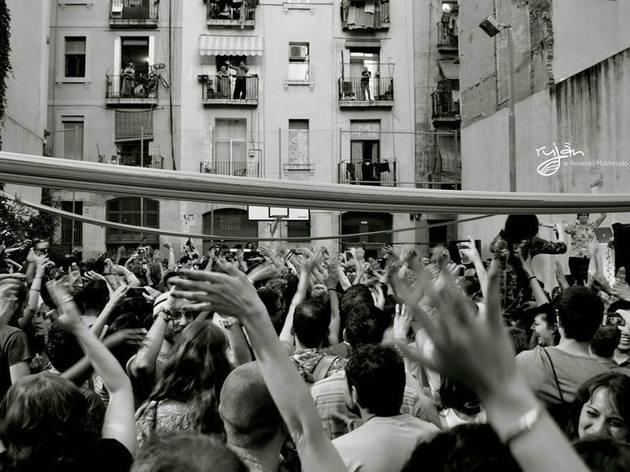 They say God rested on the seventh day, but Ven Tú has proved that Sundays are all about celebration, and that if a vermut musical isn't a party, it's nothing at all. Three years after the first Ven Tú at Raval backstreet bar Las Fernández, there can't be many people left in the city who haven't sampled its winning formula: Sunday afternoon concerts that go on until sundown, always nomadic – every party takes place in a different venue – always free, with live music to kick off the proceedings and DJ sessions to keep them going. Our future grandchildren will recall the Ven Tú shindigs their grandparents told them about, with tears in their eyes. Find out where they'll be this month on their Facebook page.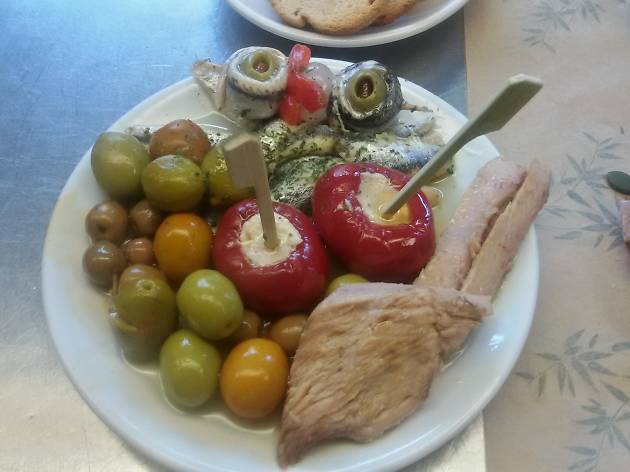 A little over four months ago, Elena, the owner of Olivia, took the intrepid step of launching herself into the world of catering. She converted an old neighbourhood bar on the corner of Magalhães and Concòrdia (Magalhães, 83) into a vermutería where you'll feel at home from the very first sip of a deliciously light vermouth from Teruel, or a foaming glass of Estrella Galícia beer poured with loving care. Things get lively with the arrival of the weekend. On Saturdays it's Pincha&Corta: music, vermouth and a culinary speciality every week, and on Sundays the W Sessions – W as in 'double V' for Vinyl and Vermouth. And when the temperatures really heat up, Olivia will have some of the best shade in Poble-sec.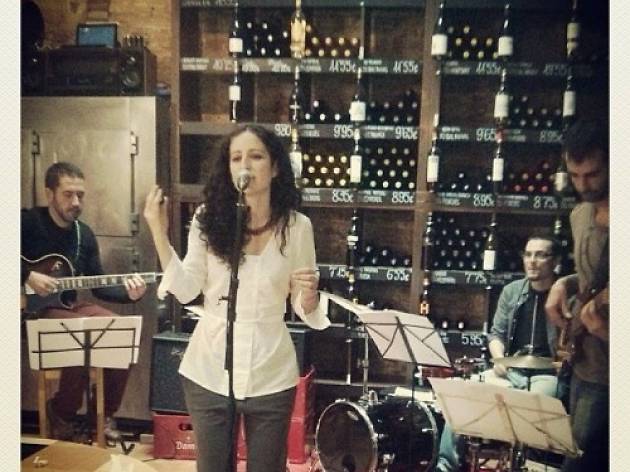 It's an authentic wine cellar, fresh, full of life, and stacked with barrels and bottles of wine from floor to ceiling, as it should be. Last November, Cal Marino (Margarit, 54) celebrated its first year in business, and it's already an institution in Poble-sec for the most avid devotees of tapas and vermouth, who show up every Sunday with the dedication of churchgoers who never miss mass. Approximately once a month, the Sunday aperitif is accompanied by live soul, jazz or rumba.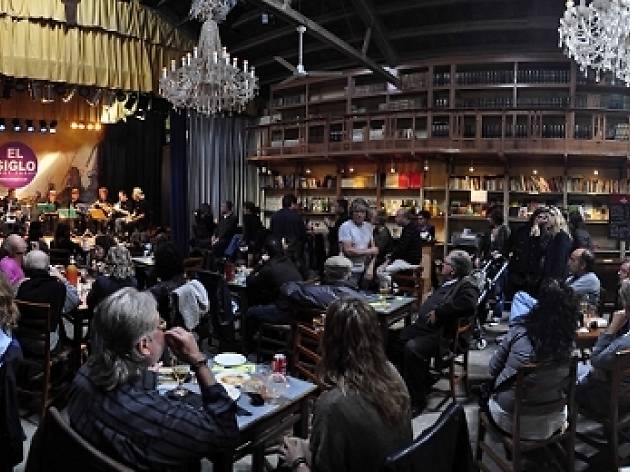 This one-time ceramics factory in Sant Cugat – just over 15 minutes from the centre of Barcelona by FGC train – was converted into a permanent antiques market in the early '90s. El Siglo is one of the spaces inside Mercantic (Avinguda de Rius i Taulet, 120) and, although it started out as a second-hand bookshop, today it's a cultural hotbed that hosts exhibitions, film nights and, in its most recent move, vermouth and live music sessions every Sunday from 12.30pm.