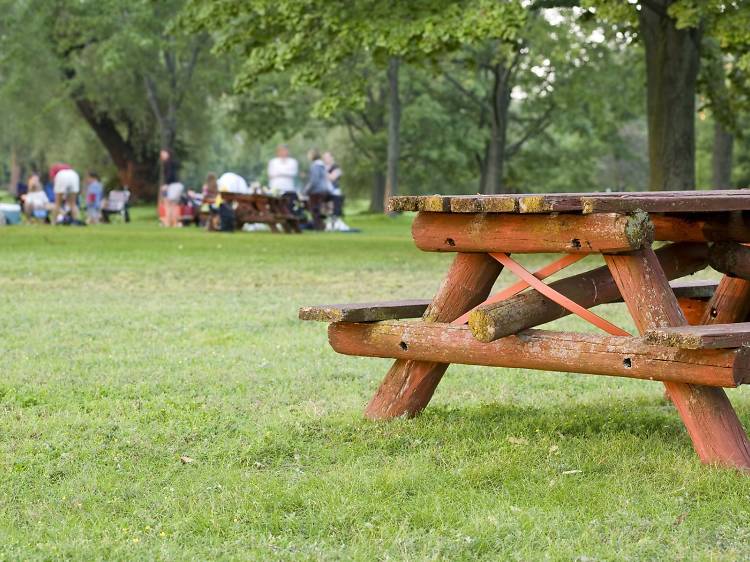 Coll de Josa
Four wooden tables and a lookout point with views of the village of Gósol and the west face of the Pedraforca Mountain are more than enough to enjoy a superb picnic day. The area is on the C-563 road between Gósol and Josa del Cadí.
GPS: 42°14'58.98"N 1°39'1.58"E
Chapel of Sant Ramon
Perhaps you've heard of more than one chapel dedicated to Sant Ramon. But we want to take you to the one in the municipal district of Sant Boi de Llobregat. From here you can enjoy wonderful views over the Baix Llobregat and Barcelonès regions. The picnic area has 13 wooden tables arranged in 3 separate spots, as well as a recreational area.
GPS: 41°20'15.94"N 2° 0'40.39"E
Aiguafreda de Dalt
Now we head to the gateway of Montseny Natural Park. In the historical complex of Aiguafreda de Dalt you'll find two tables underneath some covered shelters and a lookout point on the north side of the church as well as a fountain. The 9th century Church of Sant Martí, a conjuratory and a cave-crypt are also good reasons to go to this picnic area.
GPS: 41°47'19.38"N 2°15'27.45"E
Miranda d'Espiells
In the cava capital, Sant Sadurní d'Anoia, on top of a hill in the hamlet of Espiells you'll find a noucentista style watchtower. But it's not alone. There are two shady tables where you can enjoy a snack.
GPS : 41°26'12.56"N 1°48'38.44"E
Mirador dels Apòstols
The last picnic area you'll visit is in Montserrat. There's no shade on terrace of the Mirador dels Apòstols restaurant but there are some amazing views and 38 wooden tables, some of which are placed close together and ideal for large groups.
GPS: 41°35'38.05"N 1°50'24.29"E
More information on this link.