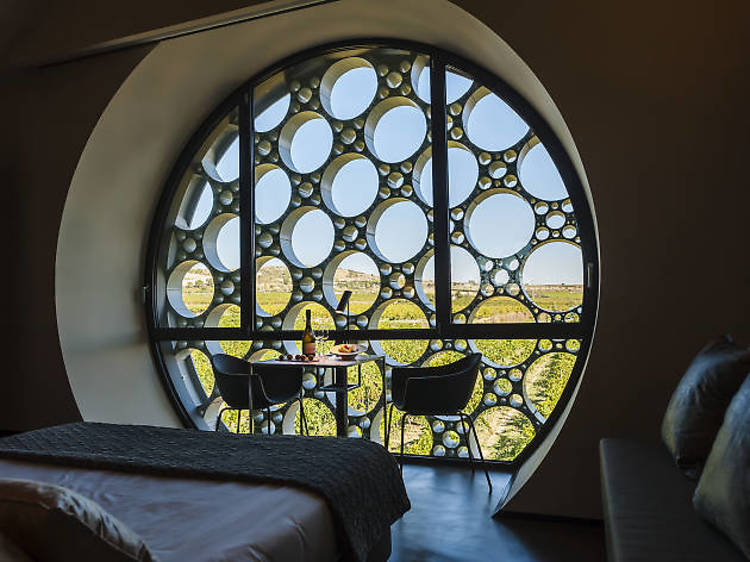 A path to reflect on the passage of time
You'll feel like walking and at the same time experiencing the essence of Penedès with all five senses. You can do the Camí del Vi or Wine Walk, an easy sensory path of 3.5 km, ideal for the whole family, to help you understand what vineyards and wine culture have meant throughout history for the area from a social, cultural, environmental, tourist and economic point of view. The route begins at Vilafranca del Penedès Tourism Office, and the first stretch until the Camí de la Bleda is urban. Then a path begins that winds through the vineyards and ends at the Torre de les Aigües, inviting you to reflect on the passage of time, for both people and nature: the time needed for vines to grow and to produce grapes, the time in the cellar to make the wine... An interpretation path that was opened two years ago and allows you to trace the story behind every bottle of wine.
Next, you'll visit the Cava & Hotel Mastinell, a wine tourism complex in an exceptional spot on the outskirts of Vilafranca. It's a 5-star hotel based on Gaudi's architecture with only 12 exclusive rooms and offers cava and wine therapy treatments, as well as other wine tourism activities. There is also the Espai Gastronòmic En Rima, serving Mediterranean cuisine, and the winery where the Mastinell wines and cavas are produced. The hotel has been recognised as Best Tourism Establishment of the Wine Routes of Spain and as Best Tourist Experience by the Government of Catalonia.
When it's time for lunch, you can eat at Cal Blay Vinticinc, a wine and food restaurant in Sant Sadurní d'Anoia. It's located in a modernista cellar, and the food it serves combines tradition with new culinary trends. And as you're in Sant Sadurní, don't forget the cava! In this restaurant you can choose from the more than 120 made there!