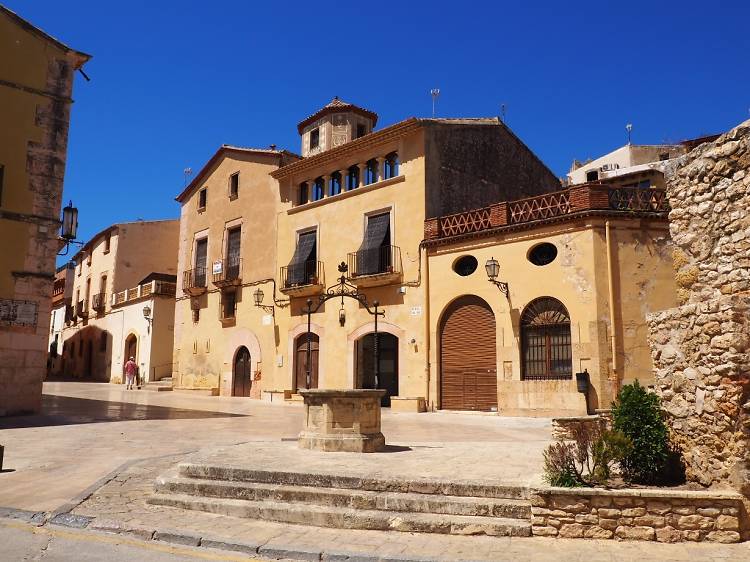 © Ingo
Afternoon day 1: Medieval streets in Altafulla
Enjoy the calm and beauty of Altafulla, an iconic town in a privileged location on the Costa Daurada. Its historical centre, known as the Vila Closa, which has been declared a historical-artistic ensemble of national cultural interest, features emblematic spaces such as Plaça del Pou, a square dominated by the porticoed town hall building, and surrounded by a number of noble mansion houses. Opposite the town hall is the monument to the 'castellers' (human towers), which was sculpted by local artist Martí Royo.

The steep and narrow streets lead to the old castle, and the ensemble made up of this castle, the Church of Sant Martí and the rectory ennobles one of the squares with the best acoustics in Catalonia, which has played host to the many music and poetry performances held on summer nights, such as the town's Voices Festival and Concert Cycle.

If you fancy seeing the sea, head to the neighbourhood of Les Botigues. During the 18th century, small storehouses started being built on the seashore and were used by fishermen to keep their tools in and by merchants to store goods before they were shipped to the colonies. The neighbourhood of Les Botigues ('the shops') was consolidated in this location in the 20th century, when those old storehouses were transformed into houses and used as summer residences.

When you're feeling hungry for dinner, you've got a wealth of restaurants to choose from in the area, many of which, as you might imagine, offer an excellent variety of fresh seafood.