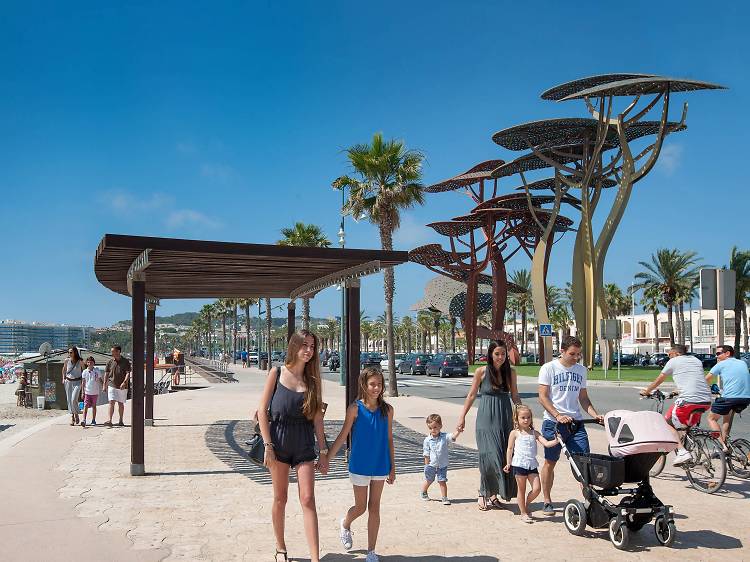 Afternoon day 1: Disconnecting by the seaside
There's nothing better than starting a relaxing weekend than disconnecting by the sea. At La Pineda beach, we suggest you start off with a nice stroll along the coastline, featuring nearly 4 kilometres of beaches that provide lovely surroundings. The beaches are certified Blue Flag areas by the European Foundation of Environmental Eductation. There you can also see one of the most representative symobls of La Pineda: a group of sculptures by the same name. Designed by artist Javier Mariscal, the group of eight pine trees, which stand 24 metres tall and weigh 130 tonnes, embellish the seaside boardwalk as a symbol of sustainability, future plans and urbanism in the area. The steel and copper sculpture has helped promote the Vila-seca, La Pineda Platja area around the world, as its image was adopted as a logo for the Patronat Municipal de Turisme de Vila-seca.

Very nearby, another sculpture group, 'Marca d'Aigua', receives visitors filtering light and wind. Made of steel, the work of sculptor Sergi Aguilar was built as a tribute to writer and poet Carlos Barral, and evokes sea, wind, earth and walks, marking the four cardinal compass points.

To round out your day, you can head to the Parc del Pinar del Perruquet, a natural space that's 2.5 hectares in size where you can stroll around and relax while the kids have a great time.