Heads up! We're working hard to be accurate – but these are unusual times, so please always check before heading out.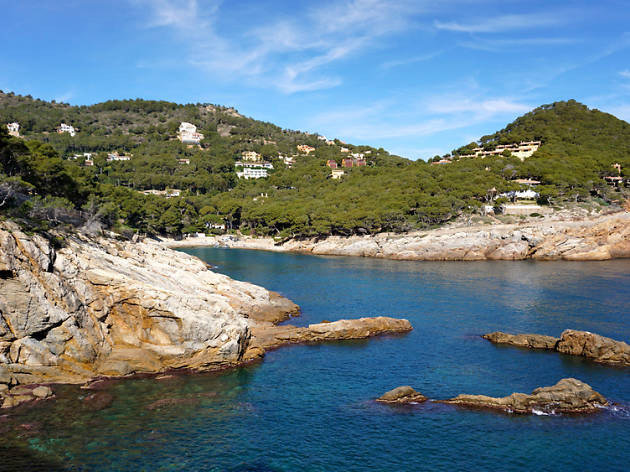 The 20 best beaches in Catalonia
Take a dip or sunbathe in exceptional settings
From Portbou to Alcanar, Catalonia's seaside shores stretch more than 500 kilometres. With such a long coastline there's enough space for lots of magnificent beaches and coves: some isolated and surrounded by vegetation, others with a beautiful village behind; some small and rocky and others much bigger with fine sand. If you don't know where to go, we're here to help you with our selection.
Cala de Cap Roig (Sant Antoni de Calonge)
The name comes from the islet of a reddish hue ('roig' being Catalan for 'red') that separates the beach into two areas, creating two different settings. And, far from the sunbathers and swimmers, the islet is crowned by pine trees that add to its personality. It's thrilling to climb this rock and take photos of the surroundings from on high. This is authentic Costa Brava. You can reach this beach on foot by taking the seaside path.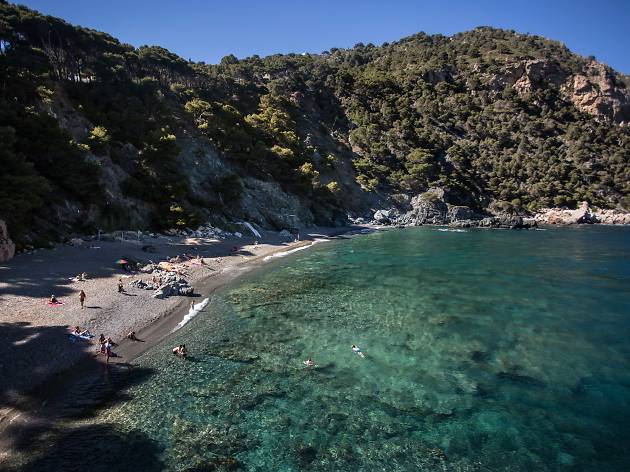 © Carles Palacio i Berta
To get to this small 'wild' cove on the Costa Brava you have to go down some steps, so it might be best choose another beach if you've got small children or elderly people in your group. You'll find water of dark tones, with equally dark, course sand. But what makes the beach at Fonda stand out is the cliff that protects the place and provides many hours of shade.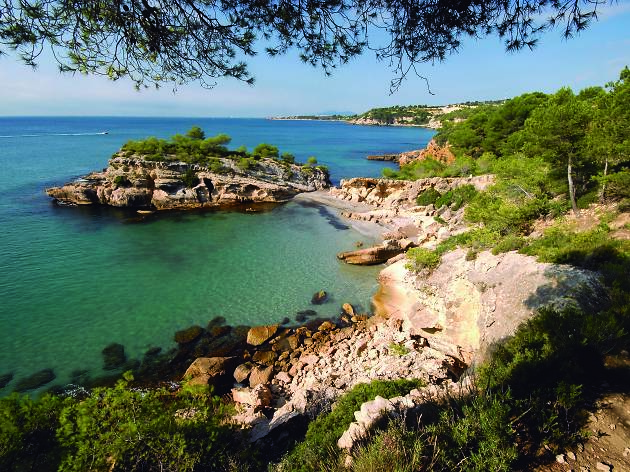 © Turisme L'Ametlla de Mar
Platja de l'Illot (L'Ametlla de Mar)
The Costa Daurada boasts many fine-sand and gently sloping beaches, those where you have to wade out several metres before the water reaches your waist. But sometimes the coast rebels and serves up surprises, like the Platja de l'Illot (Islet Beach), south of L'Ametlla de Mar. This small pebbled cove is surrounded by a strip of red rocks where the pine trees almost reach the water. And, of course, the islet, rising from the waves, makes the landscape even more picturesque.
Cala Justell (L'Hospitalet de l'Infant)
Also known by the name of Gestell, this rocky and wild cove has dunes, fine golden sand and pebbles along its 170 metres. The vegetation touches the beach, and it's located in a zone classified as a natural wetlands site.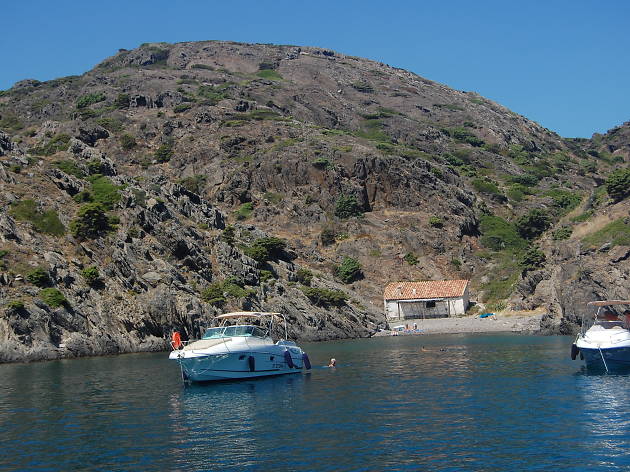 © Club Surcando
This was a private beach until 2004, when the Club Med closed. Now that everyone can swim in its waters, a great plan is to head to this cove located in the lands associated with Salvador Dalí and enjoy the crystalline waters and the small coarse-sand beach.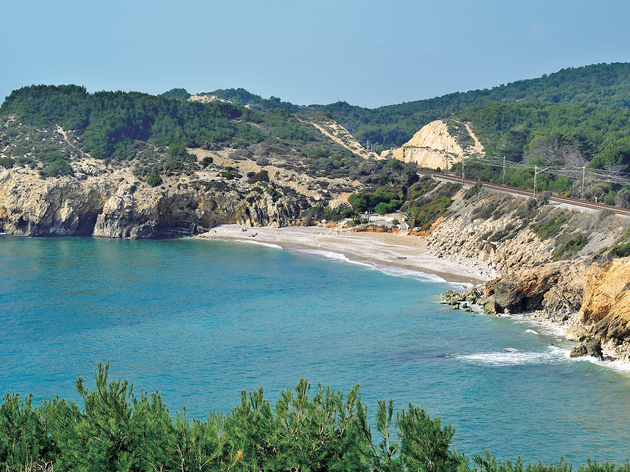 Platja de l'Home Mort (Sitges)
To the south of Sitges, in the region of El Garraf, you'll find two beaches separated by a small rocky ravine forming an open bay. The Platja de l'Home Mort and the Platja de Roses together measure 300 metres long but are less than 10 metres wide. Once in the water you'll find that the bed is shallow and formed by small rocks and sand.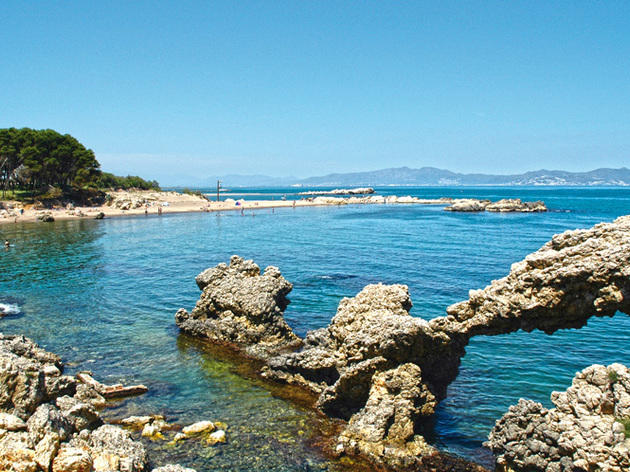 © Sergi Ramis
Platja del Portitxol (between L'Escala and Sant Martí d'Empúries)
This lovely sandy spot with calm waters and fine sand (making it ideal for children) is surrounded by a forest of pine trees that reaches almost to the sea. The beach is protected from side to side by rock formations, and it's no surprise that both the Greeks and Romans chose the area to establish key settlements. History, heritage and natural beauty come together here.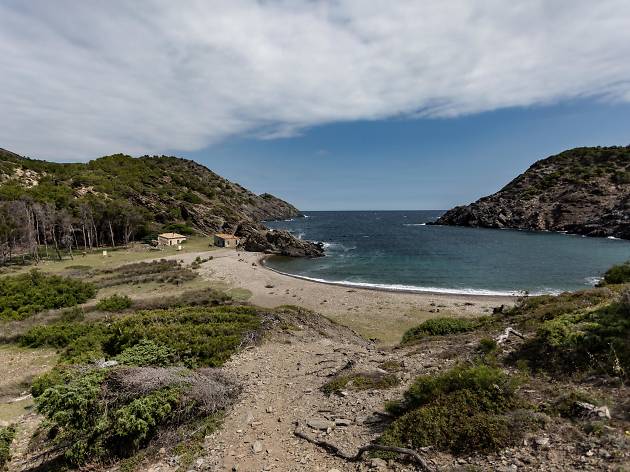 © Carles Palacio i Berta
Cala Tavellera (Port de la Selva)
Cala Tavellera is only accessible on foot through Cap de Creus – the easternmost point of the Iberian Peninsula, and once you make the excursion you're rewarded with an isolated, beautiful spot with a sea bed dense with Posidonia meadow. In case you lose track of time, there's even a place to spend the night, and watching the sunrise from such a spot is practically a religious experience.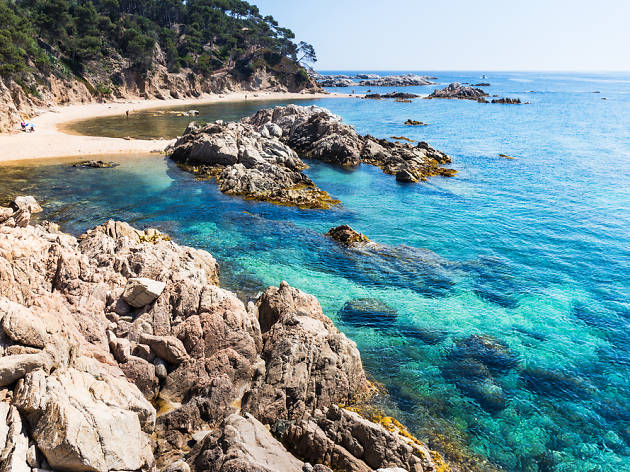 Some say that this is the cove that gives the most pride to the people of the region of El Baix Empordà, in northern Catalonia. And when you visit it, you'll understand why: it is stunning. That might just be because it takes some effort to get there, so fewer beachgoers visit than other more conveniently located spots. In the summer months motor vehicles are not allowed, and so you're looking at about a 45-minute walk from the Platja del Castell (another beach that's well worth a visit). There are often nude sunbathers.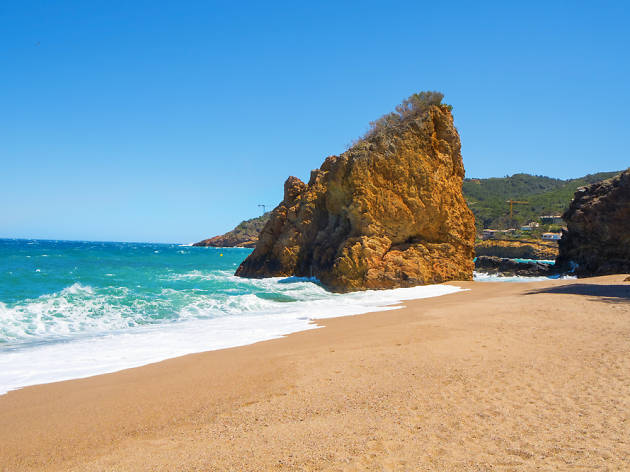 © nito
Cala de Illa Roja (Begur)
You have to walk along the seaside path to get here. When you see it, you'll recognise it immediately: it is distinguished by the reddish colours of the rock that rises out of the water. It is surrounded by cliffs, you won't hear any noise other than the sea and it is frequented by nudists.
Platja de la Llosa (Cambrils)
This is one of the best-known beaches in Cambrils, a town in the heart of the Costa Daurada. La Llosa beach is located in a semi-urban area and boasts fine golden sand, with calm shallow waters. It stands out for its double M-shaped bay protected by breakwaters made of rocks. It's one kilometre in length and also has a promenade ideal for walking or cycling.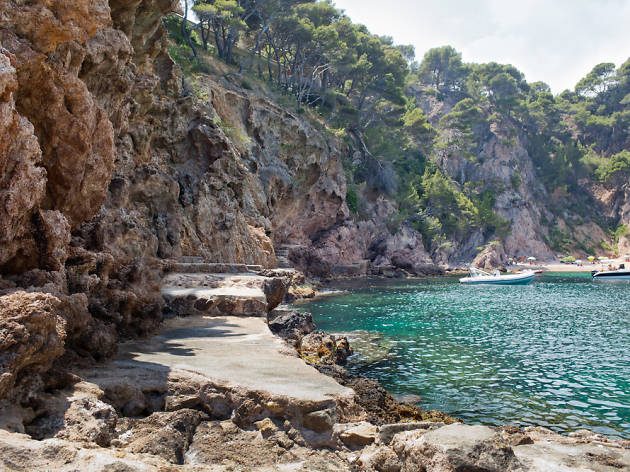 © waldru
Cala de Sa Futadera (Tossa de Mar)
The crystalline waters of this cove are so attractive, you'll want to dive right in, although the temperature might give you the shivers. And more so bearing in mind that to get there you have to overcome vertigo to descend the cliffs. You can imagine why it's a peaceful place to spend some time, even in summer.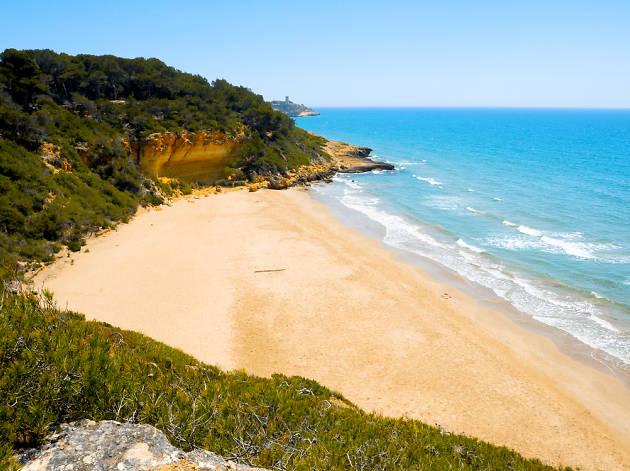 © nito
This is one of the best conserved beaches on the Tarragona coast. At 200 metres long and 25 metres wide, it's locally known by the name of Waikiki, and it's also a nudist beach. To get there, you have to walk for about 3 kilometres, heading east from Platja Llarga.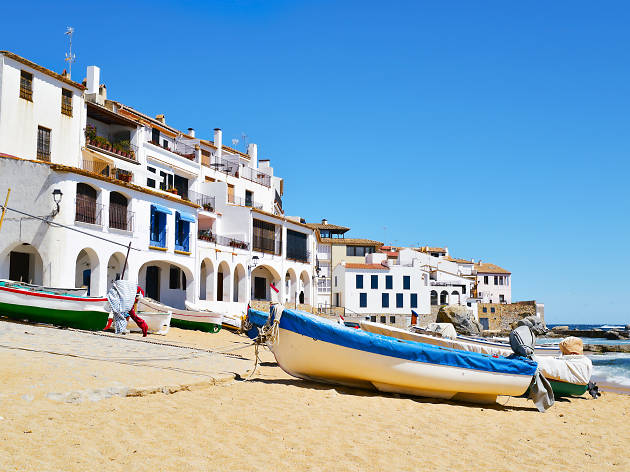 Platja del Port Bo (Calella de Palafrugell)
An idyllic beach that has inspired writers, painters and musicians Port Bo is also very well known as the place where the busiest havanera music festival in Catalonia is held annually on the first Saturday of July. However, the beach itself is very small and has boats resting on the sand, so in high season it's almost a miracle to find a spot to spread out your towel.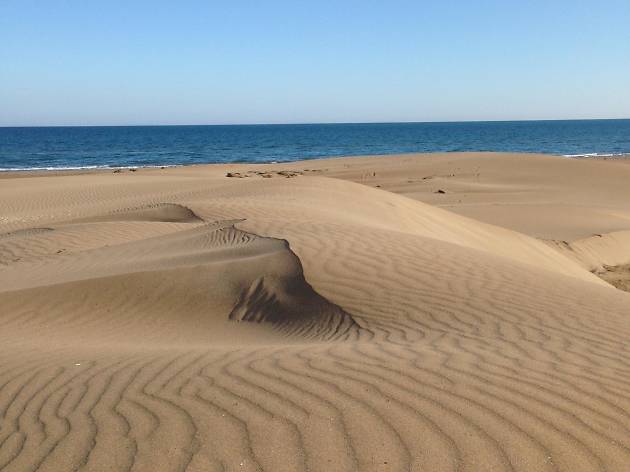 Platja del Fangar (Delta de l'Ebre)
In the north of the Delta de l'Ebre you'll find a vast tongue of sand that is El Fangar peninsula, a real desert with dunes where even mirages occur. You can enjoy seven kilometres of unspoilt beach. Given the nature of the site, don't forget sun protection, water, food, a hat... and remember that here the winds can be quite strong.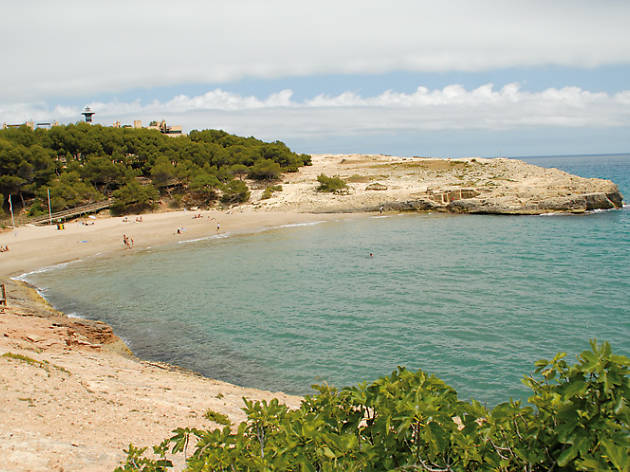 © Ana Páez
Platja del Canyadell (Altafulla)
This small and quiet fine-sand cove approximately 60 metres long and 35 metres wide is located at the end of a path that starts at the north of the beach of Altafulla. It's surrounded by a spectacular landscape, a combination of bare rock and typical Mediterranean vegetation. Before or after visiting the beach, have a walk around the charming village of Altafulla.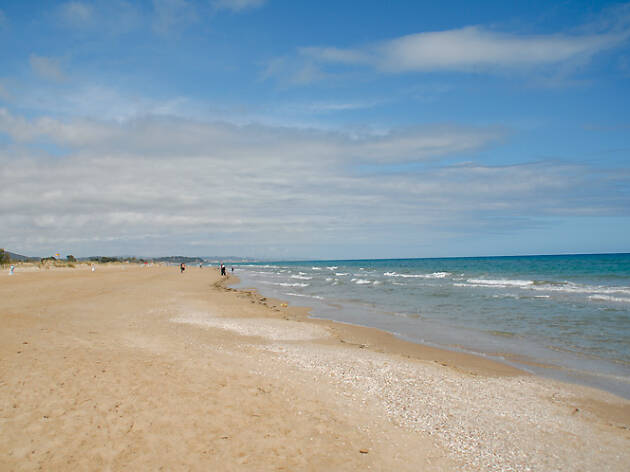 © Ana Páez
Platja dels Muntanyans (Torredembarra)
There's room for everyone at this immense (over five kilometres long) beach in the middle of the Costa Daurada: it's the perfect place to go with the kids thanks to the shallow waters, but it's also lovely with your partner, fun with friends, and even enjoyable for a family outing. There's also a space for those who prefer not to wear a bathing suit. This is an unspoilt beach, with dunes and marshes.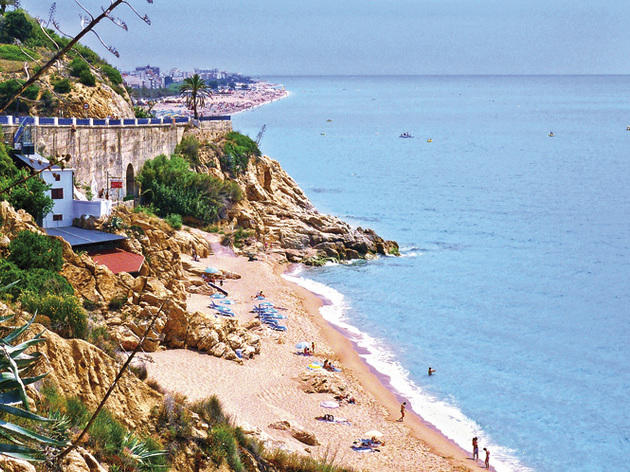 © Sergi Ramis
Platja del Morer (Sant Pol de Mar)
In the region of El Maresme, this beach located north of Sant Pol de Mar boasts 750 metres of thick-grained golden sand and narrows as it advances eastward. The mountainous rocks provide protection and isolate the beach, giving a feeling of tranquillity, even though the train line and the N-II road pass close by.
Cala Crancs, the easternmost beach of the tourist town of Salou on the Costa Daurada, gets quite busy in high season. Eighty metres long and naturally delimited, the fine sand and gentle slope make it great for kids.
A beautiful place in the Cap de Creus Natural Park which famed chef Ferran Adrià, with his restaurant El Bulli, popularised even more. The cove is surrounded by mountains and nature and is quite enclosed, so the waters are calm and yet deep at the same time. Boats come very close to the sand, offering postcard views. A holiday resort a few metres from the beach offers many services.