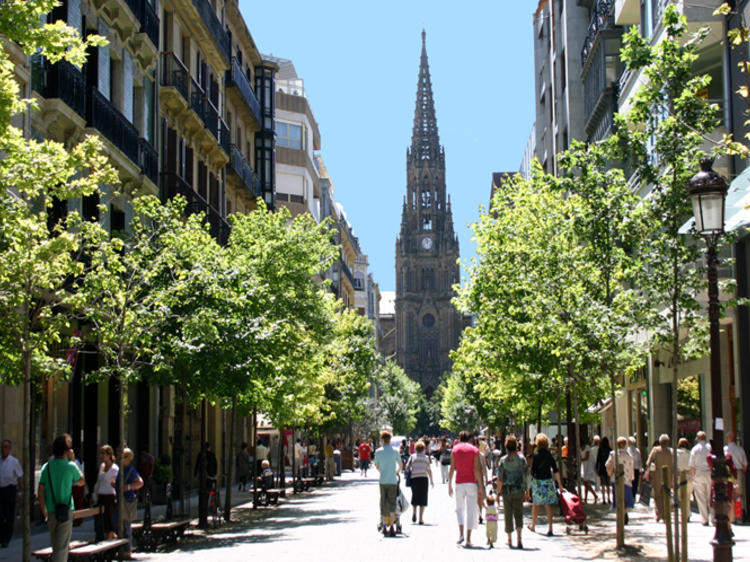 Guided tours
ESSENTIAL SAN SEBASTIÁN
Duration: approx 2hrs. Price: €10, under-12s free.
Walking tours of the city's most emblematic sights and monuments, accompanied by a professional guide. Some of the places visited include the Boulevard, Plaza de la Constitucíon, San Vicente Church, the Basilica of Santa María, the port, the town hall, Plaza Gipuzkoa and Teatro Victoria Eugenia.
A TASTE OF SAN SEBASTIÁN
Starts: 11.30am. Duration: approx 2hrs. Price: €18, under-12s free.
A professional guide takes you on a walking tour of the most important sights of Donostia/San Sebastián, uncovering some of its best-kept secrets and little-known anecdotes. A pinxto and a drink in three of the old town's bars is included, along with information about the rich gastronomic heritage of the city.
SAN SEBASTIÁN AND THE CINEMA
Starts: 11.30am Duration: approx 2hrs. Price: €14, under-12s free.
A guided walking tour inspired by the stars of the silver screen, most specifically those who have visited and fallen in love with the city. See it as Woody Allen, Pedro Almodóvar, Bette Davis, Al Pacino, Robert De Niro, Sigourney Weaver or Alfred Hitchcock did in their day. Donostia/San Sebastián becomes the world capital of cinema every year during the International Film Festival, which has a knock-on effect well beyond the festival dates, and has provided a rich tapestry of stories. The tour includes entry into the Hotel María Cristina (where the stars normally stay) and Teatro Victoria Eugenia, as well as a pintxo and drink at Oquendo, the bar favoured by celebrities.
www.sansebastianturismo.com