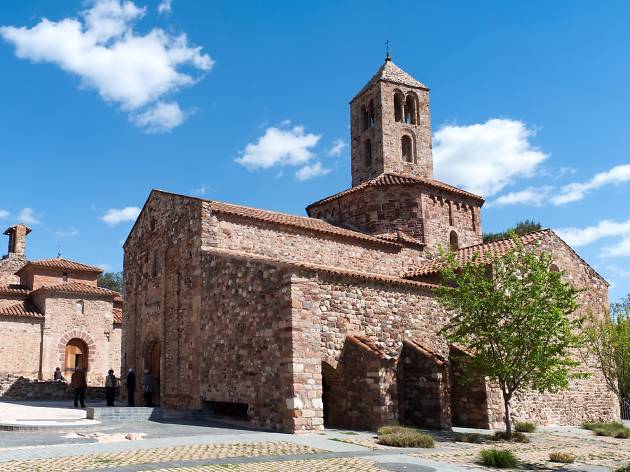 Two monumental sites in Vallès
A getaway on public transport to discover the Monastery of Sant Cugat and La Seu d'Ègara in Terrassa
Leave the car at home. For your getaway to Vallès Occidental you'll visit two great monumental sites, the Monastery de Sant Cugat and La Seu d'Ègara in Terrassa, which can be reached easily by public transport. Ferrocarrils de la Generalitat de Catalunya (FGC), the Diputació de Barcelona and Barcelona Turisme make it very easy: fast and frequent trains to the towns with the monuments you want to see, and a very affordable combined ticket, available online at the main tourist offices in Barcelona. Tickets include audio guide and it's free for the under-6s. So don't hesitate and take the train!
IN COLLABORATION WITH BARCELONA ÉS MOLT MÉS OF THE DIPUTACIÓ DE BARCELONA.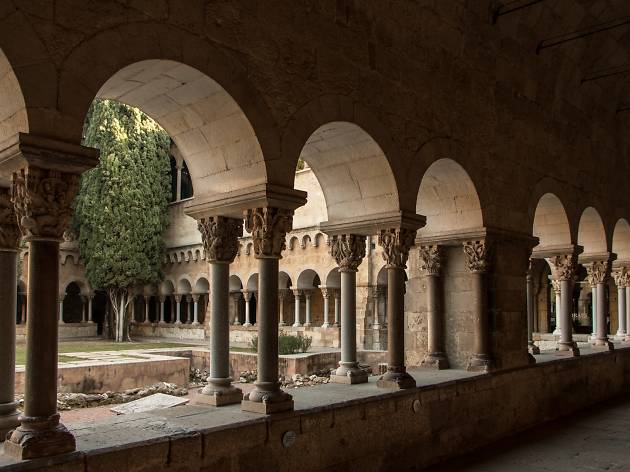 The Monastery of Sant Cugat
Leave the train at Sant Cugat station and walk to one of the constructions that reflect the historical importance of the region. The Royal Monastery of Sant Cugat was the most important monastery in the medieval period in the entire county of Barcelona. The giant gothic rose window on the façade provides a good example of its magnitude, as do the surviving walls and towers, built in the 14th century. The Benedictine abbey dates back to the 9th century, with a well preserved church and cloister, the jewel in the crown, Romanesque and with some capitals that deserve close attention. This cloister houses the central office of the Museum of Sant Cugat, which is surrounded by the chapter house and the old monastic premises.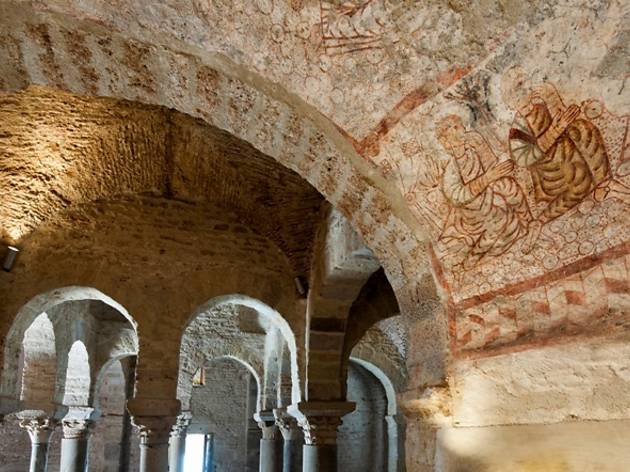 © Gonzalo Sanguinetti / Diputació de Barcelona
Both Sant Cugat and Terrassa offer a wide range of culinary delights, with restaurants of all kinds to suit every pocket. So it's up to you: choose where you want to spend a time relaxing and enjoying a good meal because another very interesting visit awaits you in the afternoon. You have to take the FGC train again to get to Terrassa, the joint capital of Vallès, get out at Terrassa Estació del Nord, and in no time at all you'll be at La Seu d'Ègara, at one end of the beautiful Parc de Vallparadís. After years of restoration, the three churches that make up the site of La Seu d'Ègara (Sant Pere, Santa Maria and Sant Miquel) are a wonderful vision and give visitors a real lesson in architectural history, as there are mostly Romanesque elements but also others from the Visigoth era – some of the few remains from this period in the country –, as well as the Renaissance, the baroque period, and even the late Roman Empire, without overlooking two outstanding gothic altarpieces. An authentic jewel that seeks to become a UNESCO World Heritage Site, and a magnificent place to end your quick getaway to Vallès Occidental.
For more information, check out this link.