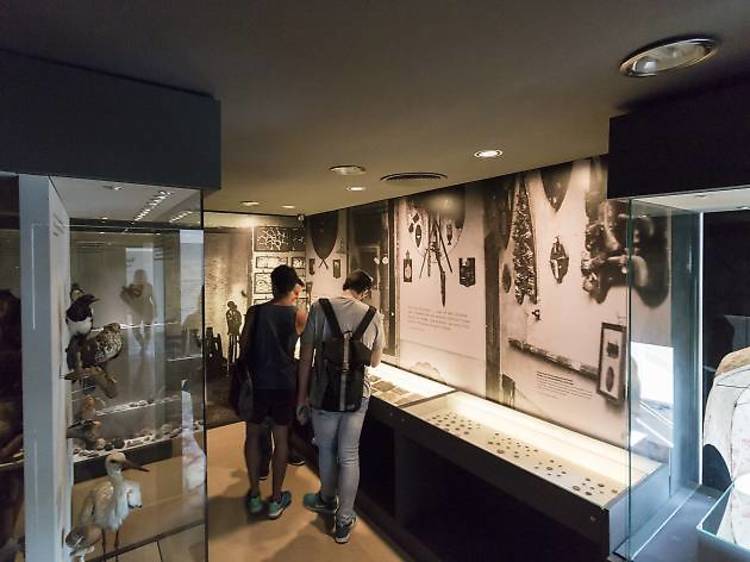 © Albert Miró
Museu de Cardedeu
To delve into Modernisme and recharge your batteries, you can have breakfast at the Melindro, a bar located on the ground floor of a modernista building in Plaça de l'Església and where, as its name that means ladyfinger or sponge finger suggests, you can enjoy mouth-watering chocolate with 'melindros'! If you are not chocolate lovers, you can of course order many other delights. In the summer, the ice-cold drink made from tiger nuts called 'orxata' reigns supreme.
Head to the Museu de Cardedeu, also known as the Museu Arxiu Tomàs Balvey (MATBC), as here you'll find the Tomàs Balvey i Bas collections. The last in a family of apothecaries, Balvey (1790-1852) was an authentic fan of collecting, and thanks to this 'addiction' today the town has a varied and valuable museum, housed in what was the residence of Dr Daurella, near the Town Hall. The third floor of the house has a bit of everything: coins, clothes, tools, weapons, stuffed animals and some sculptures. The second floor has what is certainly the jewel in the crown, the Balvey pharmacy's original furniture, dating back to 1812, with over 200 pots from that period. The Cardedeu pharmacy is considered, like the one in Llívia, to be one of the oldest in Europe. The first floor houses the archive, while the ground floor, where there is also a tourist office, holds temporary exhibitions and provides access to an elongated garden, full of medicinal plants.
In Cardedeu there are diverse guided cultural tours throughout the year. If you are interested modernista summer houses, we recommend that you take the onthe work of the architect Manuel Joaquim Raspall (1877-1937). In fact, you will see both modernista and noucentista buildings, as Raspall was part of a generation of architects that came after Gaudí, Puig i Cadafalch and Domènech i Montaner, and much of his work tended towards a style that was substituting the previous one. Explore, among others, Casa Viader, summer residence of Marc Viader, the inventor of chocolate drink Cacaolat, or Casa Masó and Casa Golferichs. Because, as was said at the start of the last century, having a box at El Liceu opera and a summer house in Cardedeu reflected the social status of many wealthy Barcelona families. Another option is to do the tour by yourself: you can scan the QR code on the museum website or at the entrance with your mobile, and follow the route on your mobile phone.