The 13 best things to do in Benidorm
When exploring the best things to do in Benidorm, remember the Spanish city boasts the top beaches across Costa Blanca
This is a Marmite town, which means you'll either love or hate our list of best things to do in Benidorm. As a tourist here, you'll get a fun holiday in the sun at a great price, and who can say fairer than that! If you prefer to hang out with locals, just turn up later at restaurants and bars. (Seriously: this works!) And, as the cherry on the cake, Benidorm's golden beaches are some of the loveliest anywhere in Spain, and its skyscraper hotels are backed by rugged mountains full of superb hiking and biking trails.
Done something on this list and loved it? Share it with the hashtag #TimeOutDoList and tag @TimeOutEverywhere.
Find out more about how Time Out selects the very best things to do all over the world.
Best things to do in Benidorm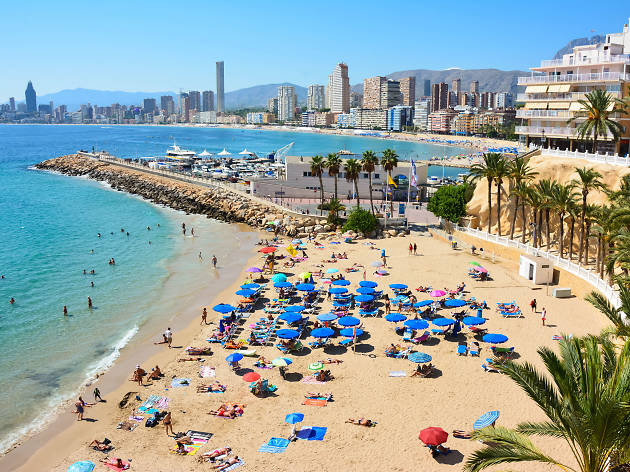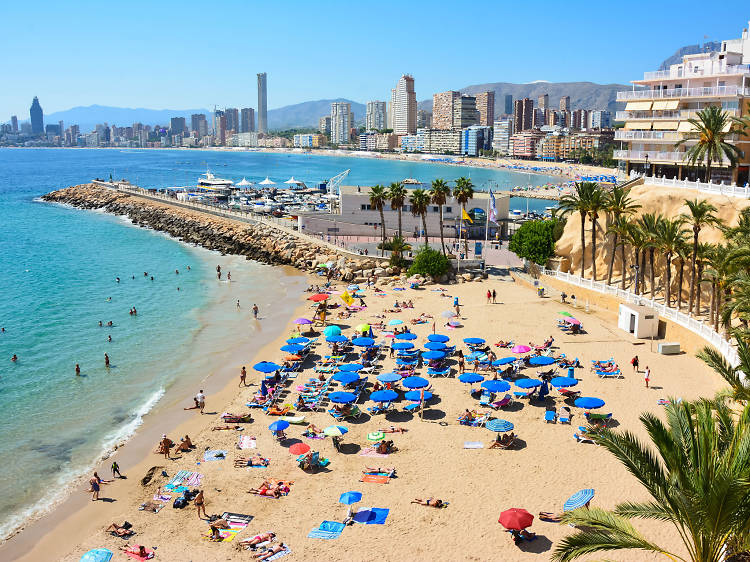 Photograph: Shutterstock
What is it? Benidorm's greatest glory is its beach. Two beaches, in fact, which spread each side of the historic town, and curve for miles around the bay. Both are pristine and well equipped, but the Playa de Levante sees more action, while the Playa de Poniente is a little more chilled.
Why go? Benidorm wouldn't be Benidorm without its beaches, which are easily some of the best on the whole of the Costa Blanca. These stunning swathes of golden sand stretch for more than 5 kilometres, and are packed with beach bars, water sports and everything you need for unbridled fun in the sun.
2. Casco Antiguo (Old Town)
What is it? It's hard to remember that, not so very long ago, Benidorm was just a whitewashed fishing village. Get a rare glimpse of pre-skyscraper Benidorm in the whitewashed lanes of the Casco Antiguo, and soak up stunning views from the 'Balcony of the Mediterranean'.
Why go? The Casco Antiguo is squeezed onto a small headland that divides Benidorm's lovely beaches. Wind your way up through the narrow streets to reach the 'Balcony of the Mediterranean' viewpoint, then tour the tapas bars of C/Santo Domingo and around (perhaps slurp some oysters at the Ostreria Biarritz).
What is it? Local legend says that a lovelorn giant ripped off the top of the mountain behind Benidorm and tossed it into the sea to create this little island in the middle of the bay. It's now a nature reserve, perfect for a stroll, a snorkel and a picnic.
Why go? Regular glass-bottomed boat trips head out to the island, and offer amazing views back over Benidorm's skyscrapers. On the island, there are walks, peacocks, a little café-bar and minuscule coves to explore with a snorkel.
What is it? One of Spain's biggest theme parks, this offers some high-octane rides and lots of thrills and spills in zoned areas which recall ancient Mediterranean civilisations from Egypt to Greece. Whether you fancy risking your lunch on roller coasters or simply splashing about in pools, this is fun for everyone.
Why go? Thrill-seekers will love the Titánide – a fast (100km/ph) inverted roller coaster with loops and drops – or the insane disk-shaped SkyKope. If you prefer to keep your feet on terra firma, then there are plenty of rides and shows that will keep you entertained.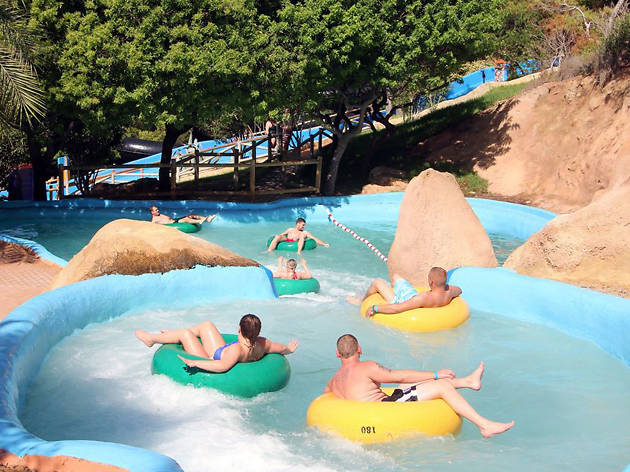 Photograph: Felix Sanchez-Luengo
What is it? There's nowhere better to beat the heat than a water park, and Benidorm obliges with several to choose from. Aqualandia and Aqua Natura offer plenty of slides and pools to keep the adrenaline flowing.
Why go? If the beach just isn't cutting it, hit one of Benidorm's water parks for some splashtastic fun in the sun.
6. Sierra Helada Natural Park
What is it? If you want to escape the beachfront craziness, there's nowhere better to do it than the Sierra Helada nature reserve, which is stretched across the mountains and cliffs around Benidorm. There are several hikes, suitable for all abilities, so grab some picnic goodies and head uphill for some tremendous views.
Why go? The Sierra Helada (Serra Gelada in Valencian) provides the perfect retreat from the summer crowds. There are well-signposted hiking trails, including a stunning cliff walk and another that leads to the Benidorm Cross at the top of the mountain.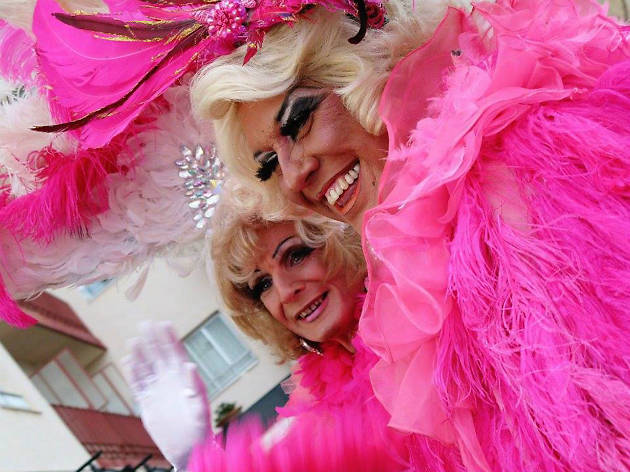 7. The Ritch Bitch Show Bar
What is it? Benidorm's dazzling evening entertainment includes cabarets, casinos, circus acts and drag shows. This fabulous drag bar is fun, friendly and genuine in all the best ways.
Why go? It's not cool, it's not stylish, but it certainly is a fun way to soak up Benidorm's cheerful, pleasure-seeking atmosphere. Jordan River and Miss Shape have a flawless routine that will keep you in stitches, with songs, jokes, and even the odd poignant tug at the heartstrings.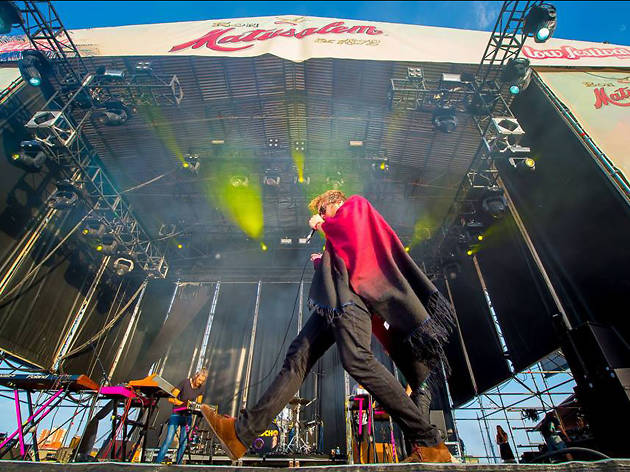 What is it? One of Spain's best rock and indie music festivals, this awesome, three-day event is just one of the brilliant music festivals that Benidorm hosts every year. 'Low' is short for 'Low-cost' and you'll have all the fun at about half the cost of similar events.
Why go? The Low line-up over the last couple of years has included fantastic bands like the Pixies, Franz Ferdinand, The Hives and Chemical Brothers. Kick off the weekend in style by making sure you catch the insane opening party on Levante Beach.
What is it? This huge, craggy rock closes in the southern end of the Playa de Poniente, and is one of the best places to get a fabulous bird's-eye view of Benidorm. It's especially gorgeous at sunset, although you might have to share it with young canoodlers.
Why go? For the most Insta-perfect views over the mini-Manhattan of Benidorm, you need to make the schlep up this rock. (Or jump in a cab if you can't face the climb.) If you feel like hanging around, some of the earliest traces of human inhabitation in the area were discovered on this rock. You can check them out while you're up here.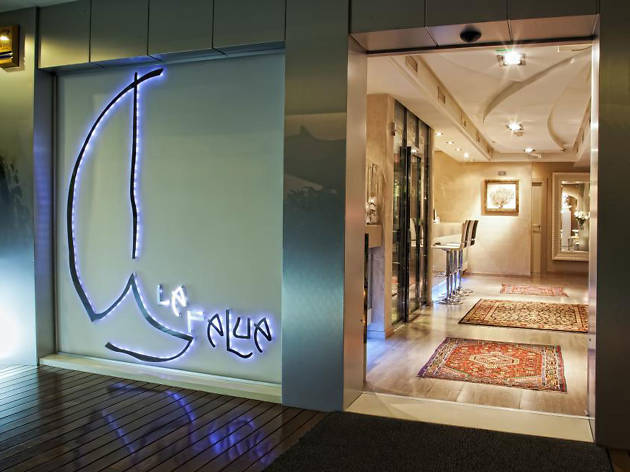 What is it? Dine in style at this elegant spot, where the plush, designer interior is complemented by a fabulous outdoor terrace, where you can sink into a lounge bed with a glass of champagne in hand.
Why go? The paintings on the walls, crisp linen and warm lighting provide an elegant setting for the delicious cuisine at this smart restaurant, which also has an excellent wine list. Afterwards, chill out over a cocktail on the terrace.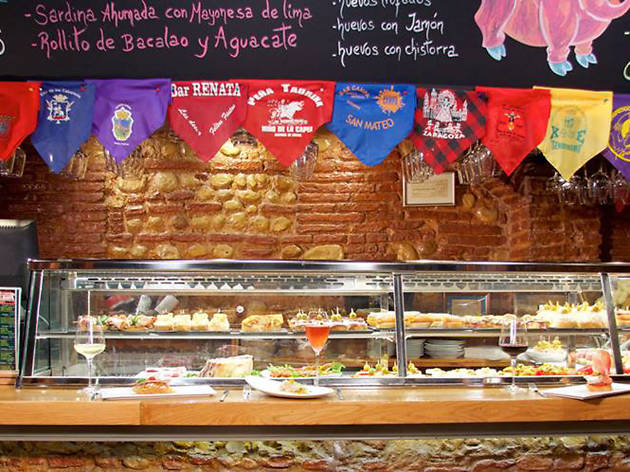 Alberto
What is it? You can't leave Benidorm without a trip down Tapas Alley – which is what everyone calls the Calle Santo Domingo. This eatery is one of the best options along this popular strip, and offers more than a 100 different tapas and pinchos (baguette slices with different toppings).
Why go? A trawl down Tapas Alley is an institution in Benidorm, whether you're a pasty Brit or a bronzed local, and all are welcome in the numerous tapas bars that are concentrated on and around the Plaça de la Constitució. It also does a bargain set lunch.
Best selling Time Out Offers