The best hotels in Dresden
Staying in the Saxon capital? We've pulled together our favourite hotels, from luxury stays to brilliant boutiques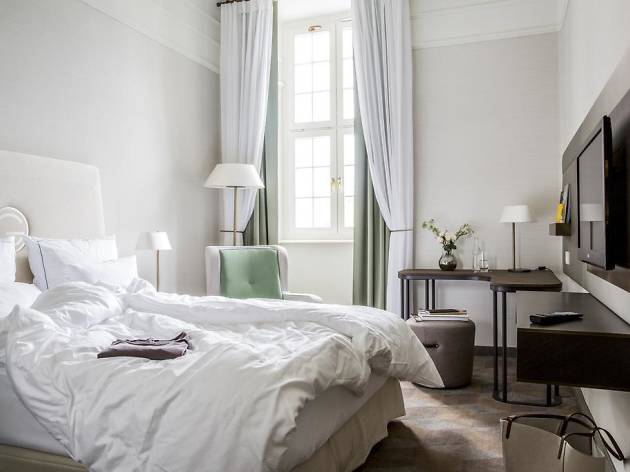 There's culture galore in this beautiful Saxon city, with museums, art, music and sport all served well. Its hotels are every bit as vibrant, which is why our selection of the best hotels in Dresden features a broad range of great spots, from contemporary hotels with all mod-cons to grand, traditional stays oozing class.
The best Dresden hotels
Booking.com
Situated next to the Königstraße in the Baroque quarter of Dresden, the Bülow Palais is a combination of boutique luxury and approachable glamour. Its location is spot on for sightseeing, with Semperoper, Zwinger and Frauenkirche a hop, skip and a jump away. The 58 stylish rooms aren't the only draw here, there's also a Michelin-starred restaurant and a spa on site.
Booking.com
Hotel Taschenbergpalais Kempinski
Originally constructed by August the Strong as a pledge to his mistress in the 1800s, today the Taschenbergpalais stands proud, harking back to a time where romance really wasn't dead. The hotel offers an array of 180-plus rooms and more than 30 suites, where it's impossible to escape the sense of luxury and attention to detail. Located in the Innere Altstadt you won't be short of attractions to visit either, that's if you can tear yourself away from the bedroom of course…
Booking.com
Vienna House QF Hotel Dresden
This luxury hotel is fairly new to Dresden's hotel scene. Aimed at the city-break market with a bit of cash to splash, its boutique, elegant vibe is hard to beat when you factor in the location (next to Frauenkirche) and its dreamy Italian interiors.
Booking.com
Hyperion Hotel Dresden Am Schloss
Behind a historic façade sits the Hyperion, a sleek 235-room hotel with modern twists and a central location. Parts of the building date back to the fifteenth century where you can find a fitness centre nestled in historic stone vaults. Most of the rooms offer views over Dresden Castle, and actually offer some pretty decent value.
Booking.com
Hotel Villa Sorgenfrei & Restaurant Atelier Sanssouci
A traditional hotel that might conjure up the illusion you're on the Amalfi coast rather than in the heart of Saxony, Villa Sorgenfrei ('carefree' in English) provides a charming place to spend the night. With just 14 rooms, the vibe here is more like staying in a large country house with historic wall hangings, attention to detail and rooms that ooze cosiness and romance.
Booking.com
Ever wanted to be king (or queen) of your own castle? Well, now you can. Perched high above the River Elbe, Schloss Eckberg allows guests to come across all regal. Set slightly outside of Dresden, this neo-gothic castle caters to pretty much any fairytale fantasy you can conjure up, plus the views are stunning, there's a brilliant restaurant on site and there are landscaped gardens in which to wander around.
Booking.com
Gewandhaus Dresden, Autograph Collection
Set in an historic stone building, the Gewandhaus hotel is an alluring space with elegant touches and a sense of homeliness. With comfort at the forefront of design, there's little that hasn't been thought of in the 97 that you can choose to stay in. The location is good for sightseeing and there's a spa and wellness centre that guests have exclusive access to, too.
Booking.com
art'otel dresden by park plaza
One of Dresden's most popular design hotels, this great-looking four-star spot goes big on contemporary art (check out the statue erected outside one room...) but its location is a bonus too, with the Semper Opera, Zwinger Palace a short walk away. Keep an eye out for the sauna, too - it's got some great panoramic views across the city.
Booking.com
Right in the heart of the Old Town, this beautiful five-star hotel is just 100 yards from Frauenkirche church and just five minutes from Zwinger Palace. But if you just want to enjoy the hotel? Well, a sauna, hammam, spa, great-looking rooms and suites and a well-regarded restaurant make it one of Dresden's most luxurious stays. Plus there's free wifi, too.