Heads up! We're working hard to be accurate – but these are unusual times, so please always check before heading out.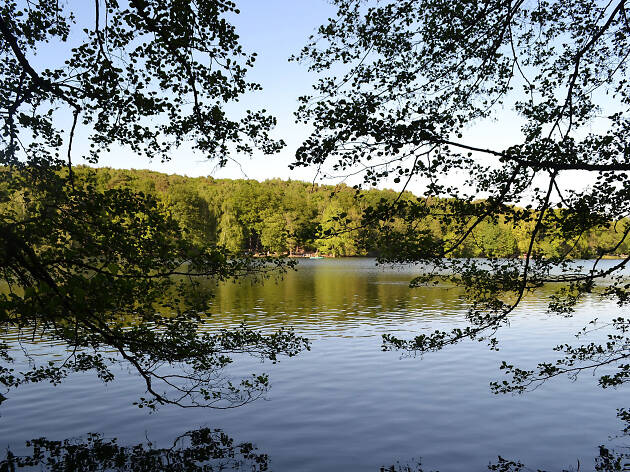 The 5 best lakes in Berlin for wild swimming
Whether or not wild swimming's your jam, the best lakes in Berlin offer the perfect antidote to a night of hard-partying
Brandenburg, the state that encircles Berlin, is known as the land of 3,000 lakes, and a visit to one is the perfect antidote to any of the Berlin vices – beer, cigarettes, sausage – to which you may have succumbed. Starkly beautiful in winter and inviting in summer, a good number of the lakes are reachable by public transport, and, if you bring a bike, you stand a good chance of finding your own private lakeside sunbathing patch. Whether for sailing, swimming or strolling, each lake has its own distinct character, and every Berliner has his or her favourite. Striking out in any direction from Berlin after a hard night's clubbing, you'll be spoilt for choice.
RECOMMENDED: Full guide to the best things to do in Berlin
Best lakes in Berlin
Best for families
Lie on the sandy beach at Strandbad Wannsee to watch the sailing boats dart up and down the River Havel and you'll be partaking in an experience enjoyed by Berliners for nearly a century. The waters of the Wannsee (an inlet of the river) are extensive and, in summer, warm enough for comfortable swimming; there's a strong current, though, so don't stray beyond the floating markers. Between May and September, there are boats, pedalos and two-person wicker sunchairs, called Strandkörbe, for hire, plus a playground and slides. Service buildings house showers, toilets, shops, cafés and kiosks. Children love it here.
Best for rowing
A circuit of the Schlachtensee is 5.5km (3.5 miles), which is the perfect distance to work up an appetite that you can happily sate at the excellent Fischerhütte (no prizes for guessing what they serve there). In summer, there are rowing boats and paddle boards for hire, and the particularly clean waters are ideal for a dip. The lake is just across the road from the station, but you may have to walk a few minutes along its perimeter to find a secluded spot.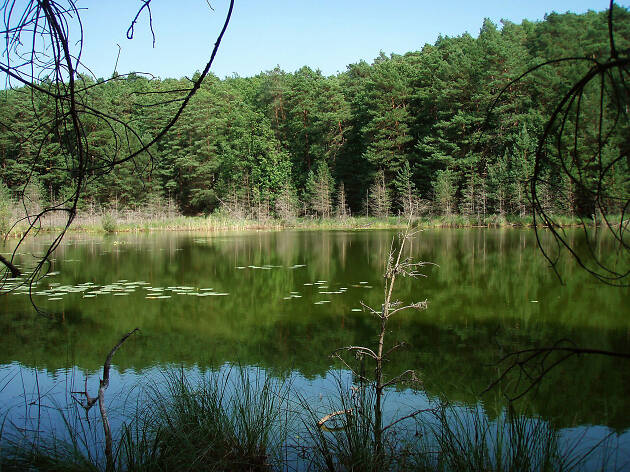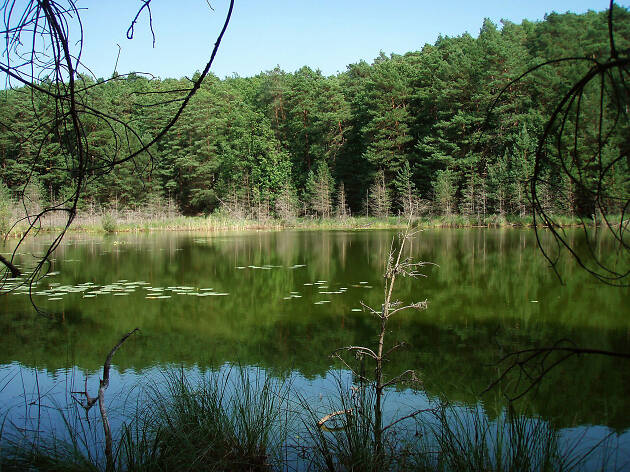 Photograph: Botaurus Stellaris / Wikimedia Commons
Best for skinny-dipping
This small lake in the Grunewald is surrounded by a pleasant green meadow, ideal for stretching out on. On the lake itself, floating rafts draw swimmers who compete for space with the ducks. Prudes beware: naked swimming and sunbathing are common here.
Best for sunset swimming
Only 30 minutes from Alexanderplatz, Plötzensee is the perfect spot to relax with a swim after a strenuous day's exploring. The Strandbad has 740m of sand, and there are plenty of refreshments on offer, so you can have a dip, crack open a beer – and still be back in the centre in time for dinner.
Best for hiking
Officially Berlin's largest lake, Müggelsee in the east is over 4km (2.5 miles) long and 2.5km (1.5 miles) wide, so hiking round the lake is a great way to stretch your legs. If you're planning to do the whole circuit, you'll have to take the tiny ferry between Müggelwerder and Müggelhort, which runs once an hour in summer; the crossing takes 10 minutes. Once over, follow the lake round and after 30 minutes you'll come to a lovely beer garden. There are plenty of sandy little spots to take a dip, but if you're looking for facilities, then head for Strandbad Müggelsee – although the large colony of ducks here can make swimming a challenge!
After a one-of-a-kind souvenir?
We don't know about you, but whenever we go somewhere we want to take a piece of it away. By that, we mean an object, something we've picked up that'll help us remember our stay. And the best place to do that? A flea market – of which Berlin offers plenty.