The 10 best hotels in Bermuda
With private beaches, golf courses and glossy marinas, most of the top hotels in Bermuda are destinations in themselves
Marooned in the North Atlantic – and not in the Caribbean, as many people wrongly think – the British island territory of Bermuda is the perfect transatlantic mix. Old world meets the new on this laidback island of pink sandy beaches and coconut palms. Its luxury resort hotels lining the Nike swoosh-shaped coast offer consistently high standards – which isn't surprising considering the fact that Bermuda is only a 90-minute flight from New York, where you'll find some pretty demanding customers. The only problem is cost – Bermuda isn't really the place for budget travel, so don't expect a bargain. Do expect a memorable holiday in any of our choice of best hotels on the island – they're all stunners.
Best hotels in Bermuda
Booking.com
1. The Reefs Resort & Club
Overlooking its own private patch of pink sandy beach and infinity pool, the suitably pink-painted Reefs Resort is in a handy spot for the beautiful beaches of the South Shore. All of its 62 pastel-coloured rooms have balconies or patios with Atlantic vistas from their lofty clifftop vantage point, and there's a spa with soothing sea views. You've got four restaurants to choose from, including exceptionally good Sunday brunch at Ocean Echo and the romantic, toes-in-the-sand casual dining at Coconuts right on the beach.
Booking.com
It's just a few minutes' walk from busy and shiny Hamilton harbour, but the Rosedon harks back to the languorous, gracious days of the early 20th century. Set in a stately manor house dating from 1906, the 40 colonial-style rooms all have private patios with easy access to the tropical gardens and outdoor pool. In a lovely blend of Britain and Bermuda, there's free afternoon tea every day along with a weekly rum swizzle party. They'll even take you on a complimentary shuttle bus to Elbow Beach.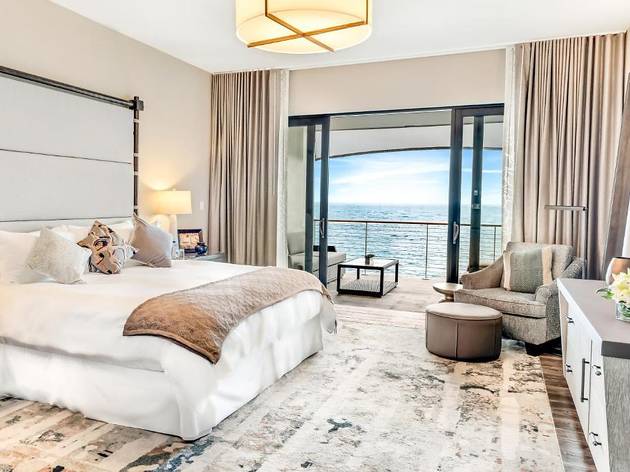 Booking.com
3. The Loren at Pink Beach
In a change from Bermuda's more traditional luxury hotels, the Loren – one of the island's newest – is a study in polished, contemporary design. All of its 45 neutral-toned, understated rooms have terraces with ocean views, and they're only a stone's throw from the soft sands of the aptly named Pink Beach as well as the outdoor pool. Try the refined European-influenced dining at Marée or the relaxed Pink Beach Club – both of which have sublime views of the Atlantic.
Booking.com
4. Grotto Bay Beach Resort & Spa
A short drive from the airport across the causeway takes you to family-friendly, all-inclusive Grotto Bay, which covers 21 flower-filled acres and includes three private beaches and a children's club. The style is firmly Bermudian: its 201 rooms are set in brightly coloured cottages with trademark white rooftops, and most have ocean views from their balconies. What makes Grotto Bay stand out are the two caves that came with the property: one used for swimming and the other transformed into a stunning subterranean spa.
Booking.com
English country-house style gets a breezy Bermudian update in Rosewood, which faces peaceful Castle Harbour at the island's eastern end. The style is elegant yet relaxed, with its 88 rooms featuring deep bathtubs as well as separate showers. Choose from the four pools, beach club, watersports and the hilltop golf course, or rent a kayak and discover some of the beaches tucked into nearby coves. Among the five restaurants, try the fresh seafood at the beach club cafe.
Booking.com
Two 19th-century manor houses combine to form the cosy, family-run Royal Palms in the leafy streets above Hamilton harbour. Its 31 rooms are delightfully old-fashioned, with antique-style furniture and lots of chintz. If you're not in a room with its own balcony or terrace, then flop in the luxuriant gardens surrounding the pool. Don't miss out on the free wine hour every day in the late afternoon, or a meal at the hotel's popular Acorn Restaurant, which has a more casual off-shoot in an enclosed patio.
Booking.com
One of the biggest resorts in Bermuda, the Fairmont sprawls across 100 acres near the pink beaches of the South Shore – including one of the prettiest, Horseshoe Bay. It's classic big-resort territory – 593 rooms behind a modern pink façade, plus all the facilities you would expect, including indoor and outdoor pools, a spa, 10 restaurants, a beach club, 11 tennis courts and a golf course. Because everything is in one place, it's hugely popular with families during the school holidays.
Booking.com
8. Cambridge Beaches Resort & Spa
There's a certain timeless feeling to this collection of 17th-century cottages covering 30 acres of a peninsula in Bermuda's western side. Part of Cambridge Beaches Resort's tranquillity comes from the fact that children under 13 aren't allowed, leaving adults (and the occasional bored teenager) to wallow in the resort's lush tropical gardens, infinity pool, four private beaches and nature reserve. The decor in the 87 pink cottages is a pleasing mix of traditional and modern, and you'll get some of the best sunsets on the island.
Booking.com
Classy Elbow Beach spreads over 50 acres of prime beachfront territory south of Hamilton, and has a colonial style that combines sophistication with a typically chilled-out Bermudian ambience. Its 98 spacious rooms keep up the beach vibe, with pale wood decor brightened with splashes of colour, some with large private terraces. There's a private beach as well as an outdoor pool, hot tub and spa. If you're feeling flush you can hire the hotel's private superyacht for jaunts around the island.
Booking.com
10. Hamilton Princess & Beach Club
Lording it over Hamilton harbour since 1885, the Hamilton Princess – nicknamed the Pink Palace – is the grande dame of Bermuda's hotels. But behind its Victorian façade is a smart, modern hotel with chic, airy rooms. Many of its 170 rooms have balconies with ocean views and private balconies. Soak up harbour views from the hotel's two outdoor pools, or try out the watersports on offer at the marina. A free shuttle takes you to the hotel's private beach club at Sinky Bay, where you can hire kayaks, paddleboards or private cabanas.