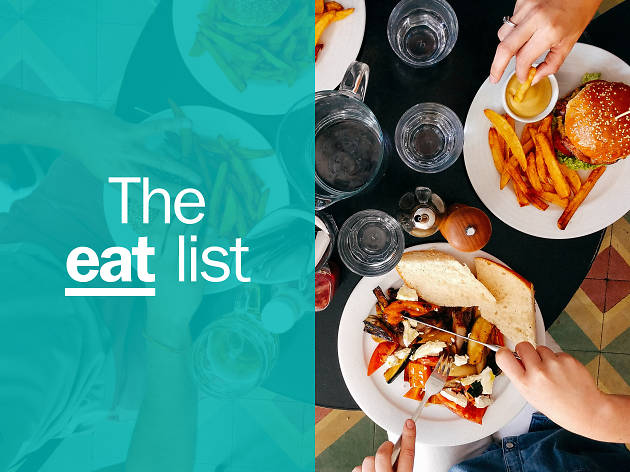 The 11 best restaurants in Boise
The best restaurants in Boise are about much more than Idaho potatoes. Get ready to get eating.
Think Idaho's food scene is all about potatoes? Think again. Boise, the biggest city in the area, is home to a burgeoning food scene that will have you trading in your spuds for everything from street food to fine dining. Offering locals and tourists a wide variety of things to do, alongside some really delicious restaurants, it's no surprise that the City of Trees has become a destination in and of itself. All that exploring, dancing and recreating you've got planned will make you hungry, so make sure to keep this list of the best restaurants in Boise handy.
Best restaurants in Boise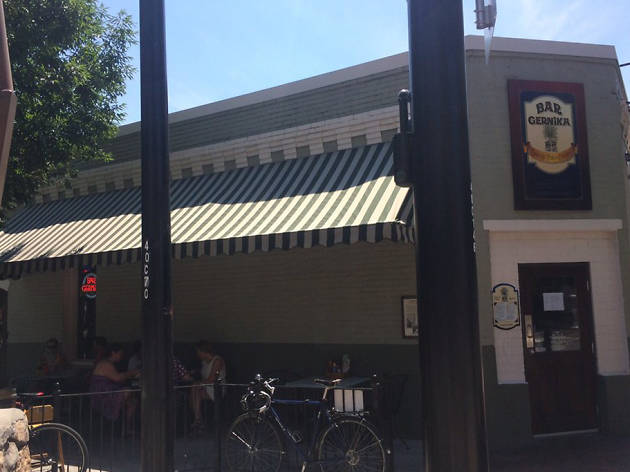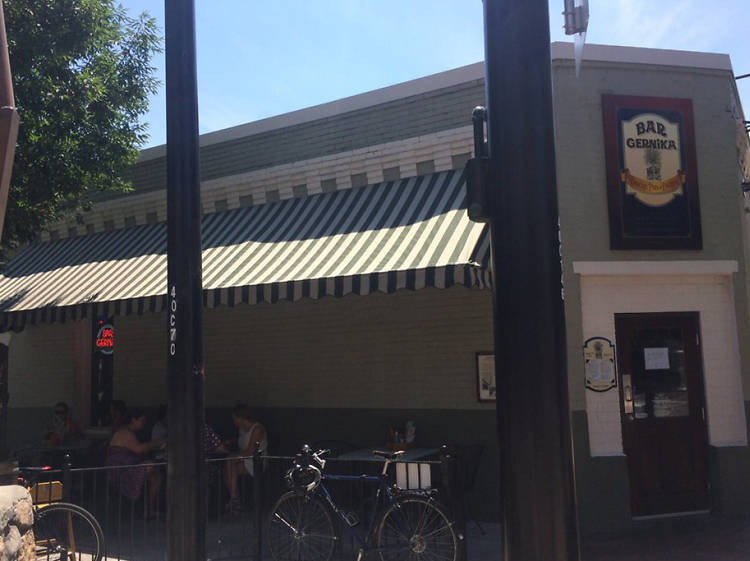 Photograph: Courtesy Yelp/Dave M.
What is it: Central to the city's lively downtown Basque Block is Bar Gernika, a narrow brick building serving classic Basque comfort food from the counter and to a handful of tables packed in near the open kitchen.
Why go: It's a surprising and little-known fact that Boise has the third-highest Basque population in the world, behind only northern Spain's Basque Country and Argentina. It's no surprise that Basque culture is central to the City of Trees—and that Basque food is not to be missed. Try the spicy lamb grinder that hearkens back to the early Basque sheepherding days in Boise's foothills or, if you're lucky enough to grab a seat on a Saturday before it sells out, tender beef tongue dished up in a peppery tomato sauce. Whatever you do, don't forget a side of croquettas. If you're feeling adventurous, wash it all down with a kalimotxo (equal parts red wine and cola, garnished with fresh lemon) or go for one of the many local and regional beers on tap.
Price: Average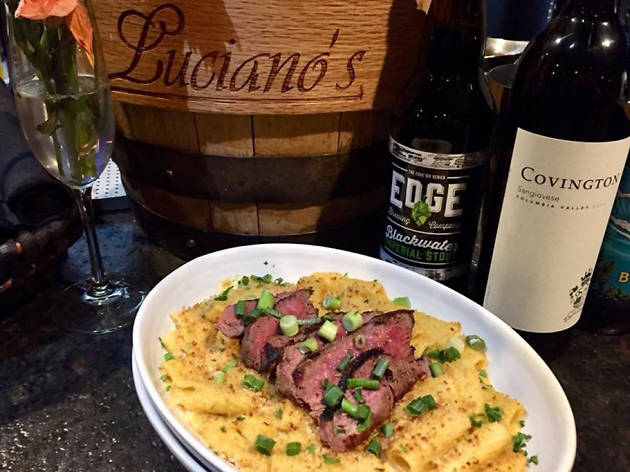 Photograph: Courtesy Yelp/Luciano's
What is it: Located deep on the Boise Bench, Luciano's is a little off-the-beaten-path eatery loved by locals. The family-owned, Tuscan-inspired spot boasts a large, warm dining room that, despite its size, barely accommodates the crowds that show up on weekends for huge portions of comforting Italian classics.
Why go: If you're looking for the best Italian food in Boise, this is it. The marinara, perhaps the litmus test for any Italian restaurant, is a chunky, savory, perfect match for the salty garlic bread that accompanies the entrées. You can't go wrong with any of the pasta dishes, and locals will tell you to save room for a slice of Lucci's signature chocolate cake, a decadent four-layer blend of crumbly, semi-sweet cake and smooth, bittersweet ganache.
Price: Pricey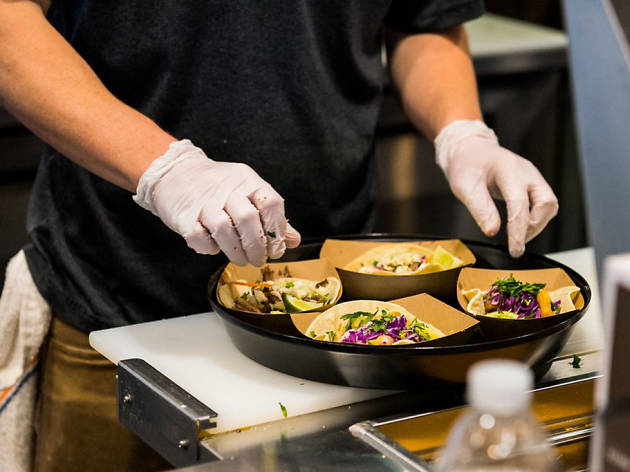 Photograph: Courtesy Yelp/Tin Roof Tacos
What is it: A relative newcomer to Boise's dining scene, Tin Roof Tacos has been serving "Texas-style street tacos" in its unassuming strip mall space just west of downtown (and, more recently, at a second location in Meridian) since 2016. The dining room is open and bright, with long, picnic style tables perfect for accommodating large trays filled with samplers of all of Tin Roof's Tex-Mex-emphasis-on-the-Tex flavors.
Why go: Offering 14 varieties of the street taco, Tin Roof definitely caters to all sorts of palates (several vegetarian options are tasty enough to appeal to meat eaters as well). At around $2 a piece, mixing and matching a platter of different flavors won't hurt your wallet. There's no wrong order, but the brisket taco is a must, with tender, slow-cooked beef topped with creamy queso fresco, sweet onion and fresh cilantro. There are also a few homemade salsas and hot sauces to sample, but only if your tolerance for heat is as high as a tin roof.
Price: Bargain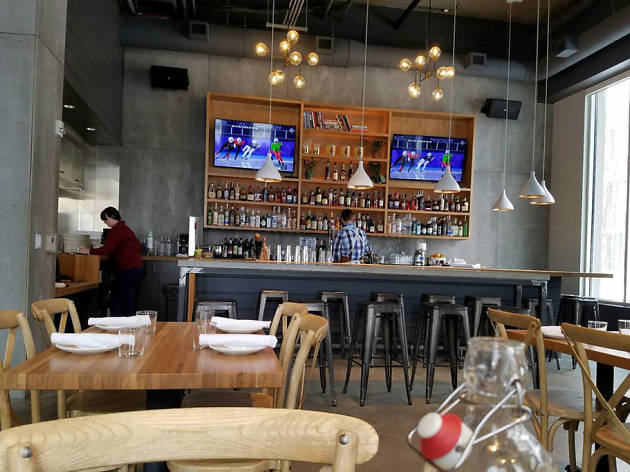 Photograph: Courtesy Yelp/John S.
What is it: The first tenant to move into the Central Addition's new Fowler mixed-use apartment building, The Wylder boasts a bright, open dining room with counter service facing an open kitchen. The spot has become the neighborhood hangout for downtown dwellers seeking a great slice or something more.
Why go: Boise is not a city that's lacking in pizzerias. So when The Wylder opened its brick oven doors late last year, downtown diners knew it was going to have to offer more than just pies to thrive in this crowded pizza scene. Not only does The Wylder deliver by sourcing the freshest organic pizza ingredients, including Bianco DiNapoli tomatoes, but it offers a constantly rotating menu of daily supper specials that range from pepper jelly ribs to fried chicken to French dip sandwiches. In other words, The Wylder stands out from a sea of pizzerias. And its Tuesday night pie and a bottle of wine for $30 special will attract budget-hungry pizza fans as well.
Price: Average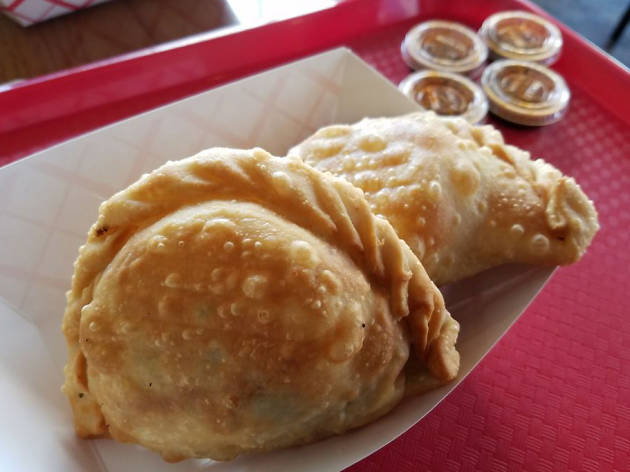 Photograph: Courtesy Yelp/Carol H.
5. Tango's Empanadas and Subs
What is it: Deep on the Bench, you'll drive right by Tango's if you aren't looking for it. A tiny, no-frills building squished between a residential street and a title loan shop, Tango's may very well be the most unassuming hidden gem in all of Boise. Once you belly up to the counter, chat with owners Louis and Monica Bremmer and taste a sampling of their Argentinian empanadas. You'll never want to leave.
Why go: Monica Bremmer may insist she isn't a chef but the Argentinian transplant wrote the menu at Tango's and she makes all of the shop's empanada dough by hand. Louis greets every customer, regular or otherwise, like his actual family, and the crispy fried empanadas, packed with fillings both traditional and Americanized, are mouth-wateringly delicious. Try the Gaucho (ground beef, boiled eggs, olives, peppers and spices) or the Cuzco (creamed corn, onions, tomatoes and peppers) for flavors you'd find at actual Argentinian street stalls, or go for the green bean casserole (beans, cream of mushroom soup and crispy French fried onions) for an American staple fried inside a salty dough casing. The dessert empanadas are also not to be missed, filled with sweet fruit, chocolate and dulce de leche and made à la mode upon request.

Price: Bargain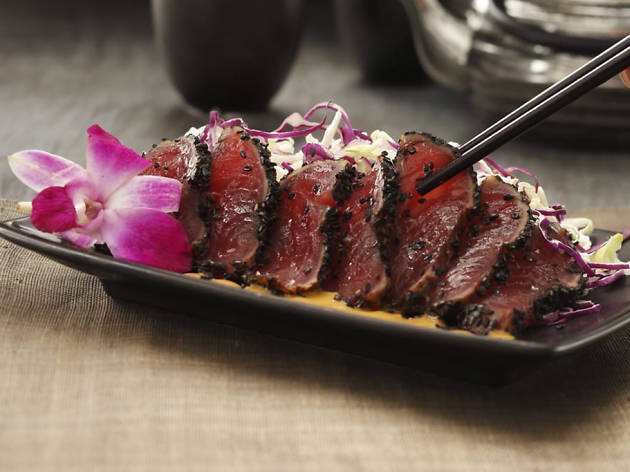 Price: Pricey Photograph: Courtesy Yelp/Chandler's
6. Chandler's Steakhouse and Seafood
What is it: Chandler's is a Boise institution. Whether you choose a table in the warmly lit dining room or the moody lounge with its seven-days-a-week live jazz music, Chandler's is a place to see and be seen in the City of Trees, all while enjoying a prime steak cut, fresh seafood and an impressively extensive wine list.
Why go: Impressing a date at Chandler's would be a cliché if the food weren't so good. There's no better place in the Valley to get an American grass-fed steak or seafood guaranteed caught same-day and jetted in from the Pacific Coast. Bonus points: staff sommeliers will be happy to recommend just the right pairing from the well-stocked wine cellar.
Price: Pricey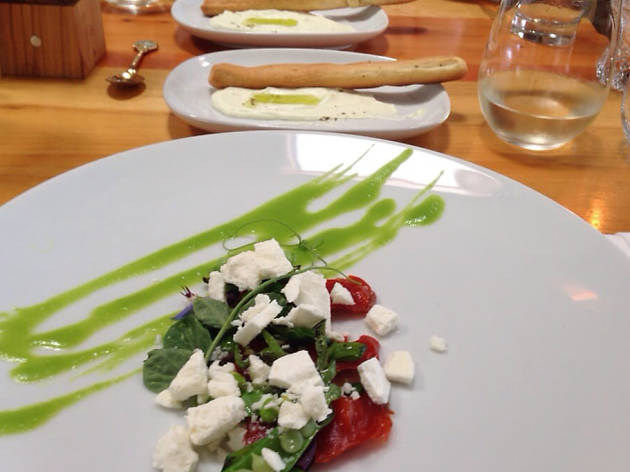 Photograph: Courtesy Yelp/Tyler E.
What is it: Owners Remi McManus and Jay Henry took a big risk when they teamed up with chef de cuisine Kris Komori to transform a struggling State Street wine shop into a fine dining concept yet unseen on Boise's culinary scene. Today, State and Lemp is an unlikely success story, selling out family-style seatings for tasting menus of Komori's James Beard-nominated creations, alongside optional wine pairings. Though new owners and a new chef coming in during the summer of 2018 have State and Lemp's future a little uncertain, the tiny dinner spot proved that Boiseans are more than ready to shell out for fine dining fit for a much bigger city.
Why go: Multi-course prix fixe tasting menus combine flavor and artful presentation, using the freshest of local, seasonal ingredients. Chef Kris Komori's quietly confident style has earned him international recognition. Wine pairings complete the experience in this tiny space where diners mix and mingle at a single family-style table for a handful of seatings each week. At more than $100 a plate, State and Lemp is a special-occasions-only outing for most, but its more recent addition of a less expensive, once a week Supper Club seating has made it more accessible for all diners.
Price: Blowout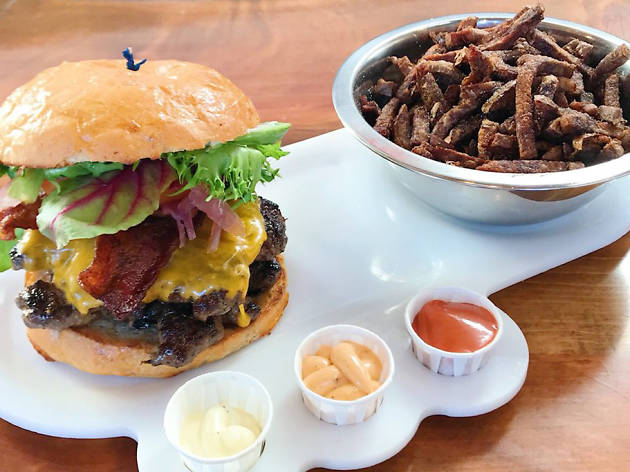 Photograph: Courtesy Yelp/Heath C.
What is it: Everyone knows any Idaho restaurant list wouldn't be complete if it were totally potato-free. Boise Fry Company's flagship location downtown is now just one of multiple franchise locations in the Treasure Valley and Portland. A fast-casual spot that claims to serve "burgers on the side," Boise Fry definitely treats the state vegetable as the star of the show with a rotating cast of potato types and cuts to choose from. Your order will contain one of two sizes of metal bowl (large or larger) filled with your chosen fries and, as promised, a burger on the side.
Why go: Even though they're treated as an afterthought, the burgers here are anything but. The bison burger in particular is thick, juicy and a perfect complement to whatever fries you choose. The fries are the highlight of your meal, though. Pair them with any of the shop's dozen or so homemade dipping sauces, from the expected (like garlic aioli) to the imaginative (like blueberry ketchup). And definitely don't miss out on the rotating flavors of homemade specialty sodas on tap.
Price: Average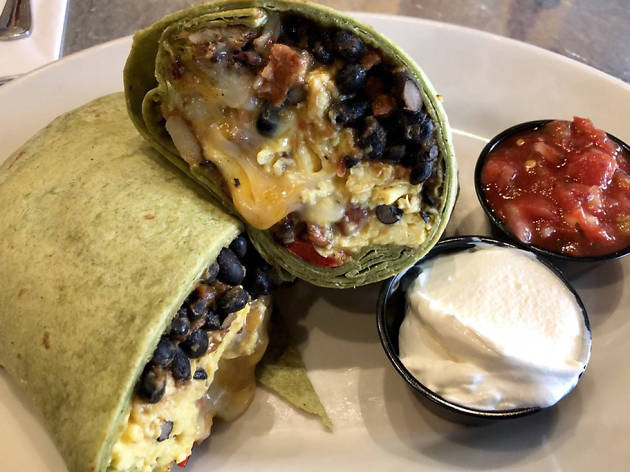 Photograph: Courtesy Yelp/Chris P.
9. Goldy's Breakfast Bistro
What is it: A historic downtown building turned into a cozy, two-story breakfast spot, Goldy's is the place to get what you need to start your day off right. Just get there way before you want to eat, because the entire town turns out on the weekends, and the wait gets long.
Why go: Goldy's is, undoubtedly, the most popular breakfast spot in Boise, so if you're going during prime brunch hours, especially on a weekend, expect a wait. But that many people can't be wrong, right? Right. Plus, with the addition of Goldy's Corner, you can now put your name in and head down the street to grab a cozy booth and a pastry, latte or giant challis of mimosa while you wait to get your hands on some of Goldy's' sweet, sweet hollandaise. Pro tip: whatever you order for breakfast, make sure the rich, buttery hollandaise sauce comes on the side—nobody in Boise makes it better.
Price: Average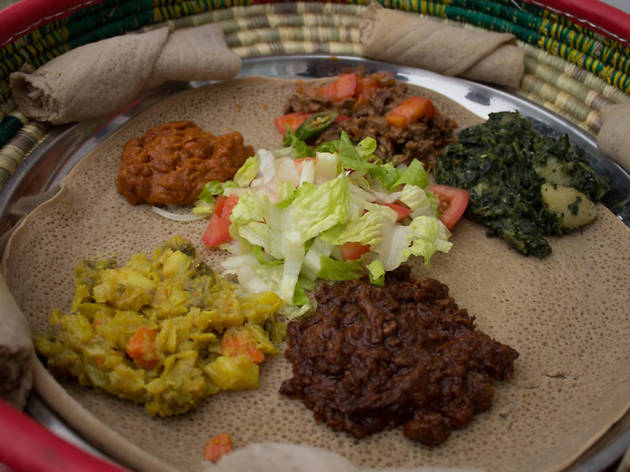 Photograph: Courtesy Yelp/Kibrom M.
What is it: Kibrom Milash had a thriving stall in the Boise International Market food court before it was gutted by a 2015 fire. Luckily, the Ethiopian and Eritrean fares served there had a loyal enough following to support a brick-and-mortar establishment, which opened in 2016 with a new, expanded menu and an open dining room with cheerfully bright yellow walls.
Why go: East African cuisine isn't familiar to most, but Kibrom treats customers like friends, walking them through the menu and giving solid recommendations based on foods they like. Every meal comes with plenty of Injera, a spongy flatbread used in place of utensils, and made from locally grown ancient grain teff, a crop that thrives in Southern Idaho and Northern Nevada (who knew?). Don't miss the crispy, deep fried samosas as an appetizer and definitely try a sampler plate with as many of Kibrom's family recipes as your stomach can hold.
Price: Bargain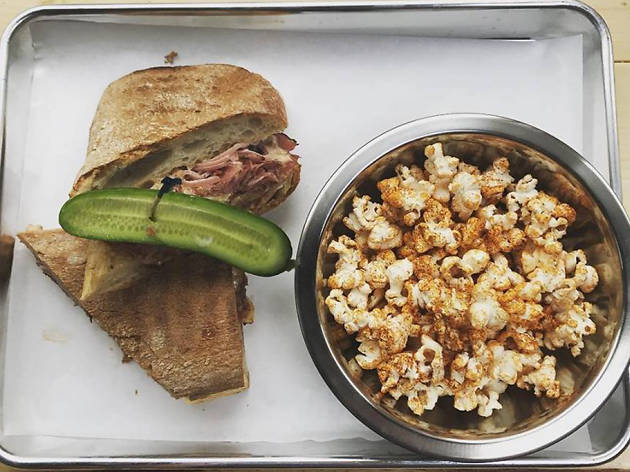 Photograph: Courtesy Yelp/Robin A.
What is it: The totally modest chef-run Tasso serve up 'super lunch' in a 'really cool' atmosphere. That would be a bold statement coming from most, but the folk at Tasso know what they're talking about. This is the kind of place you can get high-end, locally sourced ingredients in gourmet sandwiches.
Why go: For chunky, doorstop sized sandwiches brimming with delicious fillings. Like the Currybuta, featuring curry-cured ham with lemongrass aioli, ginger pickles and Cuban slaw. But you'll have to browse the menu when you get there, as they changed it seasonally.
Price: Average
Discover Time Out Market: the best of the city under one roof
Planning a trip to Boise?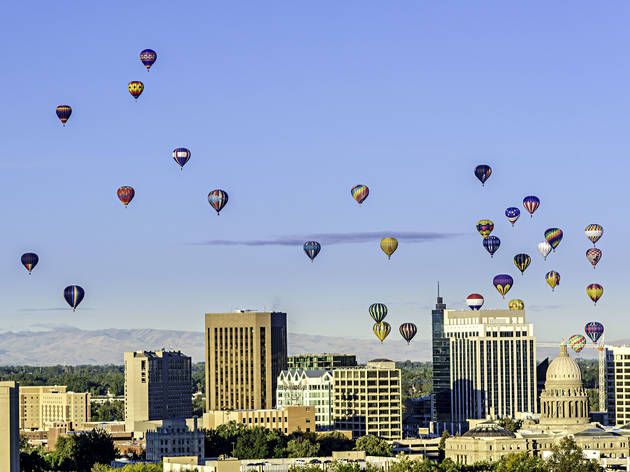 Boise, the largest metropolitan area for nearly 400 miles, boasts no shortage of things to do.