Knock off at Aloha Bar and Dining with this Red Stripe happy hour deal
Everyone's favourite tiki bar in Broadbeach is slinging ice-cold Jamaican beer for just $6 daily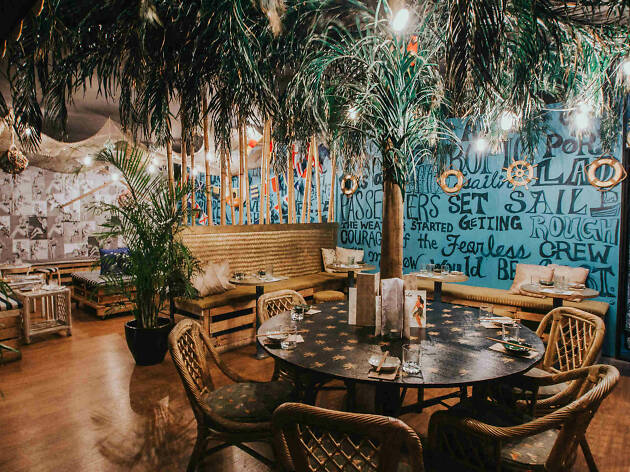 If you don't already know about Broadbeach's Aloha Bar and Dining, get yourself down to this cheery bar with a particular penchant for tiki decor, over-the-top tiki cocktails and a Hawaiian and pan-Asian menu. We're talking everything from jerk chicken to prawn and ginger dumplings and poké bowls, so you'll find something to pair very well the daily happy hour deal which means you can score a refreshing Red Stripe beer for $6 a pop. The deal is available Monday to Sunday, from 5pm to 7pm.
Aloha Bar and Dining has teamed up with Jamaican beer Red Stripe, to give punters a chance to win a trip for two to the beautiful beaches of Montego Bay on Jamaica's north coast. You get to have a bit of fun with the competition entry if you want to score that trip to Jamaica – order a Red Stripe at the bar and you'll get your beer and a promotional coaster. Take the most creative photo you can, post it to Instagram with the hashtag #RedStripeAus and #AlohaBarandDining, and you might be jetting off to the home of the smooth, full-bodied amber lager. Remember, if you order that Red Stripe between 5-7pm, you can get your beer for $6.
The prize includes a round trip ticket for you and a mate, four-and-a-half-star accommodation and an itinerary filled with activities to show off the unique culture of the island. Click here for more details.
If you want to stick around well past happy hour at Aloha, you're in luck — the bar is open until 1am every day of the week, with the kitchen churning out those tropical bites all night.
Check out Aloha's website for their full menu and drinks range.