Your guide to Brisbane
Discover restaurants, events and things to do in Brisbane – curated and rated by the Time Out community
You might also like...
SIFU
When you first walk in through SIFU's sleek lounge area your first move should be to stop for a drink and enjoy the view out to the glorious Crowne Plaza Surfers Paradise hotel pool. There's a brand new menu of experimental cocktails made with house-infused spirits. A Negroni with Oolong-infused gin and a yellow chrysanthemum-infused vodka Martini stand out among a list of 11 with names that could be the titles of Hong Kong wuxia films: Dragon's Heart; Empress of Blood and Fire. You can also admire the vast towers that are the live seafood tanks – they're much cleaner than any you've seen at your local Chinatown, and a testament to SIFU's focus on prioritising fresh produce. If you don't make it past the tanks, the Street Eats menu offers a dozen different tapas such as salt and pepper prawns and duck pancakes to accompany more pool-gazing. If you arrive in the dinnertime rush, though, the smell of sizzling ginger and the lively din from the kitchen will most likely reel you in for a full meal.  The concept here is Schezuan-meets-Cantonese, under the auspices of chef Kyle Bu. As an entrée, two crisp legs of salt and pepper quail piled high with fine slices of onion, capsicum, coriander and a little chilli start your meal with a bang of flavours and textures. The colossal bowl of Fujian 'wet' fried rice (a Cantonese specialty) delivers fried rice next to chunks of prawn and chicken in a rich brown sauce, and could easily be a meal in itself for only $18. Deep-fried Schezuan
Book online
Your guide to Hong Kong this Rugby Sevens
Early next April, Hong Kong will be hosting the biggest party of the year. The Rugby Sevens are coming to town from April 7 to 9, and the city is set to spring to life with edge-of-your-seat sportsmanship and plenty of parties, side gigs and excitement. Featuring 28 teams and 120,000 fans, this time of year is when the world truly comes out to play in this spectacular city.   There are direct flights departing from Australia to Hong Kong several times daily, and the flight time is under ten hours. That makes this trip an easy first step into a world of action.   What's more, April is the perfect time to visit Hong Kong. Sure, the Sevens are a reason to come, but Hong Kong Stadium can be a launch pad for a trip packed with amazing eating, celebrating and even wilderness adventures. Events Worldwide Travel are an official travel agent of the Hong Kong Sevens, so make sure to check out their special packages, and check out the Hong Kong Tourism Board for more inspiration. In the meantime here's how to take advantage of the city, and linger a little longer once the Sevens are done.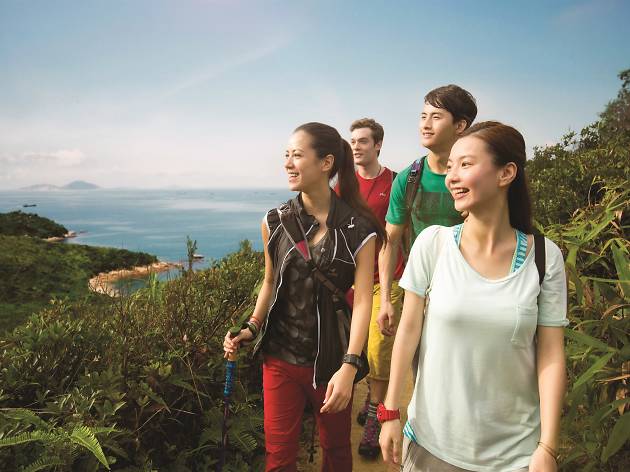 An adventurer's guide to Hong Kong
The Hong Kong Rugby Sevens is a much-loved annual cause for celebration (and subsequent recovery). But what to do once the tournament concludes and you have some time to kill? Luckily, this is a city full of diverse day trip opportunities, all readily accessible via Hong Kong's exceptional public transport system. From exploring abandoned islands to catching your own dinner and having it cooked in front of you, we present seven awesome adventures to embark on in this beguiling metropolis. Just remember to pack the post-Sevens painkillers, too.