Amex Eats: Brisbane stir fries to wok your world
Don't underestimate the humble stir fry. Stir-fried cuisine represents some of the most delicious food being made in Brisbane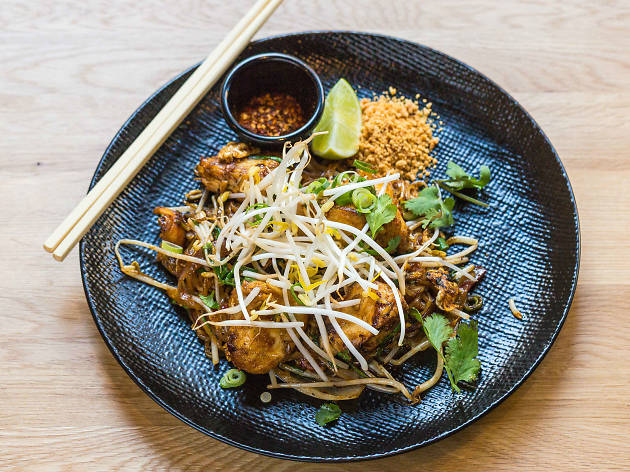 A good stir-fry is all about the breath of the wok – that magical combination of heat, timing and squeaky-fresh produce that transports you straight to the backstreets of buzzy Asian cities. Whether it's fiery kung pao mushrooms or a classic pad Thai, we've sought out the best stir fries in Brisbane. Check out the diverse range of dishes that come alive in the wok, and pay in confidence knowing these venues welcome American Express.
Packing a wallop of flavour the size of a Thai Buddha's belly, Grandma's Sweet Chicken is an absolute winner of a dish. (BTW, there's no Grandma we can honour this dish with, we've asked and the name's all a bit of malarkey but that's OK with us.) A mountain of wok-flashed, tender-as-the-night chicken, arrives on a bed of fresh and crisp wombok and is glazed with a sweet and dark, saucy melange of chopped garlic, salty soy and sweet oyster sauce. A sprinkling of spring onion finishes this humble dish, which is both memorable and beautiful in its simplicity.
The salty, savoury undertone of fish sauce seasoning tells us we're dining Thai-style at suburban Ayuthaya, where the welcome is always warm. Ayuthaya's pad prik khing comes crowned with sprigs of coriander and crisp fried vermicelli noodles and can be adapted to suit your protein of choice. Tonight we opt for pork rather than the menu's suggestion of deep-fried chicken. The dish contains a veggie patch of produce fresher than fresh, the green beans snap to it while the red capsicum has crunch and vibrancy of flavour. Soft petals of onion and kaffir lime leaves give sweetness and zing to a curry gravy alive with lemongrass, garlic and chilli. Ask for the heat-o-meter to be dialled up if that's the way you roll.
We love our lamb and we especially love it wok fried and tender from the kitchen at Paddo's King Tea. The sizzle of the wok emanates from the open kitchen singing its come-hither song as cubes of lamb, with enough fat left on the meat to remain luscious, stem and leaf of Chinese greens and sweet onion petals are tossed. All that aforementioned lamb fat melds harmoniously with garlic, oyster sauce and house soy, affectionately known in the King Tea house as 'magic soy', to transform into a silken sauce pooling at the bottom of the dish for a smashing slurp-fest of a finish.
Within the historic walls of Brisvegas's Treasury Casino, but a world away from the action of the betting tables, Luke Nguyen's Fat Noodle restaurant practices pan-Asian cuisine of which pepper beef is a menu-worthy inclusion. A perfect mound of gently fragrant jasmine rice sprinkled with crisp and golden fried shallots for crunch is co-host to tender, fat and juicy strips of eye fillet beef, tasting perfectly of the beast it comes from, and flecked with a liberal, coarse-grind of mouth-warming black pepper. The collaboration of peppery beef in the wok along with cupped onion slices and wilted Chinese greens makes this dish hit the dinner-time jackpot.
We've found our favourite noodle! It's fat, barrel-shaped, about the length of your pinky finger, is delightfully chewy like a bouncy, slightly firmer version of gnocchi and is made of Korean rice cake. It's a revelation, and even more so given Longtime chef Ben Bertei's wok treatment with a vibrant toss of chop-chopped choy sum and neatly sliced pork belly served lusciously soft in the middle and crunchy-crisp around the outside. Finished with pickled and sliced red chilli and a crunchy snow-shower of fried-to-golden garlic, the dish has been on the menu for four years and ain't going anywhere soon.
Spice Den Brisbane is living up to its Casuarina sibling's name for serving up quality pan-Asian nosh, and their version of chicken pad Thai only bolsters that notion. It's a mountain of food – a beautiful mountain of texture and flavour, and when you reach its summit you'll wish you were starting the journey all over again. Soft, flat rice noodles tangle with the crunch of fresh bean sprouts, tranches of chicken all flavoured with the gentle pucker of tamarind. Toasty, ground peanuts, coriander leaves and stems, rounds of spring onion and crisp, fried shallots decorate the landscape with a cheek of lime and ramekin of dried chilli thoughtfully served on the side.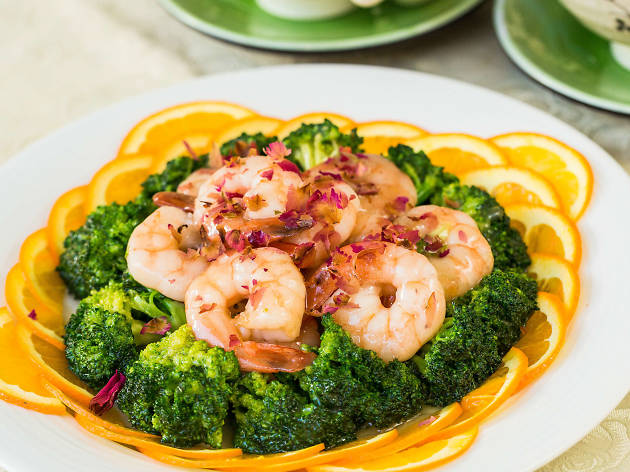 Photograph: John Reyment
Stir-fried prawns with green tea at Enjoy Inn, $28.90
We've been eating, drinking and celebrating in Fortitude Valley's Enjoy Inn dining room for years, and are asking ourselves why we've never had the pleasure of their stir-fried prawns with green tea before. From now on they'll definitely be on high rotation! Nine firm-fleshed and fat prawns come heads off, tails on, ultra-high glossed and mirror-finished like they've been dipped into a pot of varnish. Brought to the table and plated no-frills style within a wreath of bright green, cooked-to-crunchy broccoli florets, they're seasoned with slightly bitter notes of tea, offsetting the prawns' sweetness in the most pleasing way.
Chef Jake Pregnell has travelled north to Brisbane into the kitchen of Little Valley, Rick Shores' sister restaurant, housed in a laneway within the heart of Fortitude Valley. Flouting a menu stacked with multi-regional, modern Chinese interpretations such as the fab fungus dish of kung pao mushrooms, we reckon Little Valley is tops. Pregnell's kung pao sees a bunch of dried red chillies fried off in Sichuan oil for flavour; they give a nuance of warmth rather than the expected lick of fire. Dig down to find heavenly pools of saucy kung pao dressing at the bowl's bottom, the remainder clinging beautifully to springy shiitake mushrooms and stalks and tops of meaty king browns intermingled with spring onion and the toastiest of macadamias for crunch.
Peng You's saucy and colourful little offering of sizzling Mongolian lamb delivers the promised sizzle in spades as the completed dish is ushered to the table and upended onto a roaringly hot cast-iron plate in front of your eyes giving cloudy plumes of aromatic steam that rise to the festoons of party lights and tasseled Chinese lanterns hanging above. Zingy ginger, garlic, oyster and soy all cosy up together to become the sauce that bubbles around strips of sweet red and green capsicum, wok-softened onion, neat batons of carrot, spring onion and slices of just-cooked, meltingly-tender lamb.
Libertine's French/Vietnamese theme shines true with chef's tarted-up chicken stir fry loaded with skin-on, free-range chicken just bursting with flavour. The fat from the skin gives another dimension of awesome, along with the flavour of black truffle, garlic, oyster sauce and soy, helping create a rich and silken sauce that glistens and coats every part of the dish before dripping into a glossy, chicken-y pool at the bottom. There's a green trifecta of wok-tossed veg too: beans, broccoli and crisp Brussels sprouts cut in two, all topped with scattered portions of soft Brie to finish.
Explore the many ways American Express has your back