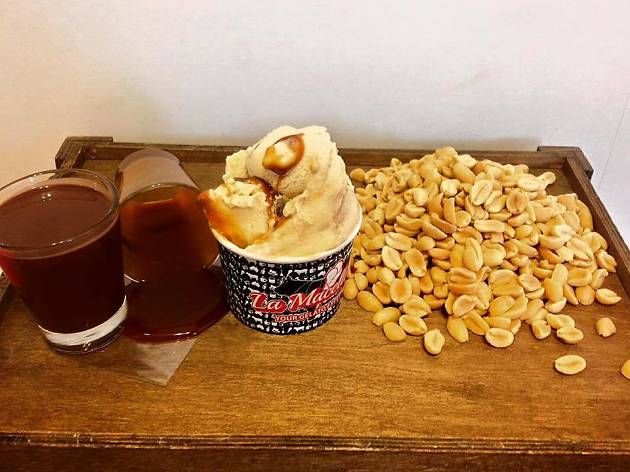 Take a trip, one lick at a time, to La Macelleria, Teneriffe's promised land of Italian-style gelato
Not-so-modest slogans on the wall speak of 'a gelato experience' and 'a real moment of hedonistic pleasure'. They've got a lot to live up to after fighting words like that, we're quietly thinking to ourselves – but the lengthy queue is promising.
The name La Macelleria actually means 'the butchery', after the historical butchers' shop in Bologna where the creators (both named Matteo) opened their first gelateria. Their menu is broken into creme classiche (typical Italian flavours), creme speciali (chef's creations) and sorbetti (sorbet) of which today's flavours are mango, watermelon and blueberry.
Added to the daily gelato and sorbetti churns are ribbons, dollops, pastes and chunks of fruit and flavour and house-roasted, ground hazelnuts, pistachios, peanuts and almonds. Everything is created in-house.
There's no doubting it: this stuff is the shizz. Sweet and salty happily collide in caramello salato (salted caramel). Mandorlino is a nutty blend of almonds and hazelnuts with amaretto and jewels of caramelised almonds. Malaga comes with a princely punch of rummy raisins. There are the classic flavours of stracciatella, with flakes of dark chocolate; cioccolato, dense with pure cocoa; and bacio, a meeting of chocolate and hazelnut.
Take-home packs filled with cool licks are yours for the asking, all scooped from the traditional pozzetti with sunken, lidded tubs protecting the precious cache from the environs and spoilage.
---
Venue name:
La Macelleria
Contact:
Address:
10-29 Florence St
Teneriffe
Brisbane
4005

Opening hours:
Sun-Thu 11am-10pm; Fri, Sat 11am-11pm