Put Oxfam Trailwalker on your Brisbane bucket list
Do you have what it takes to join this meaningful hike from Mount Glorious to Mount Coot-tha?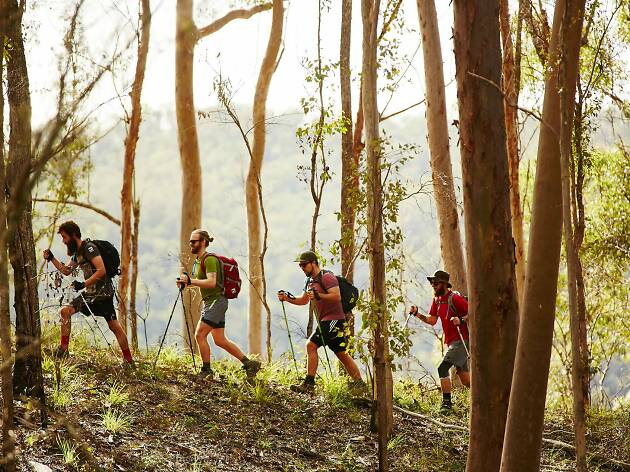 This epic challenge invites bold hikers to band together and journey through 100km of bushland to support communities around the world who are living below the poverty line. To be part of Oxfam Trailwalker, a global phenomenon, you'll need to rally three of your most fearless friends to join you on the trail.
Photograph: Supplied
It's not a relay, but rather a team effort where you'll gather strength from your friends as you help each other reach the finish line. The aim is to complete the 100km trail in 48 hours, so prepare for some intense bonding moments. If your team wants to test the waters, you can trial the Brisbane trail with the 55km stint that can be conquered in 24 hours.
Most importantly, you'll be raising funds as a team. You'll need to raise $1,600 to participate in the event, which will go towards Oxfam's programs around the world. So far, those who've tackled Oxfam Trailwalker have contributed $100 million towards Oxfam's work finding practical, innovative ways for people to lift themselves out of poverty and thrive.
Photograph: Supplied
You'll be venturing through some incredible scenery as you follow the trail. It's all about the lush rainforest at the starting point on Mount Glorious before you clamber up the steep ascent to see the spectacular views of Lake Wivenhoe and then move onto Lake Manchester, which is also the starting line for those on the 55km course. From here, you'll walk another long leg towards the Brisbane River, before hitting the undulating trail at Bellbird Grove. Look out for koalas and other wildlife as your brave limbs carry you to the finish line at Hoop Pine Picnic area, Mount Coot-tha.
The mammoth effort will leave you and your team drained and with throbbing feet and muscles, but full of passion for achieving this massive commitment.
Photograph: Supplied
To minimise the physical drain as much as possible, you'll want to commit to a training regime before the walk and ramp up your stamina. Happily, Oxfam has free training and nutritional guides to get you prepared for Oxfam Trailwalker. There's also some hot tips in the FAQs section of their website about what to carry on the day, the best hiking gear, info about the trail and other event rules.
And at the end of the day, it's all about connection: with your fellow hikers, with those who contribute to your fundraising and the communities you are supporting.
The Brisbane journey for 2019 is running from June 21-23, so register your crew of four today.
Photograph: Supplied