Heads up! We're working hard to be accurate – but these are unusual times, so please always check before heading out.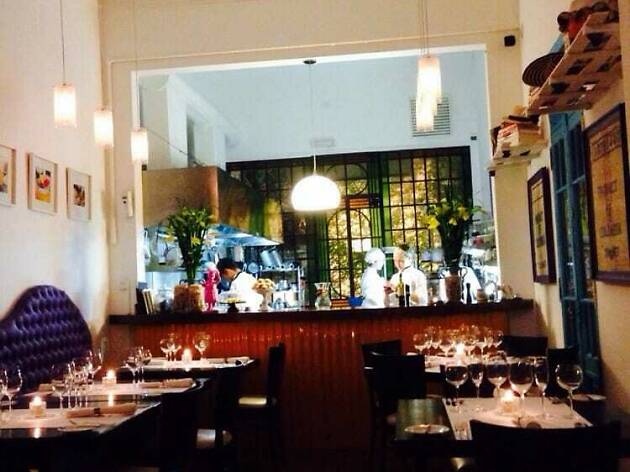 The 15 best restaurants in Buenos Aires
Chow down in the best restaurants in Buenos Aires, from upscale steakhouses to hidden sushi bars and cozy cafes
Buenos Aires has made a name for itself as the beef capital of the world - and with good reason; trying the local delicacy is a quintessential thing to do in the city. The smell of open flame parrillas (grills) fill the streets and the thick cuts of ojo de bife are not to be missed, but there's so much more to this city than its famous grilled meat. A glorious mix of diverse cultures, the food scene in Buenos Aires is vibrant, varied and ever-evolving. Here, old-school bodegóns and food stall-laden markets rub shoulders with Indian fusion restaurants, hidden sushi bars and Korean cafés. But the classics will always have a place in this city's heart; so this list of Buenos Aires' best restaurants is a combination of old and new; fancy and fast food; sumptuous and simple. While it's impossible to name all the must-see restaurants in Buenos Aires, this list is a good place to start.
Best restaurants in Buenos Aires
Photograph: Courtesy Yelp/David K.
What is it? Tucked away in a converted old garage, Proper is a "laid-back genius" style restaurant that makes top food and friendly service look effortless.
Why go? Proper's open kitchen serves bright, innovative dishes to share - with vegetarian plates holding their own against the hefty meat portions - all underpinned by the unmistakable smokey flavour from the huge wood-fired oven. It's strictly no bookings and queues are to be expected, but a cheeky glass of Malbec will help pass the time.
Price? Pricey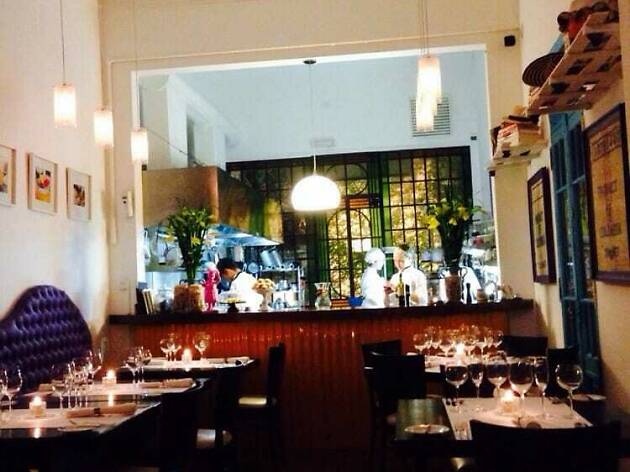 Photograph: Courtesy Yelp/Olivia A.
What is it? Chef-patron Santiago Marcías takes diners on a culinary journey from Mexico to Argentina, with a few stops at his native Colombia on the way.
Why go? The perfect balance of refined fine dining and delicious food, dishes here are picturesque, yet satisfying. Tasters include impossibly tender beef cheek and an Oaxacan mole that you'll be dreaming about for months. Go hungry and expect a fun, flavour-packed, seven-course jaunt across South America.
Price? Blowout.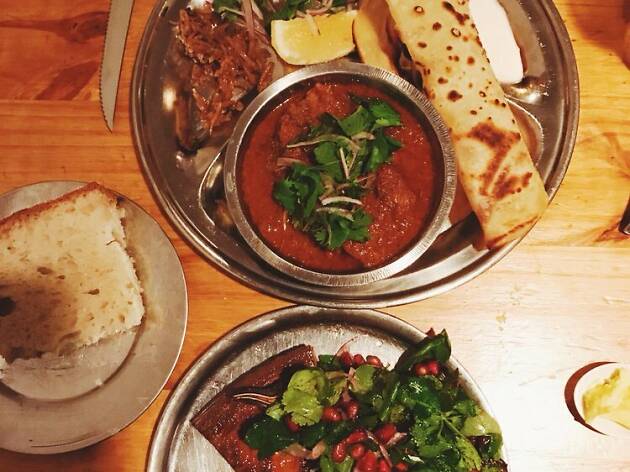 Photograph: Courtesy Yelp/David K.
What is it? A glorious mash-up of Indian and South American food, this modest, no-frills restaurant serves sharing plates that are surprising, innovative and always delicious.
Why go? An unassuming café from the outside, inside Gran Dabbang top chefs are cooking toe-to-toe with some of the best around, earning themselves an impressive spot at number 38 on Latin America's 50 Best Restaurants list. A casual dining experience with affordable food that excels with every mouthful, Gran Dabbang is quite simply a must-visit.
Price? Average.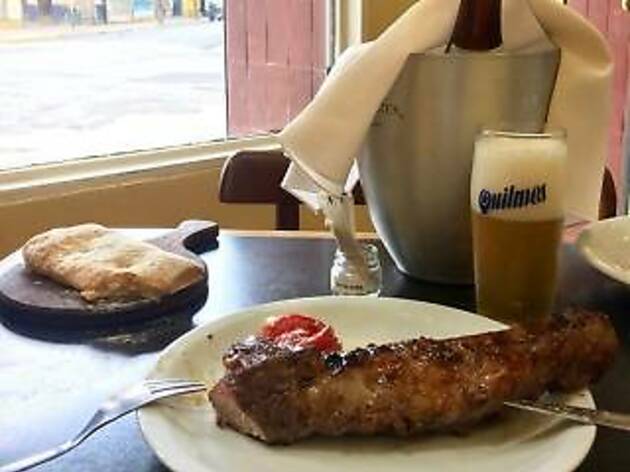 Photograph: Courtesy Yelp/Jason C.
What is it? A wonderful window into the historic bodegóns of Buenos Aires, the family-run Don Carlos serves traditional Argentinian/Italian fare in La Boca.
Why go? Chef-patron Carlitos is a top grill master and an unparalleled multitasker; between hosting, serving and cooking steaks a punto he can famously deduct what customers need before they've opened their mouths. There's a small but excellent selection of food - from fresh pasta to juicy cuts of beef. The best thing to eat? Whatever Carlitos brings you.
Price? Average.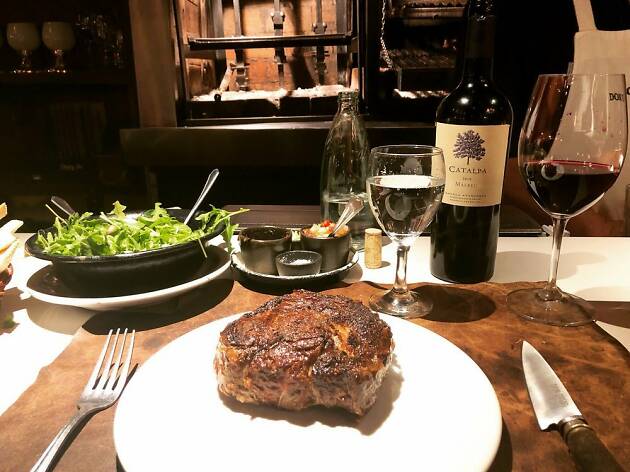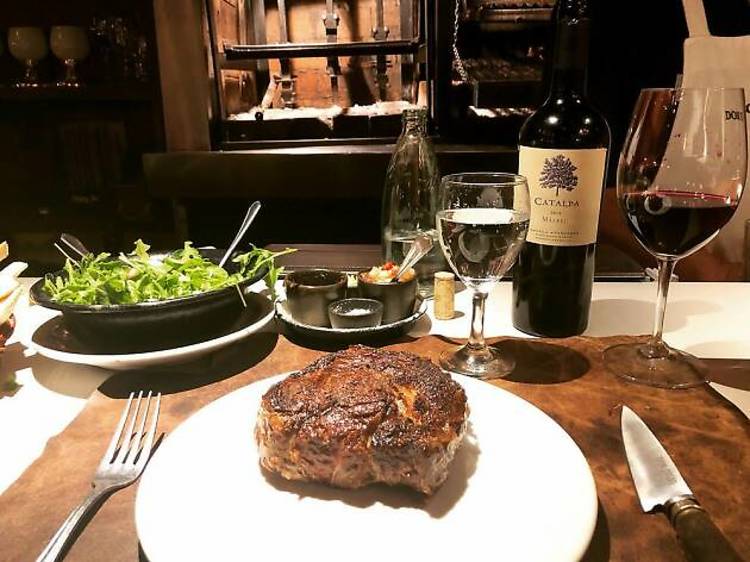 Photograph: Courtesy Yelp/Rafael T.
What is it? A handsome steak restaurant with an impressive wine list, Don Julio is one of the most respected parrillas in Buenos Aires.
Why go? The title of the best parrilla in Buenos Aires is hotly contested, but Don Julio is certainly in the running with consistently flawless cooking and operating like a well oiled ship. A hidden gem this ain't, but it's popular for good reason. Serious beef fans should request to be seated at the bar for a front row seat at the grill.
Price? Pricey.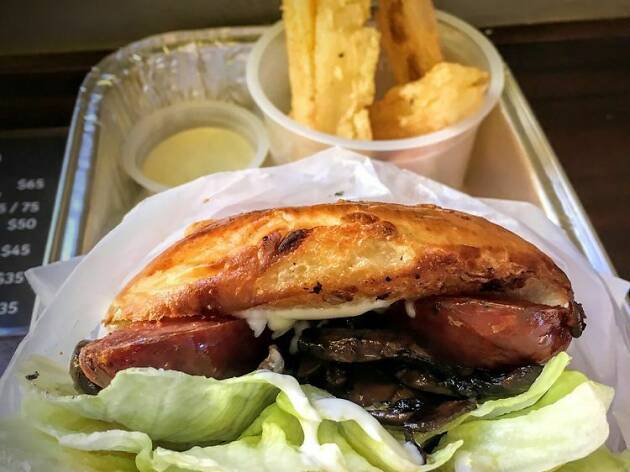 Photograph: Courtesy Yelp/Federico S.
What is it? Hip fast food meets traditional fare in Chori, where chefs serve a modern take on choripan - a classic Argentine sausage sandwich.
Why go? Based in the super-cool barrio of Palermo and surrounded by bars and clubs, Chori is the perfect pit-stop for a bite before a night out. Choose from a classic chorizo roll or one of their pimped up creations, all cooked on an open flame parrilla. It's messy, indulgent and at just 160 pesos each, easy on the wallet.
Price? Bargain.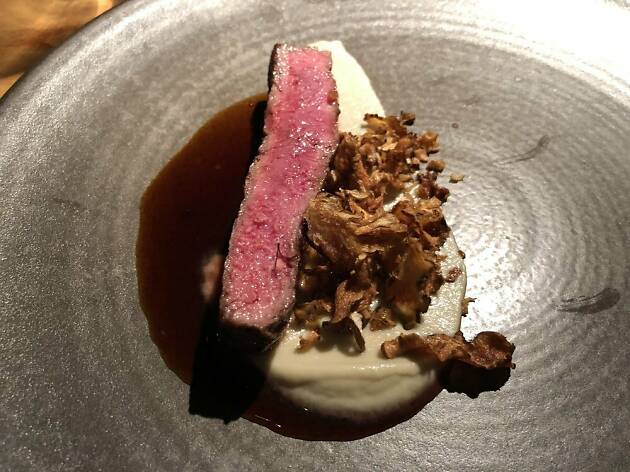 Photograph: Courtesy Yelp/David B.
7. Aramburu Restaurante / BIS Restaurante by Aramburu
What is it? Chef Gonzalo Aramburu cooked his way across Spain and Paris before returning to his home city to open two ventures: fine dining restaurant Aramburu in San Telmo with an exquisite tasting menu, and the more relaxed BIS Restaurante in Recoleta.
Why go? Both ventures push Argentine cuisine and ingredients to their limits, offering diners an intimate and modern take on this countries' cuisine. Go all-out at their flagship formal restaurant, or sample some of their heralded flavours at BIS.
Price? Blowout.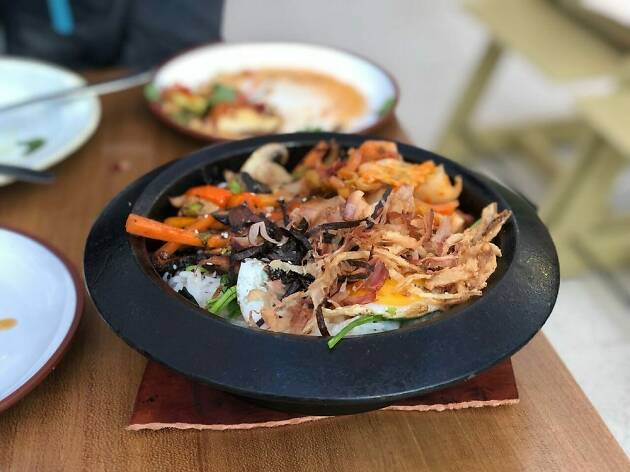 Photograph: Courtesy Yelp/Nico C.
What is it? Celebrity chef and TV personality Narda Lepes' restaurant serves eclectic dishes inspired by global flavours, keeping plant-based ingredients at the heart of her menu.
Why go? A super-cool interior gives way to food that is warm and welcoming. For breakfast, lunch or dinner, vibrant plates are well thought-out with balanced and textures, while service is attentive and friendly. This isn't a vegetarian restaurant - the meat dishes here are exemplary too - but the veggie plates are a joy on their own.
Price? Pricey.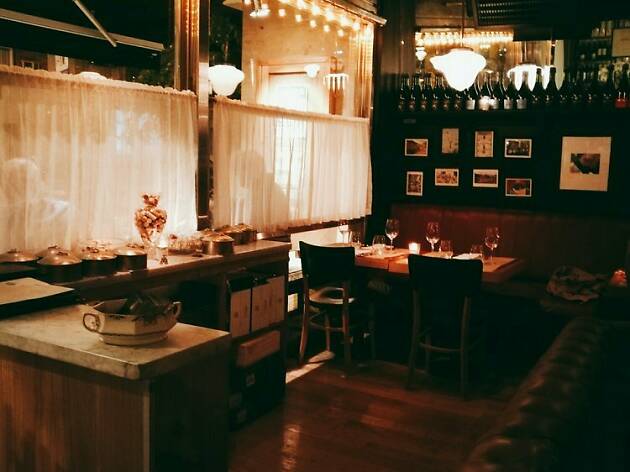 Photograph: Courtesy Yelp/Roi C.
What is it? A celebration of Jewish cuisine and culture, Mishiguene is an elegant space with hearty, first-class food.
Why go? Mishiguene (which means lovably crazy in Yiddish) is on a mission to honour the city's Jewish heritage with a selection of traditional recipes made to co-founder and head chef Tomás Kalika's exacting standards. From kibbeh nayeh to spit-roasted Moroccan lamb, dishes here lovingly made and hugely satisfying.
Price? Blowout.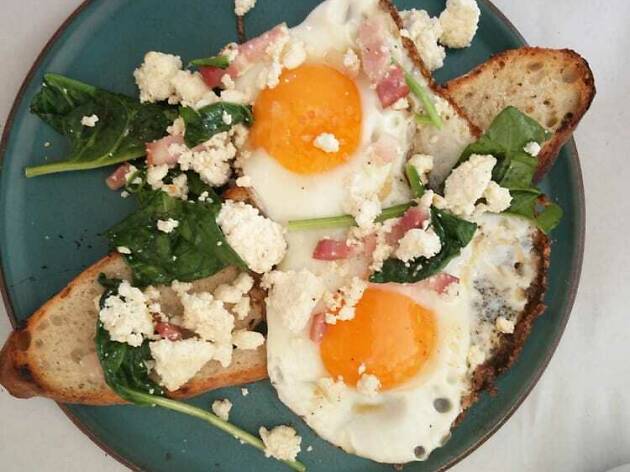 Photograph: Courtesy Yelp/Mario C.
What is it? A light and sunny corner café in Palermo, diners flock to this self described modern trattoria for homemade Italian cuisine.
Why go? From lazy brunches to long boozy lunches, this modest bistro covers all bases. Food here is rustic and delectable - choose from toasted sandwiches, homemade pasta, or antipasti. And if you're lucky enough to see porchetta on the menu, order it. Order it all.
Price? Average.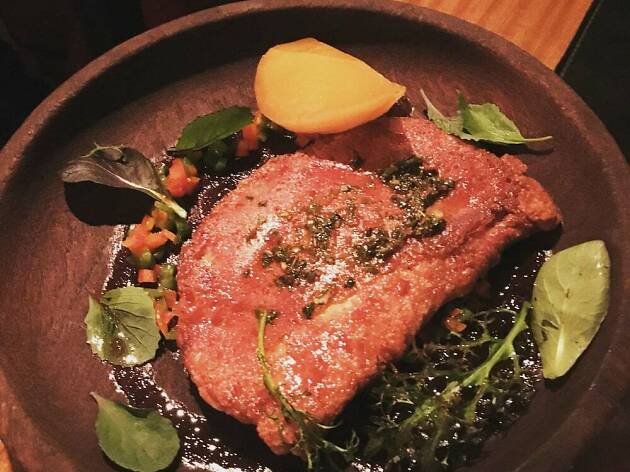 Photograph: Courtesy Yelp/Ivan M.
What is it? A new generation of asadors take to the grill in this modern parrilla with a new take on the traditional Argentine meat-feast.
Why go? With only a handful of tables and a whole lot of great meat, booking is essential at this popular Palermo joint. Cuts of the day are either smoked or grilled, either way you'll be presented with a hefty portion of perfectly cooked meat to share.
Price? Average.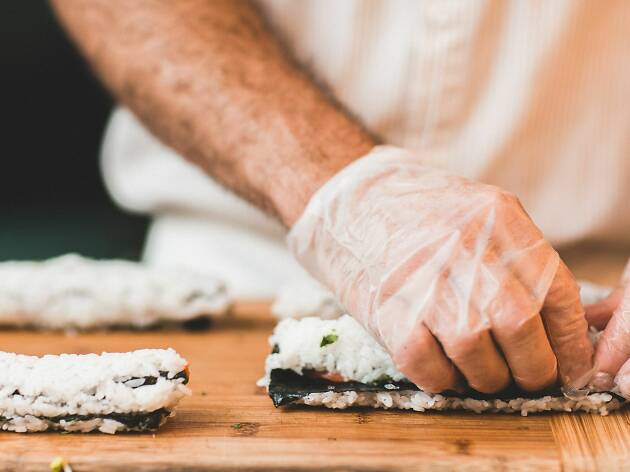 Photograph: Courtesy Unsplash
What is it? Buenos Aires had a boom in 'closed door restaurants' a while back, and sushi restaurant Omakase is one of the best remaining.
Why go? This hidden sushi bar is a well-kept local secret, where diners escape the bustling streets to a tranquil subterranean refuge. Try the tasting menu - choose from the full size or a 4 course - consisting of sashimi, rolls, and nigiri, depending on what chefs have in that day. Struggling to find it? Ask at Bar Du Marche for directions.
Price? Average.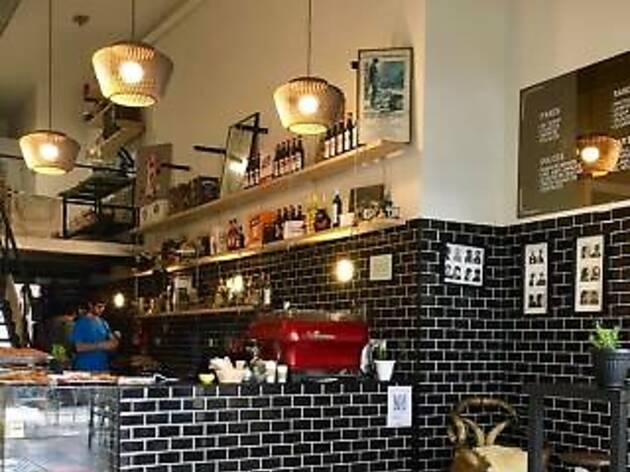 Photograph: Courtesy Yelp/Cintia V.
What is it? First and foremost a bakery, Salvaje also moonlights as a cafe, bar, and coffee shop, with a small but carefully curated menu available 'till 9pm.
Why go? Found in an old warehouse on the border of Colegiales and Palermo Hollywood, this working bakery has been painstakingly hand-built from scratch. Best for brunch or early evening snacks, the menu offers a selection of sandwiches and Ottolenghi-syle small plates, all of which revolve around the signature Salvaje sourdough loaf.
Price? Average.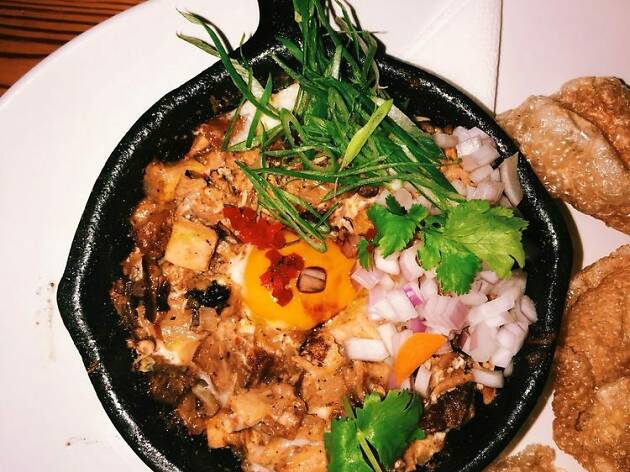 Photograph: Courtesy Yelp/David K.
What is it? A bright and bustling restaurant which skilfully draws on flavours from Southeast Asia.
Why go? Christina Sunae built a loyal fanbase in Buenos Aires when she first opened a pop-up restaurant at her home, and now her bricks-and-mortar venture is thriving. The menu features pho beef slices and fresh herbs, gaeng hanglay Thai pork curry, and a vegetarian section with pumpkin khao soi.
Price? Average.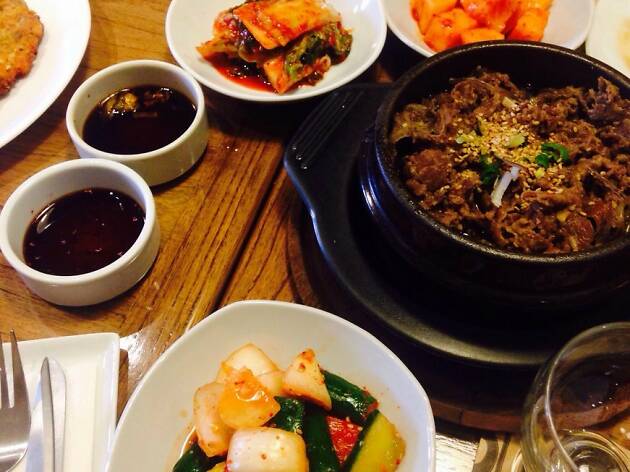 Photograph: Courtesy Yelp/Mariel N.
What is it? A charming Korean restaurant in the often under-explored 'Koreatown' serving traditional cuisine in a modest, friendly restaurant.
Why go? Take a taxi south-west of the city centre to discover Flores, aka 'Koreatown'. A diverse residential barrio, restaurants here are cheap, cheerful, and worth seeking out. Start with Una Canción Coreana, where dishes include pork and kimchi pancakes, kimchi jjigue - kimchi, tofu and pork soup.
Price? Bargain.
More local flavor
Microcosms of the neighborhoods they inhabit, markets – or ferias – are one of the best things to do in Buenos Aires, and a great way to immerse yourself in the culture, mingle with locals and pick up a few treats.