The 20 best restaurants in Calgary
For a dose of multicultural dining and tons of meat, you'll want to devour your meal at the best restaurants in Calgary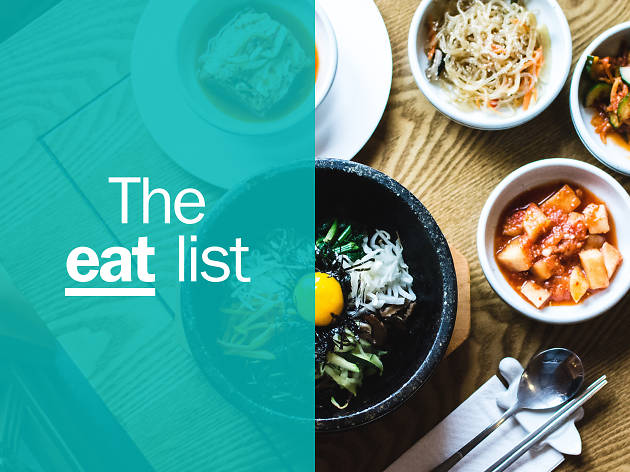 If there ever was a Texas of Canada, Calgary might be it. This west coast town set at the foot of the Rocky Mountains is known for its cowboy hats, BBQ ribs, welcoming hotels, country music and a whole lot of fun things to do. Calgary is also the largest beef producer in Canada, making meat-heavy cuisine a local expertise. But fret not: the sophisticated dining scene—the fastest growing within the multicultural country—goes beyond meat and potatoes and also boasts farmers' market vegetables and organic entrées. From Thai to Italian, Afghani to Chinese, the best restaurants in Calgary reflect the city's growing diversity and we are here to slurp it all up.
Best restaurants in Calgary
1
Photograph: Courtesy Yelp/MJ L.
What it is: This simple and hearty comfort food hotspot earned a local following thanks to the French-inspired fare served, prepared using locally grown ingredients.
Why go: Brasserie Kensington also happens to revamp classic dishes, giving them a more modern character. Try the hunter's rabbit stew with barley and rutabaga and you'll know what we're talking about.
Price: Pricey
2
Photograph: Courtesy Yelp/Bridgette Bar
What it is: This upscale wine bar in the city's Design District boasts a sleek, modern atmosphere that is ideal for both a business meeting and a get-together with friends.
Why go: As one of the few upscale bars that also serves late-night snacks, it's hard not to constantly return here. Eat the eggplant fries or the chicken sausage pizza and wash it all down with a local lager.
Price: Average
3
Photograph: Courtesy Yelp/Pad Thai Restaurant
What it is: Named after the most classic dish to come out of the country, this could only be a Thai restaurant.
Why go: It's run by a Thai family, so you can guarantee some fine Asian cuisine at Pad Thai. Plus, there are dishes with a twist on the menu worth trying, like the lemongrass chicken wings.
Price: Average
4
Photograph: Courtesy Yelp/Alforno Bakery & Cafe
What it is: This cafe and bar has a bicycle hanging above its beer taps. Hipster coffee drinkers: welcome to heaven.
Why go: It's a great place to pop into for lunch. Try a classic cappuccino with a bowl of pasta, which is topped with a dollop of ricotta. The Instagram is filled with food porn, so you might be inspired to take a few snapshots of your plate, too.
Price: Average
5
Photograph: Courtesy Yelp/Kirk S.
What it is: This classic French bistro is a quiet getaway from the bustling downtown district. They're known for their long wine list and their unpretentious menu, which features tons of European classics.
Why go: To be adventurous and order a glass of absinthe to wash down the house burger with aged cheddar.
Price: Average
6
Photograph: Courtesy Yelp/Genegie B.
What it is: Set inside of Saks Fifth Avenue in the Chinook Centre mall, this quiet Italian restaurant is the go-to spot for shoppers needing to unwind.
Why go: All the pizzas are cooked in an authentic Italian stove oven. Pair any of them with a glass of prosecco and pretend you're in Rome.
Price: Pricey
7
Photograph: Courtesy Yelp/Afghan K.
What it is: Afghani food isn't super popular in Calgary, which means that there are only a few places to find it. If you're looking for it though, Afghan Kabob is totally worth the excursion.
Why go: Everyone knows that kebabs are the perfect hangover cure, but they're also great when eaten with a healthy side of chickpea salad and steamed dumplings, for instance. Heads up: it's cash only here but your change will probably cover the cost.
Price: Cheap
8
Photograph: Courtesy Yelp/Jonny M.
What it is: Set in the heart of Prince's Island Park, this is one of the city's most renowned eateries, serving upscale fare in elegant surroundings.
Why go: If you're craving a high-brow experience you should definitely dine here. White tablecloths also abound during Sunday brunch, when you can devour pancakes, eggs and pastries from the on-premise bakery.
Price: Blowout
9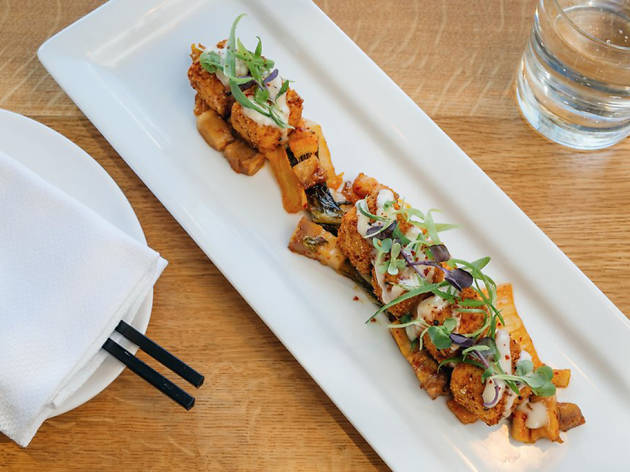 Photograph: Courtesy Yelp/Anju
What it is: Don't expect to eat your typical bibimbap fare here. This Korean restaurant menu includes dishes that have heavily, and eclectically, been influenced by Canada.
Why go: Upscale Korean food? Yes, please. We'll take the crispy tofu sautéed with maple and the hot stone rice bowl—with a glass of lager, of course.
Price: Average
10
Photograph: Courtesy Yelp/Cotto Italian Comfort Food
What it is: In English 'cotto' means 'cooked'. Perhaps this doesn't immediately give away the restaurant's aims, but Cotto promises classic Italian comfort food.
Why go: There's a great vibe here in this stylish, family-run joint. Sit down with friends to share a spot of arancini, funghetto (steamed eggplant) and frittelle (cheese fritters).
Price: Pricey
11
Photograph: Courtesy Yelp/Bernice H.
What it is: A bright and cheery chicken joint run lovingly by two sisters: Nicole and Francine Gomes.
Why go: If this isn't the best place to get Southern fried chicken in Canada, it's definitely the best in Calgary. Plus they do malt milkshakes and retro sodas.
Price: Bargain
12
Photograph: Courtesy Yelp/Hot Million Indian Cuisine
What it is: This is the ultimate place for Indian cuisine, so get ready to get your curry on.
Why go: In addition to some kickass curry dishes, this hotspot also serves Chinese food. Try the lemon chicken and a wide variety of vegetarian plates. Don't forget to order a glass of mango lassi.
Price: Average
13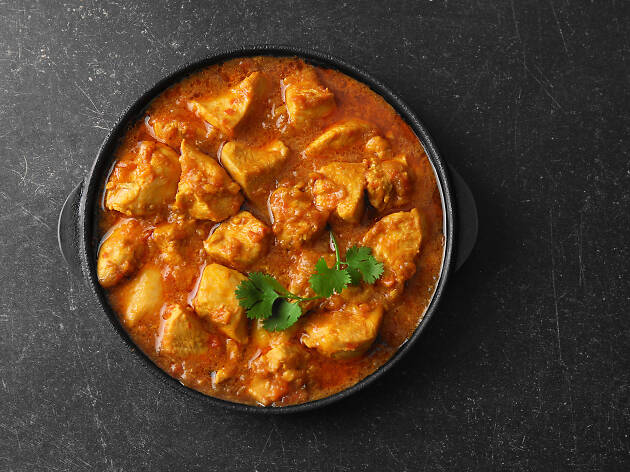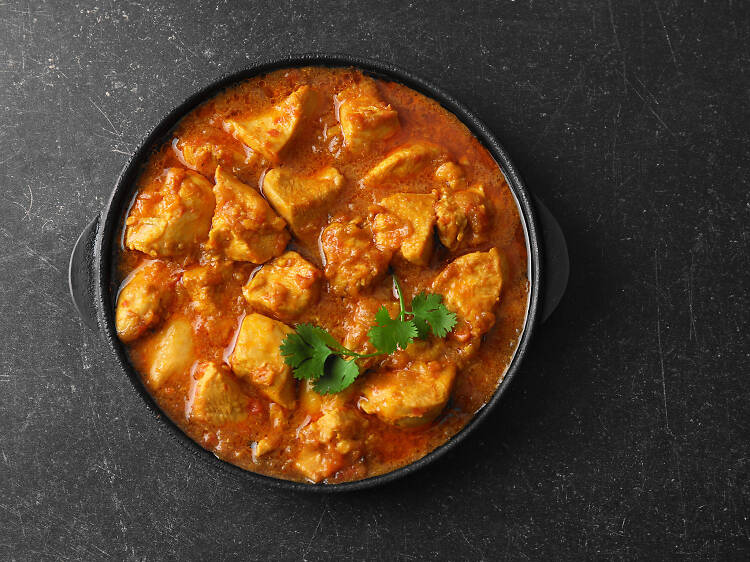 Photograph: Shutterstock
What it is: This gourmet food truck can be spotted serving plates filled with Indian food throughout the city streets but also at catering jobs and delivering to people's homes.
Why go: Chef Jassie Bakshi has over 30 years of experience working as a chef at hotels across India. The food truck does East Indian food best but also offers vegan fare.
Price: Bargain
14
Photograph: Courtesy Tripadvisor/David B
What it is: This wood-encased restaurant is classic Calgary and is set inside of the Royal Canadian Legion, a social club (with bingo!) facing the picturesque mountains.
Why go: The comfort food here is unparalleled, from the hot turkey sandwiches to the signature dish of liver and onion.
Price: Bargain
15
Photograph: Courtesy Yelp/Douglas S.
What it is: Smack dab in the middle of the bohemian Inglewood district, the restaurant offers a sprawling patio, communal tables and a friendly neighborhood flair.
Why go: If you're meeting a group of friends, this is a great option. Order the Mexican nachos, perfect for sharing and delicious with some local craft beers on the side.
Price: Bargain
16
Photograph: Courtesy Yelp/Michael U.
What it is: More than just a bakery, this dine-in eatery offers a wide menu that also caters to vegetarians.
Why go: The founder of this bakery, Aviv Fried, has the words "sour dough" tattooed on his fingers, displaying his passion for bread making to the world. Do you really need another reason to visit?
Price: Bargain
17
Photograph: Courtesy Yelp/Wednesday Room
What it is: This is less a restaurant, more a living room. Or at least that's how you'll feel when you sink into one of Wednesday Room's plump mid-mod armchairs or banquettes.
Why go: For a culinary adventure. You can eat everything from smoked octopus to pork belly bao buns here. Wash it down with something from the delightful cocktail menu. You'll feel warm and cosy before you know it.
Price: Average
18
Photograph: Courtesy Yelp/Gerald W.
What it is: A family restaurant founded by the Eden family, it is set in a 19th century historic brick building outfitted with a rustic vibe.
Why go: This self-proclaimed "blue collar bistro" offers French-inspired fare, from crab croquettes to ratatouille and beef bourguignon, that will revive all five of your senses.
Price: Average
19
Photograph: Courtesy Yelp/Two Penny
What it is: A Chinese restaurant with Instagram-friendly decor. Walk in and notice lanterns, exotic pictures on the wall and Shanghai-inspired touches that feel like a throwback to the 1920s.
Why go: Traditional dishes are updated with local flair, like the beef and broccoli with slow-roasted Wagyu brisket.
Price: Average
20
Photograph: Courtesy Yelp/Double Zero Pizza Chinook
What it is: A swish Italian eatery that makes all its pasta in-house and has deliciously thin-crust pizzas.
Why go: Sure pizzas aren't always considered to be high-end food, but Double Zero is bright, airy and attractively modern. Plus, it's situated perfectly for a meal after a shopping spree in the Chinook Centre.
Price: Pricey
Discover Time Out Market: the best of the city under one roof
Planning a trip to Calgary?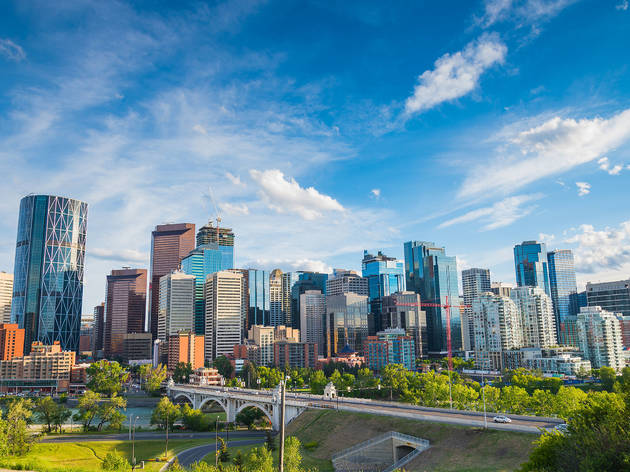 Calgary is a friendly and fun-loving city with a booming restaurant scene, great hotels, underground nightclubs, quirky antique shops, retro-themed bars and awesome museums.