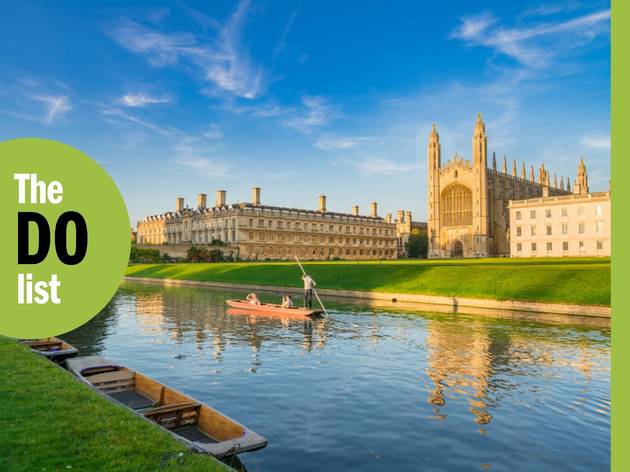 The 11 best things to do in Cambridge right now
You've heard of King's College Chapel. So what else? Our pick of the best things to do in Cambridge should keep you busy after lockdown
April 2021: It's been devastating to see Cambridge quiet and shuttered for the last year. But, it shouldn't be long until it's back to its old self again. The reopening of the university city has already begun with non-essential shops and outdoor drinking and dining already on the cards. With indoor dining hopefully starting up again from May 17 and most restrictions lifting by June 21, meaning nightlife and other cultural venues like theatres and galleries should be open again, it's time to get planning your next trip.
If you thought Cambridge was all countryside air and bucolic riverside walks, then, well… you're spot-on. Did you know there's a herd of happily grazing cows near the city centre? There is, and they're really rather cute. The locals, of course, just walk straight past. Quaint Cambridge has been an official city since 1951 – awarded that status on account of its illustrious university – and, heifers aside, the city also punches way above its compact size when it comes to cultural goings-on.
Don't know where to start? Then our pick of the absolute best things to do in Cambridge should come in handy. Our selections range from number-one tourist site King's College Chapel to a museum dedicated to polar exploration and the homely, understated Kettle's Yard art gallery. If you're hungry, never fear – the best restaurants in Cambridge can sort you out for excellent pub grub and Italian fine dining. And the city's best hotels offer pretty good food too.
Done something on this list and loved it? Share it with the hashtag #TimeOutDoList and tag @TimeOutEverywhere. Find out more about how Time Out selects the very best things to do all over the world.
Best things to do in Cambridge
1. Immerse yourself in greenery at the Botanic Gardens
What is it? Some 40 acres of gorgeously green (and pink and yellow and red…) botanic gardens owned by Cambridge University, where you can earnestly study horticulture or snooze on the lawn.
Why go? Cambridge's botanic gardens are an Arcadian paradise hidden behind a fairly nondescript entrance at the station end of town. What sets them apart from other city gardens is the woodland vibe. Lose yourself in a maze of lush foliage and leave all your troubles behind.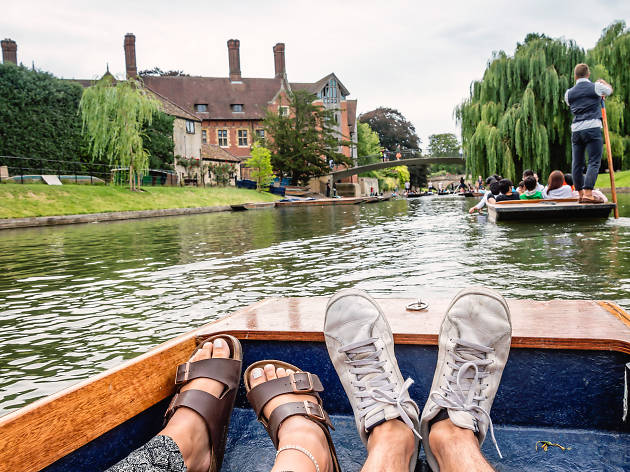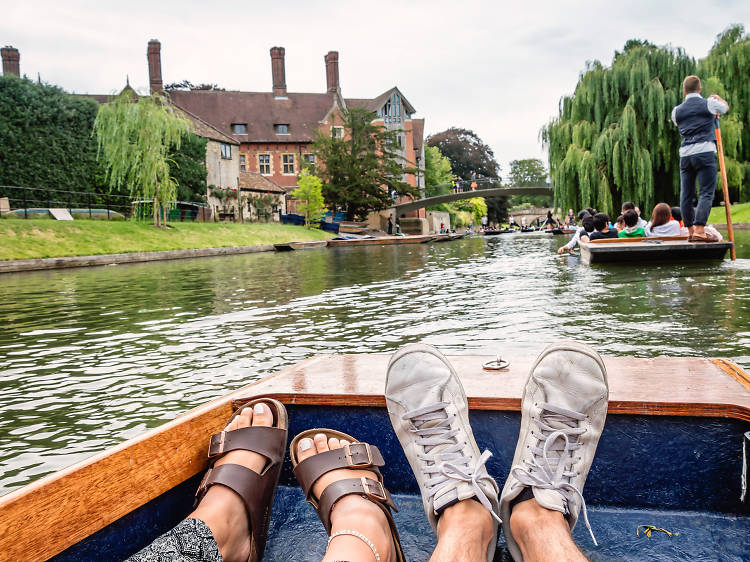 What is it? The national pastime of Cambridge and one of the best ways to see the city. And the good news is you don't even need to work your own arm muscles.
Why go? To get within sniffing distance of Cambridge and not go punting is like going to Pisa and not seeing the leaning tower. The brave and the skilled do the stick-bit themselves, but if you're a first-timer book a gondolier-like guide to navigate the River Cam for you.
3. Go behind-the-scenes on a university tour
What is it? A student's eye view of the world-famous university, giving visitors an insider's introduction to its most beautiful nooks and crannies.
Why go? As a city, Cambridge is pleasingly compact and easy to navigate on foot. The same is true of the university, which dominates the centre. Take a stroll through and around the institution with those who know it best as a guide: real-life Cambridge students.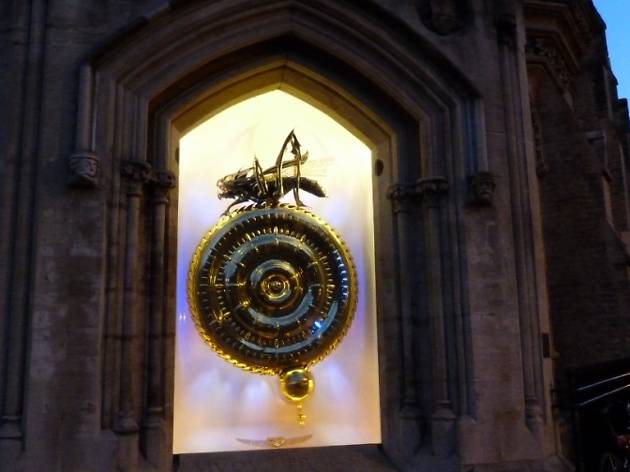 © John C Taylor
4. Catch a glimpse of The Corpus Clock
What is it? A very large and bizarre clock designed to make you fear the incessant ticking away of each moment on earth. Just don't head here if you actually need to know the time.
Why go? The Corpus Clock is on the front of the Taylor Library at Corpus Christi College. It's less a clock (although apparently it is accurate every once in a while) and more of an art piece. The marvellously creepy insect straddling it appears to 'eat' time – a reminder that we don't have as much of it left as we think.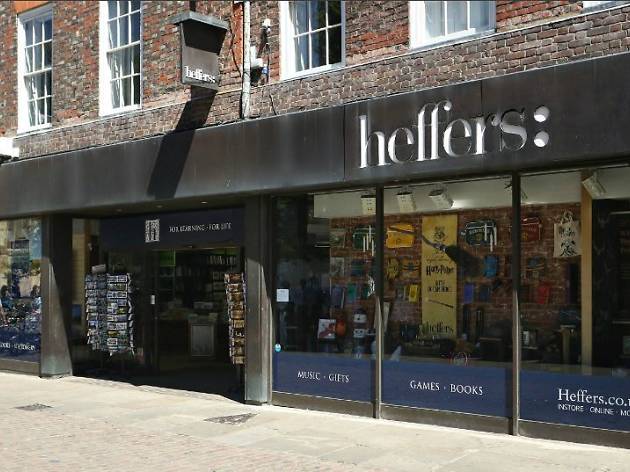 Heffers Events
5. Feed your inner bookworm at Heffers
What is it? Sure, it's a bookshop, but what a bookshop! It's a palace of literature.
Why go? If there's a city in the UK where a person shouldn't have to apologise for being a bit of a geek, it's Cambridge. Feed your inner bookworm until it bloats and blossoms into a beautiful butterfly at Heffers, the oddly named bookshop where browsing and buying are both a pleasure.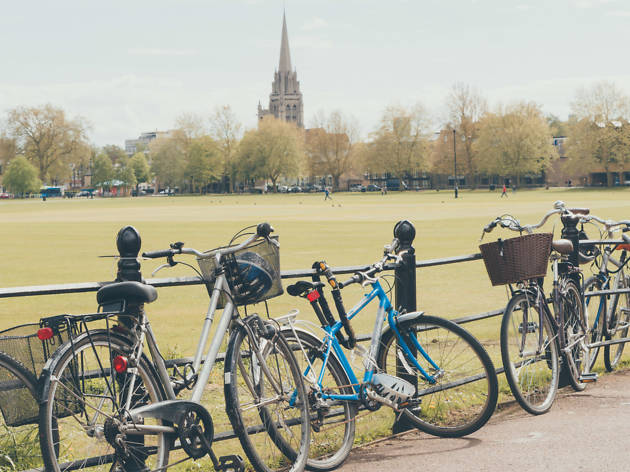 6. Tour the city on two wheels
What is it? Cambridge is well known for its sheer barrage of bikes. Because of this, the city is well set-up for riders and locals on foot are used to dodging wayward wheels.
Why go? Given its modest size, Cambridge is best navigated by bike. There are loads of places to hire them from and you can lock them just about anywhere. While there are plenty of cycle lanes, you'll notice that many locals go rogue and ride on the pavements. Cambridge really is a cyclist's paradise.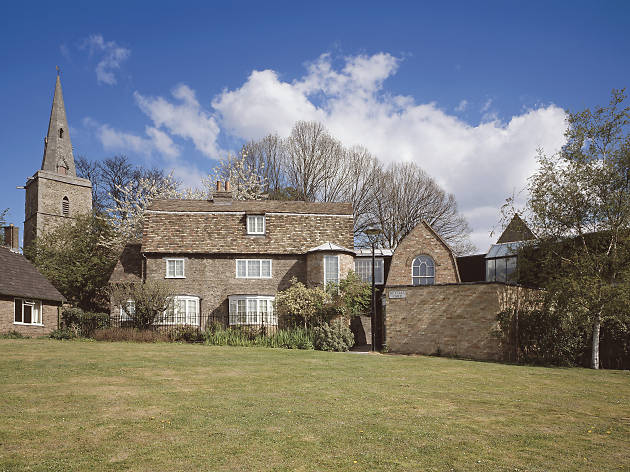 © Paul Allitt
7. See modern art masterpieces at Kettle's Yard
What is it? The most homely art gallery you'll ever come across (because it used to be someone's home).
Why go? Kettle's Yard was once the residence of Jim and Helen Ede. Thanks to Jim's job as a curator at the Tate Gallery, the couple filled their home with artworks by famous names like Barbara Hepworth and Joan Mirò. Then, in an act of extreme generosity, the Edes gave it all to Cambridge University. You can now visit it and see the art lovingly arranged around the house, which still feels like a home.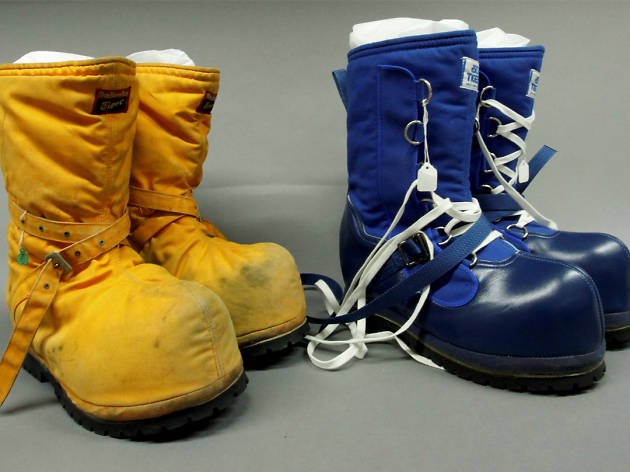 © Scott Polar Research Institute
8. Discover the university's world-class polar research at Scott Polar Research Institute Museum
What is it? A niche museum that's all about Cambridge University's world-class polar research.
Why go? Fancy yourself a bit of an explorer but only ever manage to take day trips around the UK? Well, the Polar Museum at the Scott Polar Research Institute will introduce you to genuinely intrepid (and cold) historic explorations of far-flung corners of the globe, all from the comfort of Cambridge. Free entry.
© King's College Cambridge / Benjamin Sheen
9. Explore King's College Chapel
What is it? The stunning gothic chapel that dominates the centre of Cambridge. It's a must-visit, even if church-spotting isn't your sport.
Why go? Every December the Christmas Eve carol service is broadcast from King's College Chapel, giving sherry-filled adults the chance to embarrassingly cry over the first crystalline bars of 'Once in Royal David's City'. Relive this tradition with a visit inside the breathtaking chapel itself – then head round the corner for drinks at the Eagle.
© The Fitzwilliam Museum
10. See art and antiquities at The Fitzwilliam Museum
What is it? Cambridge's first-rate art and antiquities museum where you can marvel at objects from around the world.
Why go? The Fitzwilliam is owned by Cambridge University and, like Oxford's Ashmolean, is a treasure chest of a museum. Unlike the supersized British Museum in London, the Fitzwilliam is home to enough diverse trinkets, ornaments and paintings to make you marvel, but not enough to give you brain-overload. Plus, it's free entry.
11. Watch a gig at Cambridge Junction
What is it? An independent arts venue where you can see comedy, music, theatre, spoken word, movies and more.
Why go? The Cambridge Junction must be one of the best UK music venues outside London. It makes some canny programming choices, is run by a friendly team and offers everything from alternative rock and folk to one-off Edinburgh Fringe previews from top stand-ups.
Stuck for food and drink ideas?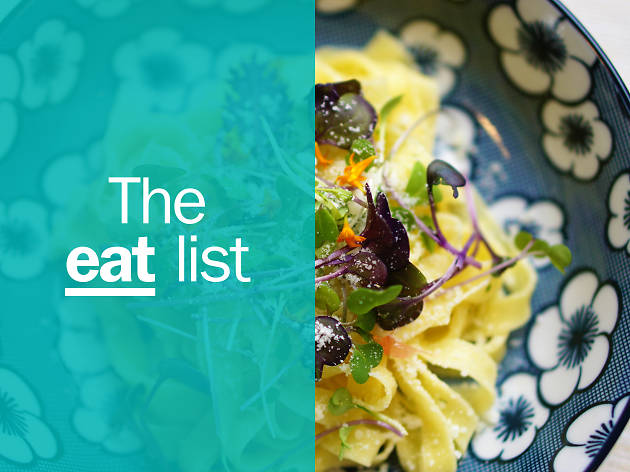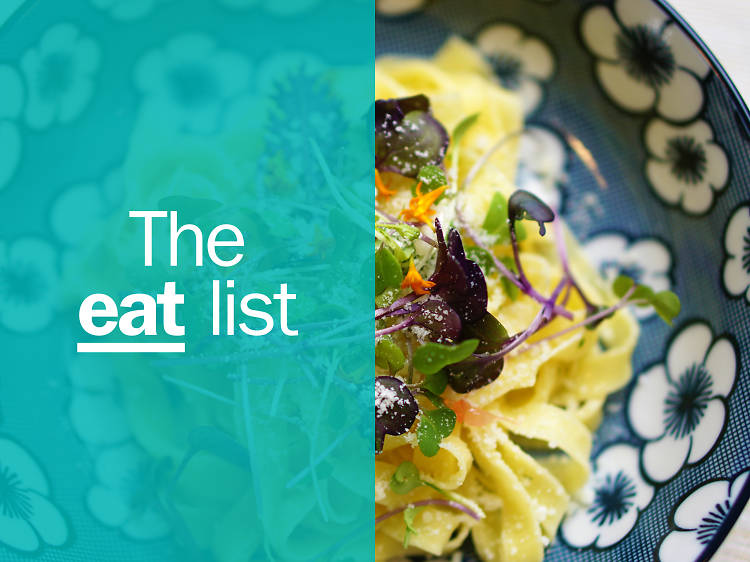 Welcome to the land of pubs. There's enough real ale in this picturesque place to fill the river Cam twice over – and many of the best pubs in Cambridge serve brilliant gourmet grub too. But this quintessentially English city's food scene goes way beyond fish and chips...