The 12 best things to do in Cambridge
If you're planning a day trip from London, a week-long holiday or you've just moved to the picturesque city, make sure you read our advice on the all the great things to do in Cambridge.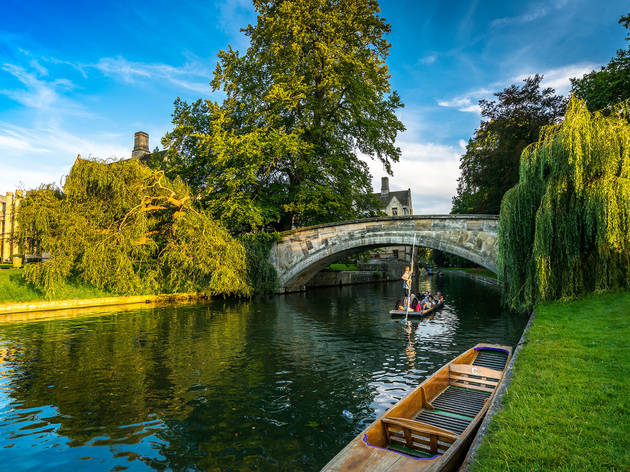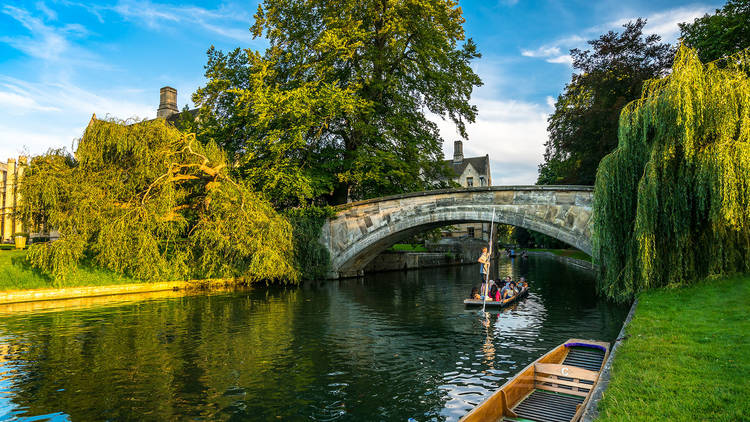 In 1951, Cambridge officially became a 'city'. Why? Because despite its modest size and lack of a cathedral (although it's certainly got enough churches), the world famous university and general all-round historical importance meant it earnt it anyway. Fast forward to 2018 and Cambridge remains as iconic and bucolic as ever - and it's one of the only 'cities' with a herd of happily grazing cows in the middle of it. Don't be a snob and avoid the 'typical tourist' activities of punting or visiting King's College Chapel, because these well-known Cambridge pursuits really are lovely. But do also make sure to explore the best restaurants, see fantastic art, and cycle idly around this green and pleasant metropolis.
What it is? The national pastime of Cambridge and the only way to see the city. And the good news is you don't even need to work your own arm muscles.
Why go? To get within sniffing distance of Cambridge and not go punting is like going to Pisa and not seeing the leaning tower. The brave and the skilled do the stick-bit themselves, but if you're a first-timer book in to have someone else navigate the river Cam for you.
2
What it is? A students' eye view of the iconic university, giving visitors an insiders' introduction to the beautiful nooks and the fetching crannies.
Why go? As a city, Cambridge is pleasingly compact and easy to navigate on foot. The same is true of the university, which dominates the centre. Take a stroll through and around the institution with those who know it best as a guide: real life Cambridge students.
3
© Howard Rice
What it is? 40 acres of gorgeously green (and pink and yellow and red and… etc) botanic gardens owned by Cambridge University where you can earnestly study horticulture or snooze on the lawn.
Why go? Cambridge's botanical gardens are an Arcadian paradise hidden behind a fairly non-descript entrance at the station end of town. What sets them apart from other city gardens is the woodland vibe. Lose yourself in a maze of lush foliage and leave all your troubles behind.
What it is? Your chance to explore Cambridge and the surrounding area exactly the way the locals do it – on two wheels. It's time to test the old adage 'you never forget how to ride a bike'.
Why go? Let's start by saying we hold no responsibility for if you really have forgotten how to ride a bike. But presuming that you haven't, Cambridge lives up to its reputation as cycling paradise by having a truckload of places to hire bikes. Here, pedal power really does rule.
5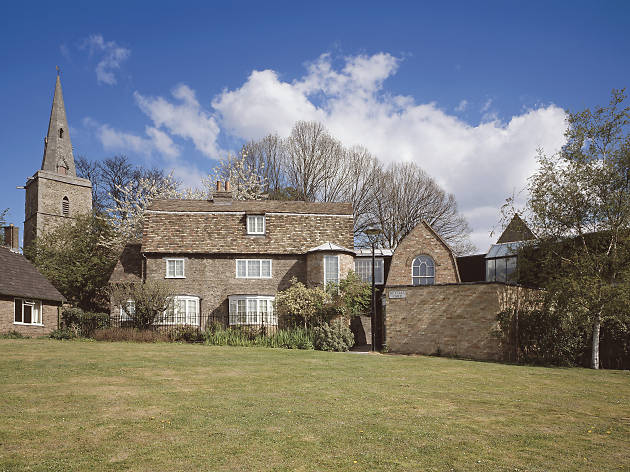 © Paul Allitt
What it is? The most homely art gallery you're ever likely to come across (because it used to be someone's home). People fall in love with this place.
Why go? Kettle's Yard was once the home of Jim and Helen Ede. Thanks to Jim's job as a curator at the Tate Gallery, the couple filled their home with artworks by famous names like Barbara Hepwroth and Joan Miro. Then, in an act of extreme generosity, the Edes gave it all to Cambridge University. You can now visit it and see the art lovingly placed around the house which still feels like a home.
6
© King's College Cambridge / Benjamin Sheen
What it is? Stunning gothic chapel dominating the centre of Cambridge, that's a must to visit even if you think church-spotting isn't your sport.
Why go? Every December the Christmas Eve carol service is broadcast from King's College Chapel, giving sherry-filled adults the chance to embarrassingly cry over the first crystalline bars of 'Once in Royal David's City'. Re-live this tradition with a visit inside the breath-taking chapel itself.
7
What it is? Independent arts venue where you can see comedy, music, theatre, spoken word poetry, movies and more, more, more. Their annual Watch Out festival showcases brilliant, experimental new piece of performance.
Why go? The Cambridge Junction is a little jewel of a venue. It might not be that familiar to peple living outside of its immediate area, but it makes some canny programming choices, is run by a friendly team and offers everything from family festival shows to B movie festivals.
8
The Green Man at Grantchester
What it is? Lovely village pub to refuel at after a walk (or punt) along the river to Grantchester. Make the most of the fresh air in their extensive garden.
Why go? Although technically a 'city' Cambridge is blessed by being small in size and surrounded by beautiful countryside. One of the easiest ways to get a taste of this is with a short walk to nearby Grantchester. A pint in the garden at the Green Man pub is one of the best ways to reward yourself for the exercise.
9
© The Fitzwilliam Museum
What it is? Cambridge's famous art and antiquities museum where you can marvel at objects from across the globe, old and new, borrowed (maybe) and blue (sometimes).
Why go? The Fitzwilliam is owned by Cambridge University and like Oxford's Ashmoleon, it's a treasure chest of a museum to visit. Unlike the supersized British Museum in London, the Fitzwilliam is home to enough different things to make you marvel, but not enough to give you brain-overload. And it's FREE to get into.
10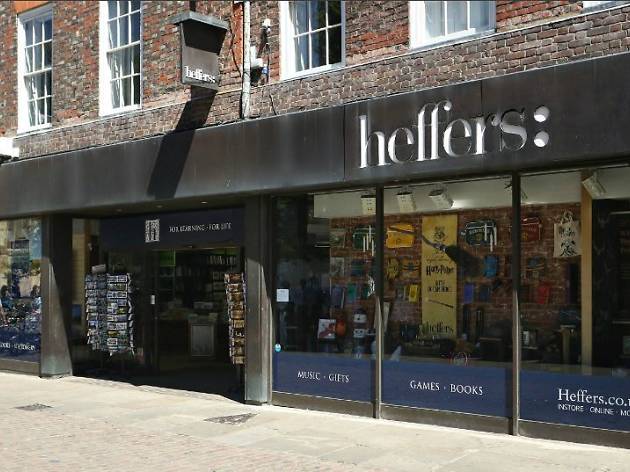 Heffers Events
What it is? It's a bookshop. But what a bookshop! It's a palace of books! A mansion of books! A miracle of bookish delights! For book-lovers!
Why go? If there's a city in the UK where a person shouldn't have to apologise for being a bit of a geek, it's Cambridge. Feed your inner bookworm until it bloats and blossoms into a beautiful butterfly at Heffers, the oddly bovine-named bookshop where browsing and buying are both a pleasure.
Scott Polar Research Institute Museum
What it is? A niche museum that's all about Cambridge University's worldclass polar research.
Why go? Fancy yourself a bit of an explorer but only ever manage to take daytrips around the UK? Well, the Polar Museum at the Scott Polar Research Institute will introduce you to genuinely intrepid (and cold) explorations of the globe, all from the comfort of Cambridge. Free entry.
12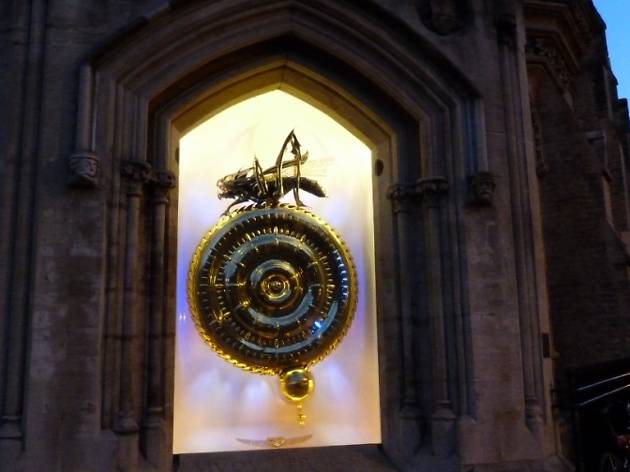 © www.johnctaylor.com
What it is? A very large/strange/fascinating clock designed to make you fear the incessant ticking away of each and every moment on earth… just don't head here if you actually need to know the time.
Why go? The Corpus Clock is on the front of the Taylor Library at Corpus Christi College. It's less an 'actual' clock (although apparently it is accurate every once in a while) and more of an art work. The marvellously creepy insect on its top appears to 'eat' time as a reminder that we don't have as much of it left as we think… on which note, it's time to end this list.