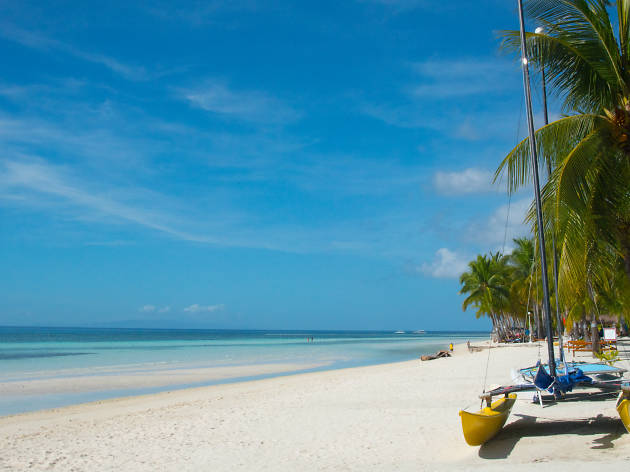 Guide to visiting Cebu and Bohol
These Filipino islands swimmingly blend together luxury escapes with palpitation-inducing thrills
The world is filled with beautiful beaches. From the Seychelles to Sydney, planet Earth is not bereft of sandy stretches to sloth out on. But the islands of Cebu and Bohol have more than just white sands and turquoise water (though there is plenty of that). Traipsing up and down these islands in the Philippines Central Visayas region, you'll encounter wild, verdant forests; buzzing night markets filled with traditional dishes; cascading waterfalls and sweetly named geographical anomalies unlike anything else in the world.
Really hankering after a beach? Here are our pick of the best beaches in the world right now.
Do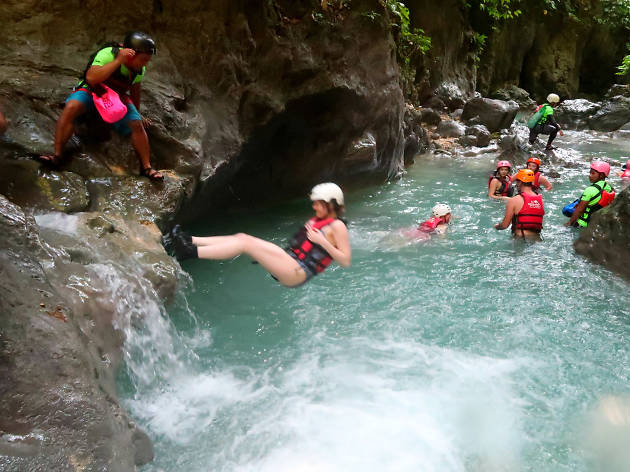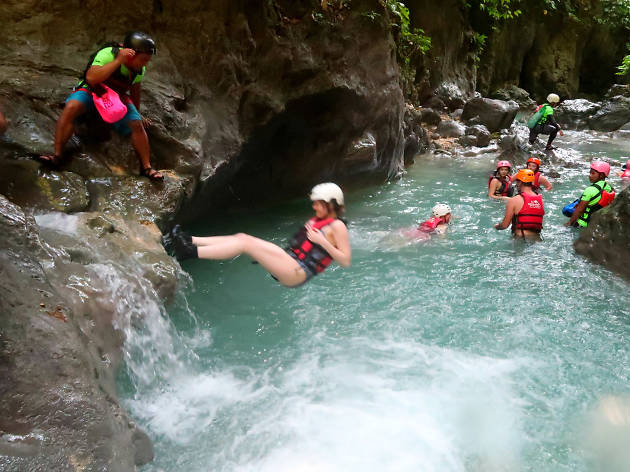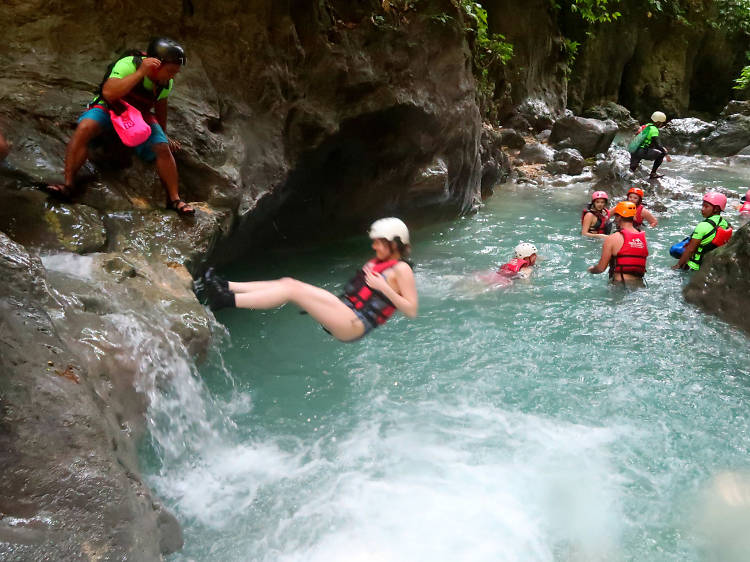 Photograph: Baron Travel
Go canyoneering
Make a splash – heck, make several – by canyoneering to the beautiful Kawasan Falls. Highland Adventures run canyoneering tours straight down the river that turns into the famous waterfalls, and the company will make sure you have a great (and adrenaline-filled) time. Your adventure starts with a motorbike ride up a mountain, from which you'll descend on foot into a vine-covered canyon with a pristine river running through it.
From this moment forward, most of your tour will be aquatic, with intrepid explorers required to swim, wade and leap into bath bomb-blue water. Summon your inner Lara Croft and attempt the waterfall jumps if you dare – they go as high as 11 metres. The falls themselves are a major attraction and are easily accessed by car (and a brief, easy walk) if you're not prepared all the action of canyoneering.
Prices start at PHP 3,300 per person for two people (approximately $95AUD) with discounts for larger groups.
Visit the night markets
No trip to the Philippines is complete without a date with some street meat. You can forget the neon-shack kebabs of back home though; in Cebu you'll find the best nocturnal snacks at bustling night markets, where vendors hawk everything from recognisable roast meats to skewered offal and fertilised boiled eggs (more on that later). It's obvious, but make sure to bring cash and an open mind – you might fall in love with chicken intestines and solidified squares of animal blood (it tastes a little like meaty halloumi).
Night markets are free to enter, dishes are generally PHP5-PHP150 (approximately $0.15-$4.30AUD).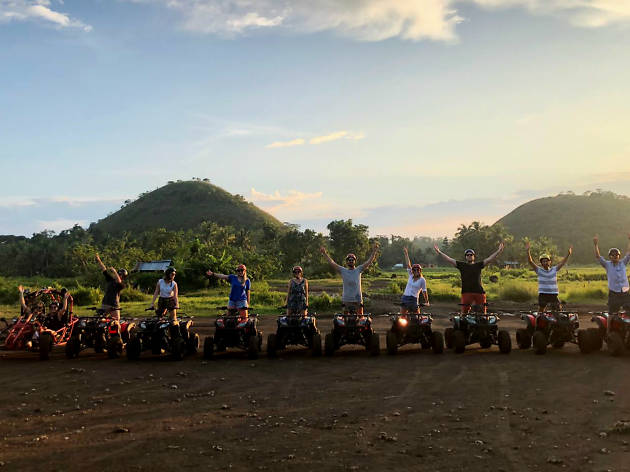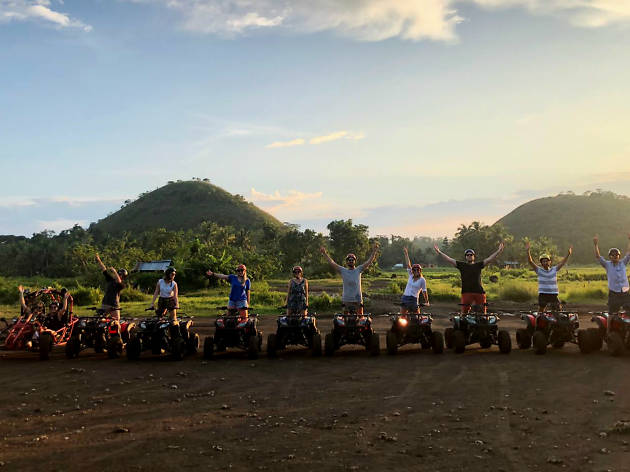 Photograph: Supplied
Jump on a quad bike
Bohol's countryside is a lush hodgepodge of scenic hills and jungles. There are plenty of opportunities to stare at the landscape serenely, but if you want to get amongst the thick of it, opt for a quad biking experience. Chocolate Hills ATV Rental (as its name suggests) rents all-terrain vehicles and quad bikes for those looking to kick up a little dust. The vehicles are fairly intuitive, and you'll have guides to make sure you stay on track and have the most fun – particularly when you get to the free play arenas.
You will get dirty, so maybe rethink wearing pale colours, and bring a pair of sunnies to help keep dust out of your eyes. Helmets are provided, and your quad biking hosts (who will almost definitely be better drivers than you) are more than happy to take some fun snapshots along the way.
Prices start at around PHP450 (approximately $13AUD).
Board a river cruise
The only thing that gives Bohol's beaches a run for their money are the island's rivers. The most relaxing and most delicious way to traverse them is on a lunchtime river cruise. Leaving from Loboc (about 35 minutes drive from the capital Tagbilaran), these cruises include a shared buffet of seafood, meats, vegetable dishes and sweets plus ice-cold San Miguel beer (the Philippines local brewsky).
Over the course of an hour or so you'll leisurely float your way downstream on a covered barge, enjoying the tropical palm-lined shores and cerulean water (seriously, the river water in Cebu and Bohol is something else). Travelling in a big group? You can also book an entire barge to yourself; otherwise you'll share with other tourists. Find more info online.
PHP550 per person (approximately $15AUD).
Eat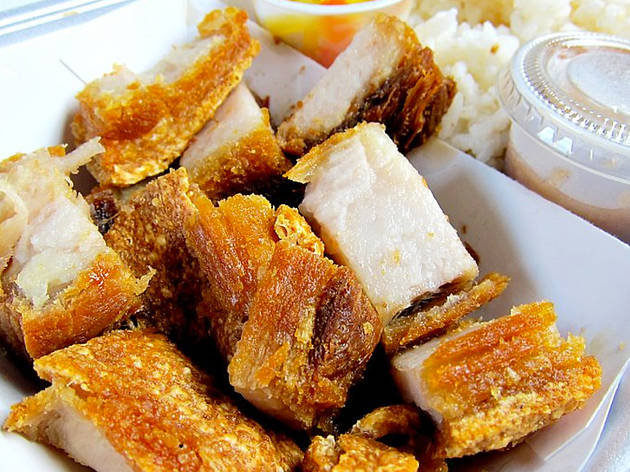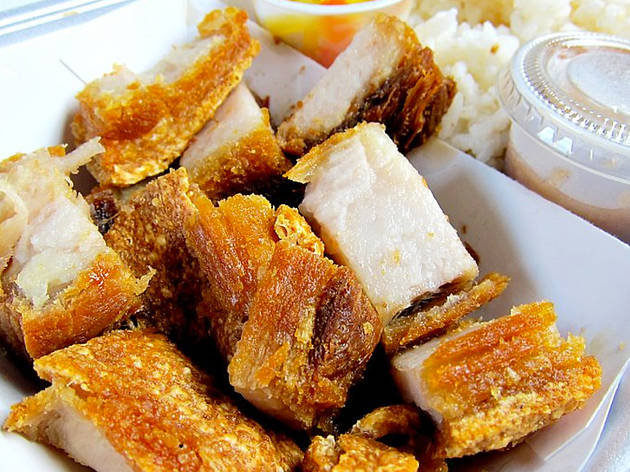 Photograph: Flickr/punctuated
Seek out dishes, rather than restaurants, when visiting Cebu and Bohol. Meat plays a large role in Filipino cuisine, though it is possible to travel as a vegetarian and even easier if you dabble in fish and seafood. First and foremost on your culinary list should be adobo, a garlicky meat stew laced with peppercorns. Served with rice, this is one of the Philippines' most famous food exports, and the perfect lunch or dinner.
The other carnivorous, calorific dish to circle, underline and highlight on your gastronomic itinerary is lechón – suckling pig cooked to tender, sticky-skinned perfection over charcoal. Cebu lechón stands out from other varieties thanks to the assortment of herbs (like lemongrass and tamarind) that are stuffed into the meat while roasting. It's so tasty that the late, great Anthony Bourdain even named Cebu as having the best lechón.
On a hot day reach straight for halo-halo, an icy dessert similar to trifle. You start with a base of crushed ice, then add toppings to taste – traditional additions include sweetened beans, fruit, ube (purple yam), coconut, jelly, syrup and evaporated milk.

Remember the word balut, because you're either going to want to try it or avoid it entirely. Balut is a fertilised duck egg that contains an embryo between 14 and 21 days old (usually). It's common across Filippino food markets and is eaten by first cracking the top, sprinkling the broth inside with salt and/or vinegar, drinking it, then progressively peeling the shell and eating the boiled egg inside, leaving the embryo until last.
Stay
Here's your chance to fulfill all your private island fantasies. Bluewater Sumilon is the only resort on Sumilon Island, a 20-minute boat journey from the southern end of Cebu (three hours' drive south of Cebu City). There are only 31 luxurious and expansive rooms at this resort, making it very easy to feel like you've the island to yourself.
What you do with said island is up to you, of course; there are plenty of activities like mountain biking, trekking, fishing, paddle boating and kayaking. We recommend strapping on a snorkel (provided free of charge) and heading out into the calm turquoise waters to gaze at the reefs filled with myriad fish ranging from the monochrome mime-like fish to those that seem pulled straight from a Lisa Frank work.
At sunset make a beeline to the island's northwestern beach for a magical sunset swim.
Rooms start at PHP16,393.44 (approximately $468AUD).
The hardest decision you'll make at Bohol Beach Club is whether to take a dip in the pool or the ocean. This is relaxing resort style, the sort of place where you find a hammock, order a Mai Tai and catch up on some reading. Thatched rooves hang over most of the rooms, keeping out the robust sun and ensuring you've always got a shady retreat to return to after a sunny day outdoors.
It's easy to spend whole days rotating between ocean, bar and hammock, but there are more structured activities if you so desire. Glass-bottom boat tours, kayaking, diving and snorkeling are offered, as are dolphin and turtle spotting tours. Despite accommodating 88 rooms, Bohol Beach Club feels remarkably private, and you won't have any trouble trying to find your own patch of perfectly white sand.
Make Lady Muck proud and treat yourself to an alfresco massage on the beach during your stay.
Rooms from PHP11,000 (approximately $315AUD).
Exploring Cebu City? Make Bai Hotel your home base. This huge (668 rooms, 12 event spaces and eight dining venues) hotel is the largest hotel in the area and offers five-star service and amenities. It's technically not located in Cebu City, but in the neighbouring Mandaue City. Rooms are crisp, modern affairs – ask for an ocean-facing room if you can. Of course, if you can't wrangle a room with a view you can always hit up the rooftop bar, which features almost 360-degree views.
Rooms start at PHP4,500 (approximately $128AUD).
Don't miss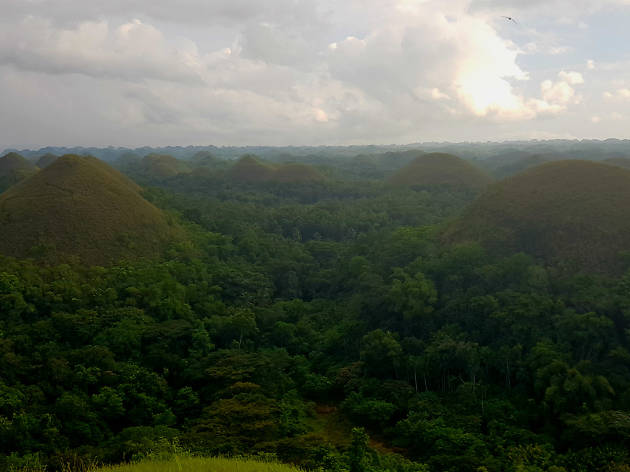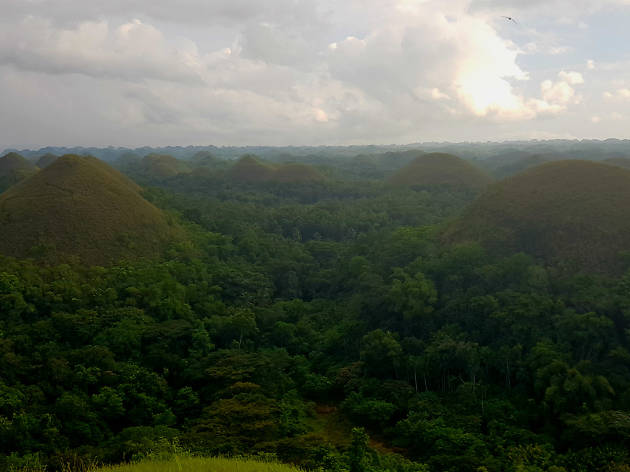 Photograph: Nicola Dowse
There are almost as many myths around Bohol's Chocolate Hills as there are Instagram photos of them. Some say a giant mourning his long lost love created the conical hills by shedding hundreds of tears. Another, slightly more base myth says that the hills resulted after a giant, gluttonous buffalo had a particularly large meal – and then went to the toilet.
Regardless of what you believe, the Chocolate Hills are well worth slotting into your holiday. There are more than 1,700 of the geographical anomalies scattered throughout the verdant countryside of central Bohol. Named after their spherical shape and rich brown colour the grass on them turns during summer (thus resembling giant chocolates), the hills are best seen from the tourist observation point where there's an elevated viewing area, toilets and other tourist facilities.
A PHP50 (approximately $1.50AUD) visiting fee applies.
Getting there