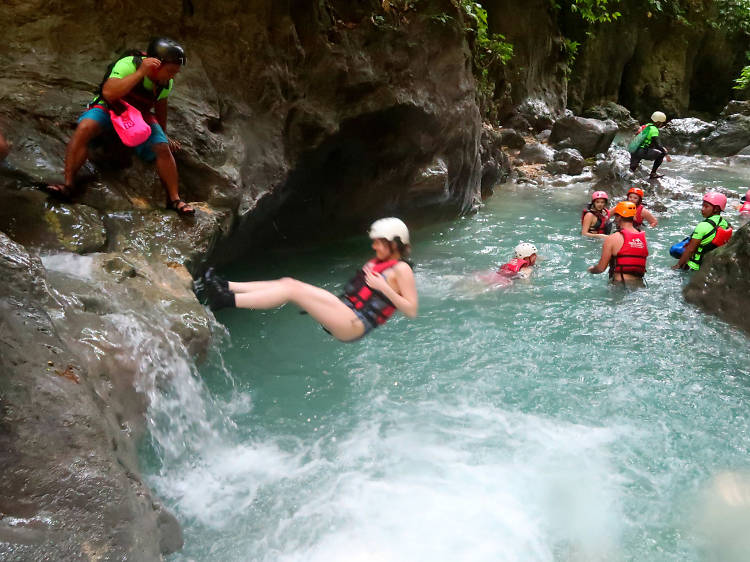 Photograph: Baron Travel
Go canyoneering
Make a splash – heck, make several – by canyoneering to the beautiful Kawasan Falls. Highland Adventures run canyoneering tours straight down the river that turns into the famous waterfalls, and the company will make sure you have a great (and adrenaline-filled) time. Your adventure starts with a motorbike ride up a mountain, from which you'll descend on foot into a vine-covered canyon with a pristine river running through it.
From this moment forward, most of your tour will be aquatic, with intrepid explorers required to swim, wade and leap into bath bomb-blue water. Summon your inner Lara Croft and attempt the waterfall jumps if you dare – they go as high as 11 metres. The falls themselves are a major attraction and are easily accessed by car (and a brief, easy walk) if you're not prepared all the action of canyoneering.
Prices start at PHP 3,300 per person for two people (approximately $95AUD) with discounts for larger groups.
Visit the night markets
No trip to the Philippines is complete without a date with some street meat. You can forget the neon-shack kebabs of back home though; in Cebu you'll find the best nocturnal snacks at bustling night markets, where vendors hawk everything from recognisable roast meats to skewered offal and fertilised boiled eggs (more on that later). It's obvious, but make sure to bring cash and an open mind – you might fall in love with chicken intestines and solidified squares of animal blood (it tastes a little like meaty halloumi).
Night markets are free to enter, dishes are generally PHP5-PHP150 (approximately $0.15-$4.30AUD).