Heads up! We're working hard to be accurate – but these are unusual times, so please always check before heading out.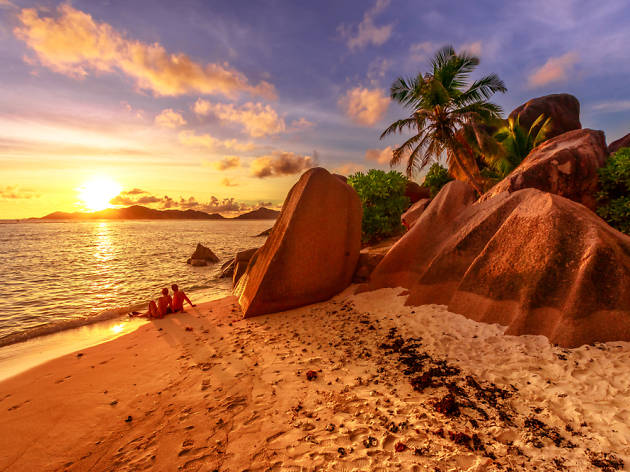 The 15 best beaches in the world
Beach, please! Check out these dreamy, bucket-list beaches from all around the world
For some people, a spit of sand by a lake will do. The rest of us need to know there'll be a capital-B Beach waiting at the end of a long journey. Luckily there are still plenty around – for now, at least. What makes a golden stretch one of the best beaches in the world? Pristine sand and clean water, for starters. The rest depends on your fondness for wildlife, water sports, creature comforts and G-strings, or your threshold for doing absolutely nothing at all.
Ours is not an exhaustive list, but we think it has something for every bum – from a textbook tropical paradise in the Seychelles to a surprising drift in the UK. To make sure you get accommodation within easy reach of your chosen spot, start hunting at least six months in advance and buy your flights three months out. Then, get ready to feel the best sand in the world between your very toes.
RECOMMENDED: Full guide to the best things to do in the world
Best beaches in the world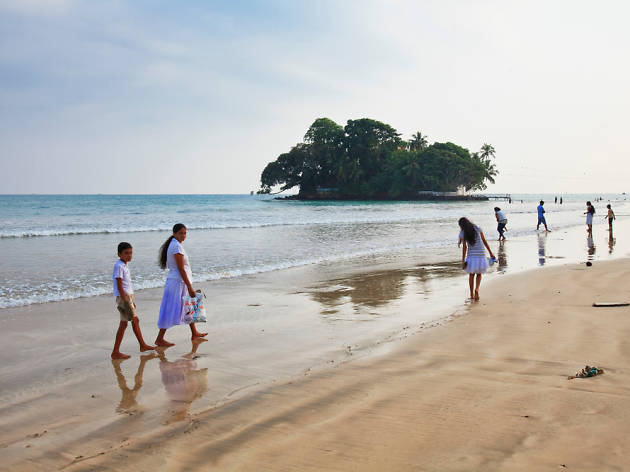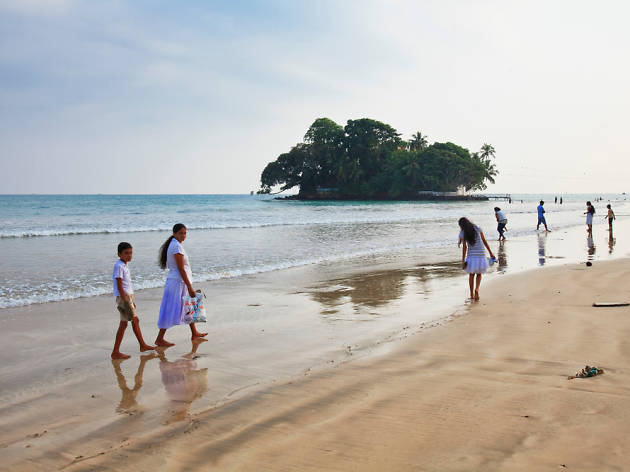 Photograph: Shutterstock/Claudia Norberg-Schulz
1. Weligama Beach, Weligama, Sri Lanka
Travel is well and truly open in Sri Lanka again, so make it count at this under-visited splash of brown-sugar sand 20 miles from Galle. Swimming is safe here – calmer and shallower than other south coast beaches. Or curl up in a hanging chair under a narra bough until noon, when the fish shack fires up its barbecue to serve mackerel and prawns that arrived on longboats at dawn.
Discover the best things to do in Sri Lanka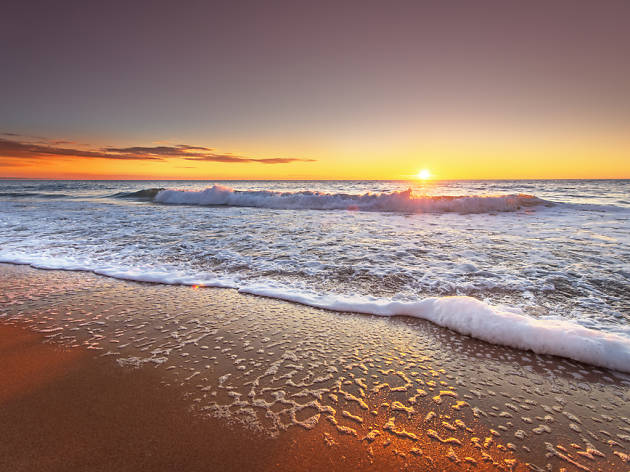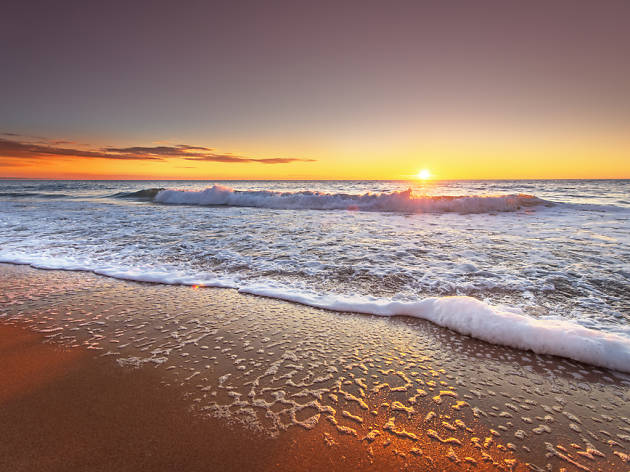 Photograph: Shutterstock
2. Essaouira Beach, Essaouira, Morocco
Marrakech's laissez-faire sister-city has a sun-bleached Moorish marketplace and a 500-year-old fort but the two-mile beach eclipses them both. Pick up a fresh orange juice at one of the painted wood kiosks by the old ramparts, then pay for a lounger and umbrella. The cool factor climbs in late afternoon, thanks to the Alizé winds – and the shirtless students from the university who come to play football by Bar Miramar.
Discover the best things to do in Morocco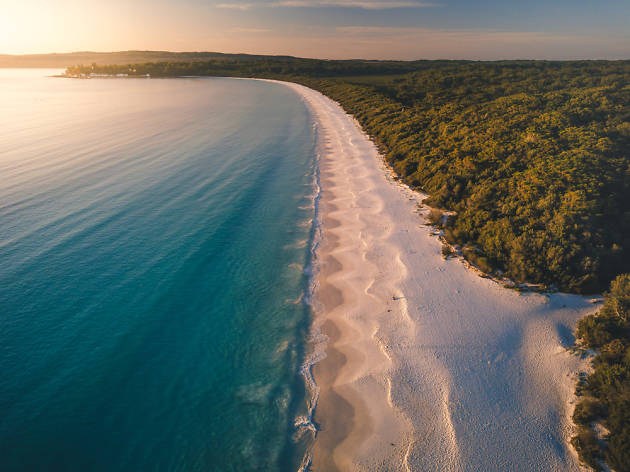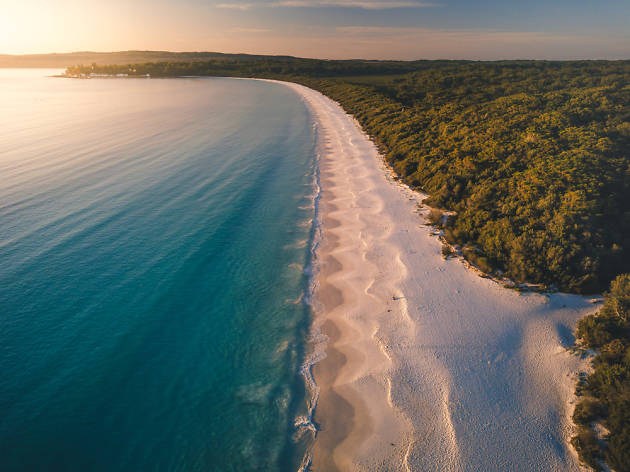 Photograph: Shutterstock
3. Hyams Beach, New South Wales, Australia
Three hours south of Sydney, the pine forest parts to reveal the quintessential Australian white-sand beach. Snorkelers won't be pummelled by waves as they paddle up to the Hyams Point looking for stingrays. But they may feel the ripple from a pod of romping dolphins. The café's a bit pricey. Better to pack a picnic and take the shady, half-hour White Sands Walk to the picnic tables at Greenfield Gully.
Discover the best things to do in Australia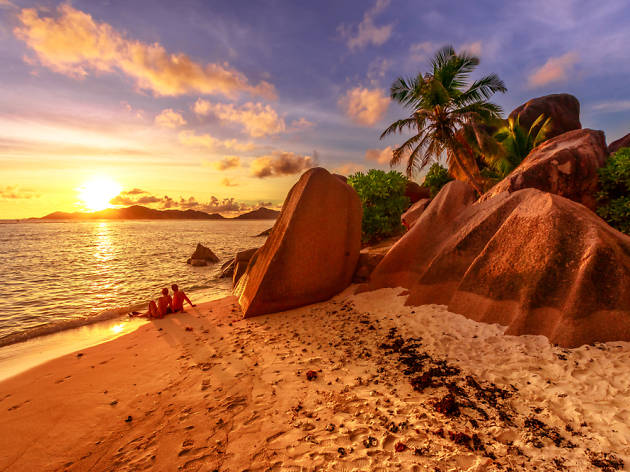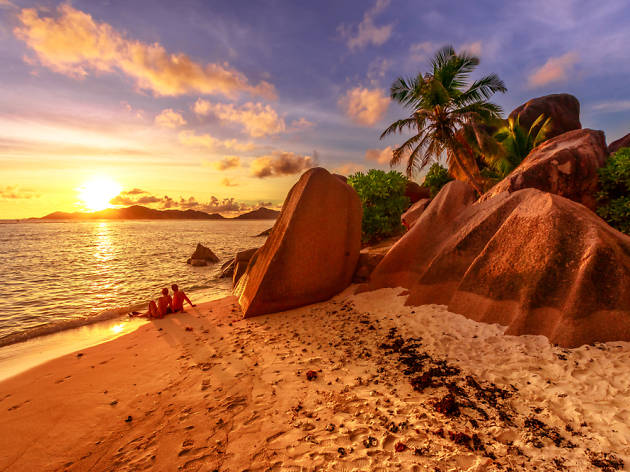 Photograph: Shutterstock
4. Anse Source d'Argent, La Digue, Seychelles
If La Digue, The Seychelles' smallest inhabited island, had a penny for every screensaver of Anse Source d'Argent… The prototypical bucket-list beach is the ultimate point of Seychelles travel, with private niches among the boulders and the clearest water on earth. From here, you can hike over the hills (and through shallow surf) to Anse Marron, where handy buoy-like boulders embrace the cove, creating a pool.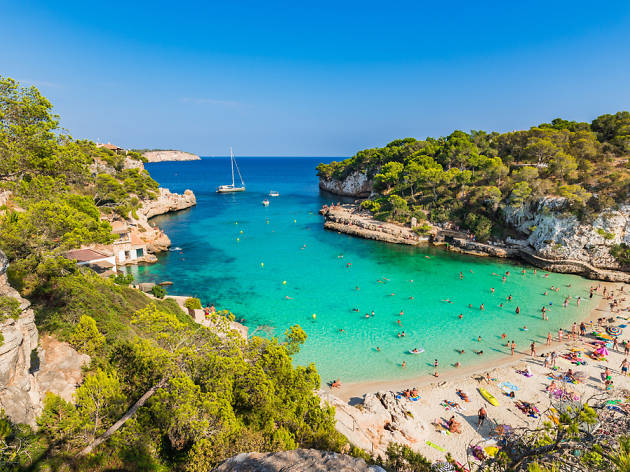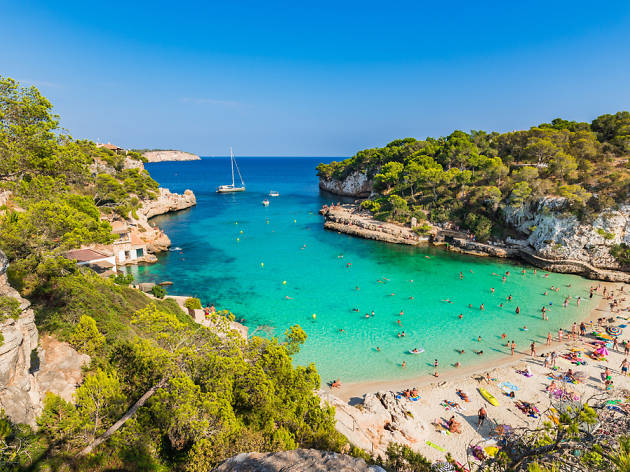 Photograph: Shutterstock
5. Cala Llombards, Majorca, Spain
Majorca's ragged coast is a gift to cliff-jumpers, and this skinny southern cove has a rocky plateau at every height. If the secret is out, it hasn't been translated from Spanish. It's mostly only locals here, having a blast; whether they're doing the leaping or simply watching from the beach. With all the golden sand, golden stone and golden skin, every #nofilter photo looks awash in sepia.
Discover the best things to do in Majorca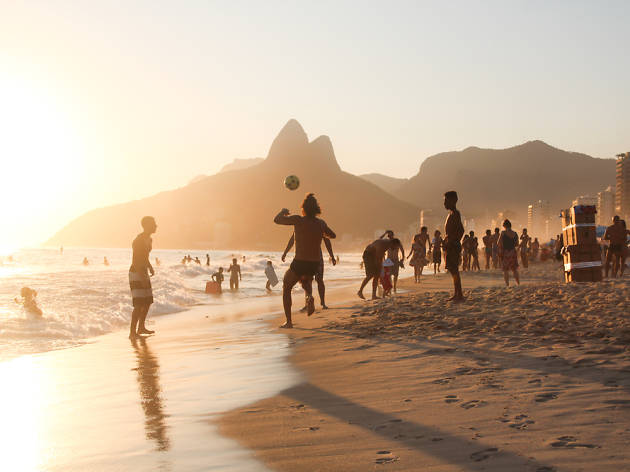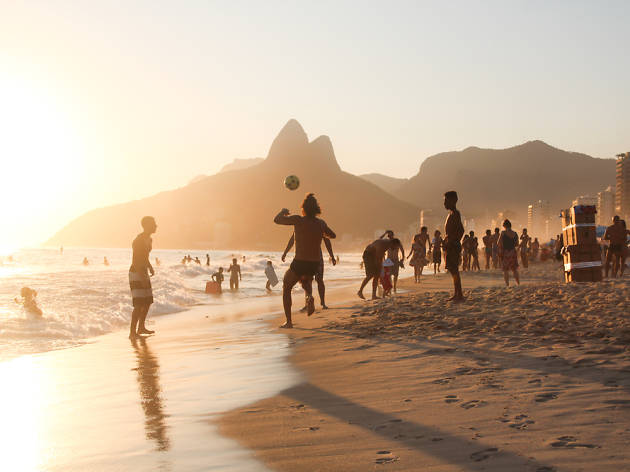 Photograph: Shutterstock/Andre Luiz Moreira
6. Ipanema, Rio de Janeiro, Brazil
The bossa nova strains of the famous tune seem a bit 'easy listening' against Ipanema's fierce waves and intense currents. But Cariocas are hardcore, and they're what make this golden coastline such a trip. They divide the beach into territories: jocks here, surfers there, hippies, gays and exhibitionists in between. Choose your tribe. Just keep in mind the limited amenities. If you can't take the heat without a shower and cold drink, book a hotel behind the Portuguese-tiled boardwalk.
Discover the best things to do in Rio de Janeiro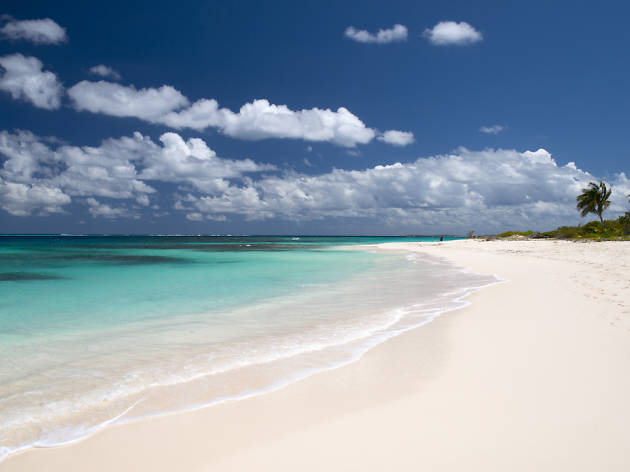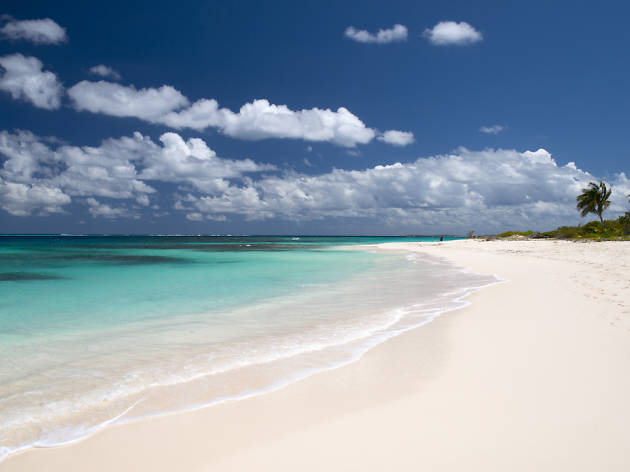 Photograph: Shutterstock
7. Shoal Bay Beach, Shoal Bay, Anguilla
A week holed up here and your mind will be as clear as the turquoise sea, your slate as clean as the white-sand beach. Shoal Bay has decent-quality snorkelling and the food's okay. But the beach is the thing – surely the finest of its type in this Caribbean paradise – so cue up your desert island mix and chill. If upwards of £225 a night sounds doable, book into one of the villa-hotels behind, so you can swan around barefoot and retreat to the pool.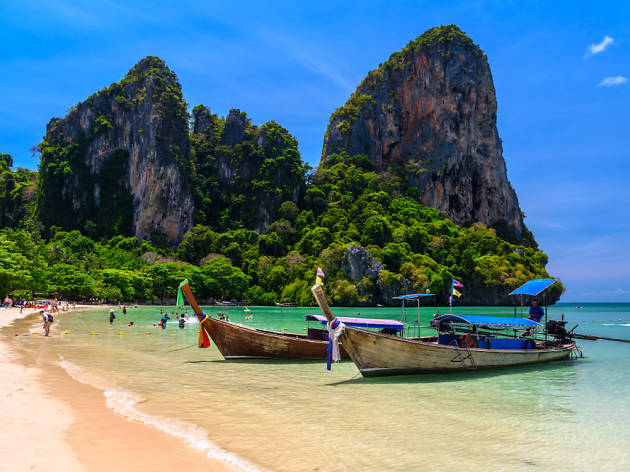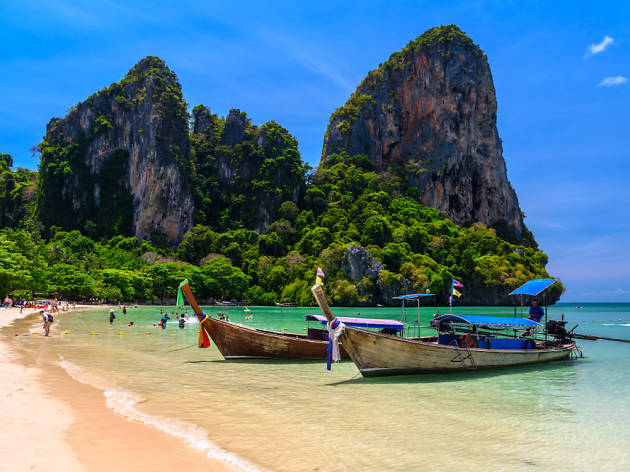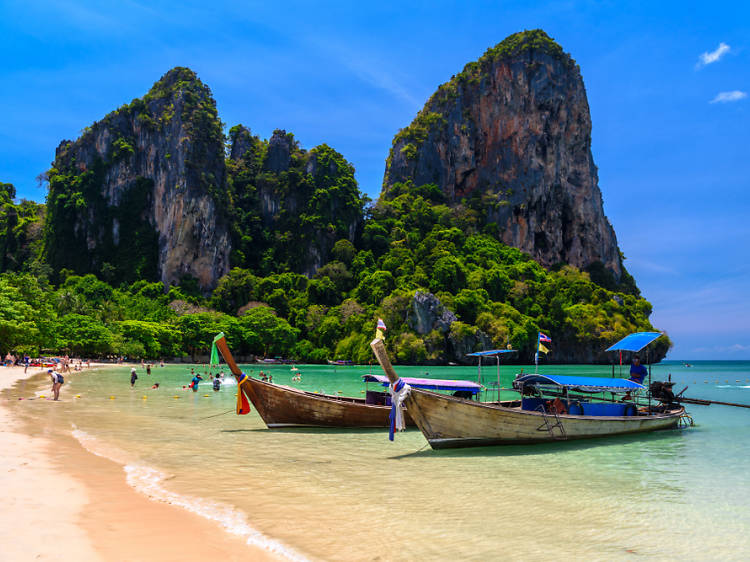 Photograph: Shutterstock
8. Railay Beach, Krabi, Thailand
A few spa-hotels have tucked themselves among the palm forests, yet they haven't spoiled the bohemian charm of Railay Beach – flashier crowds prefer Phuket anyway. The stalagtite-dripping limestone cliffs that bookend Railay's wisp of a beach make it inaccessible by road, and the shallow bay precludes anything larger than a longtail boat from coming in. Hire one from nearby Ao Nang for next to nothing, then get thee to a hammock.
Discover the best things to do in Krabi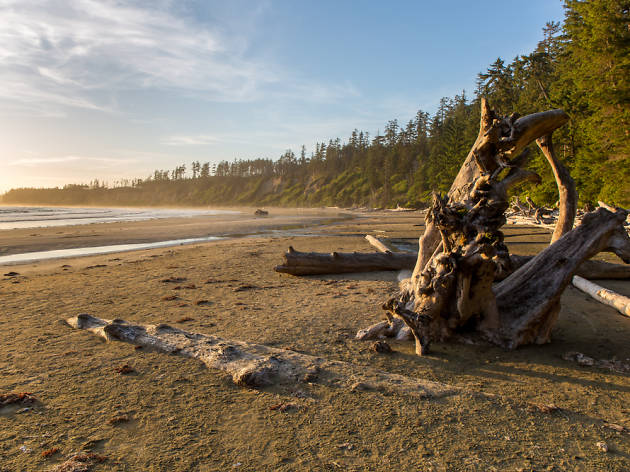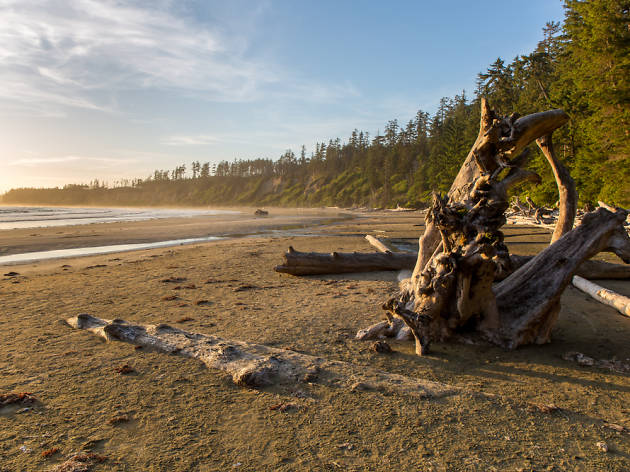 Photograph: Shutterstock
9. Long Beach, Vancouver Island, Canada
For the record, it's 10 wind-swept miles. But size doesn't matter here on the edge of Canada, where you've already got more wild, whale-inhabited, pine-studded coastline than you'll know what to do with. It's a five-hour trek over land and sea from Vancouver city, so take full advantage with a rainforest hike along Combers Beach Trailhead before pitching your tent at Green Point. Come morning, you'll have a prime view of the incoming tide from your sleeping bag.
Discover the best things to do in Vancouver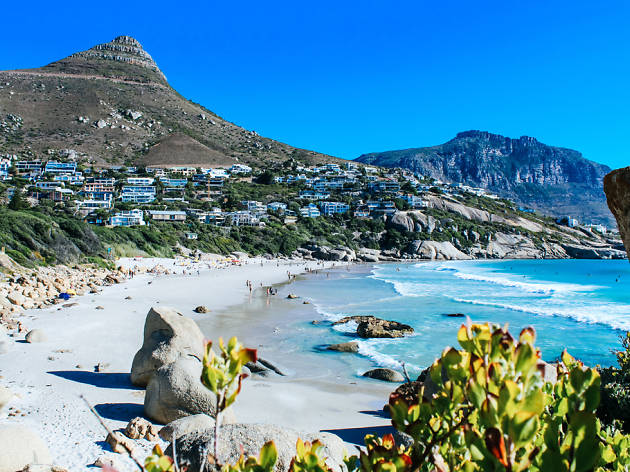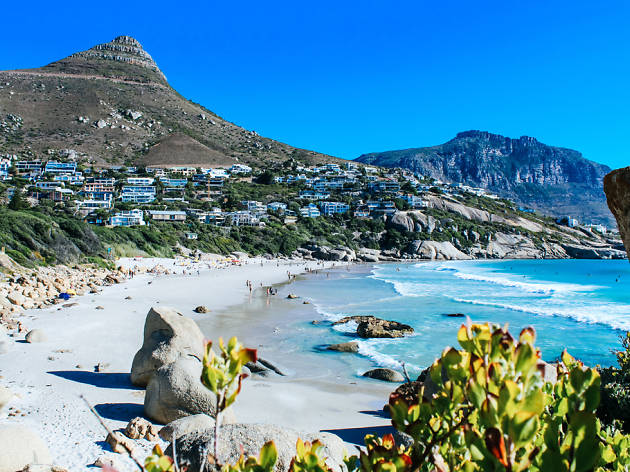 Photograph: Shutterstock
10. Llandudno Beach, Cape Town, South Africa
If you can't find a decent beach in the fantasy landscape of the Western Cape, shame on you. But you'd be forgiven for missing Llandudno. North Wales' greatest export slips surreptitiously between two nature reserves south of Cape Town (taking its name from its unlikely resemblance with the Welsh seaside town). A dollop of sand scooped out of the Twelve Apostles mountain range, it's a suntrap in late afternoon. When the sunset chasers arrive, pack your tote and follow the scrubby footpath 30-minutes south to even more secluded Sandy Bay.
Discover the best things to do in Cape Town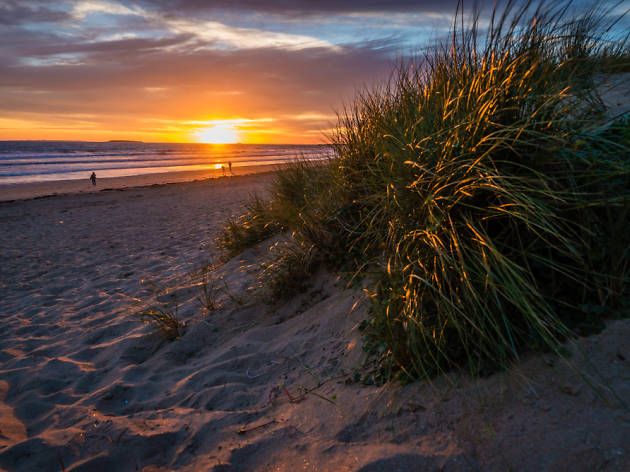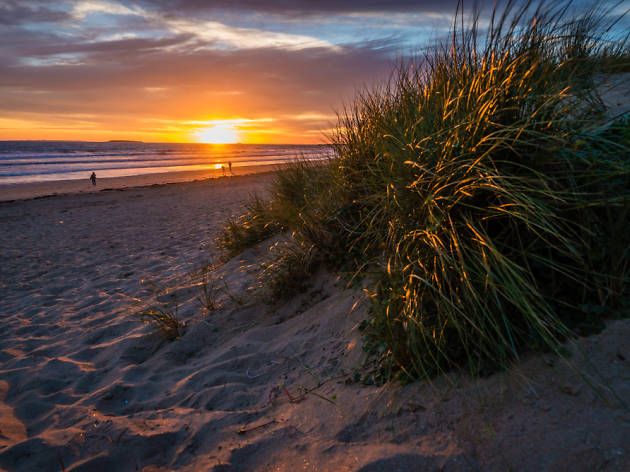 Photograph: Shutterstock
11. Plage Sainte-Barbe, Brittany, France
Did somebody yell 'fire'? Because this caramel stretch of Breton beach shouldn't be this deserted. Well, what the tourists clogging the motorway toward Quiberon don't know won't hurt them. More space for you to practise your surfing skills on the cranking waves, then flake out against the dunes until the spectacular sunset. Just make sure you pack your own gear, water and a snack – there are no amenities for a mile.
Discover the best things to do in France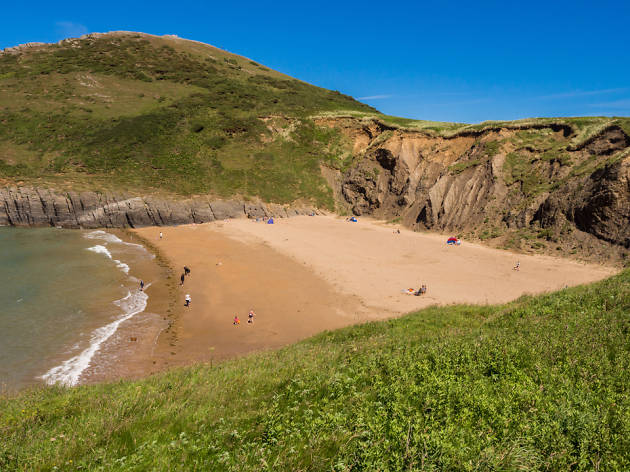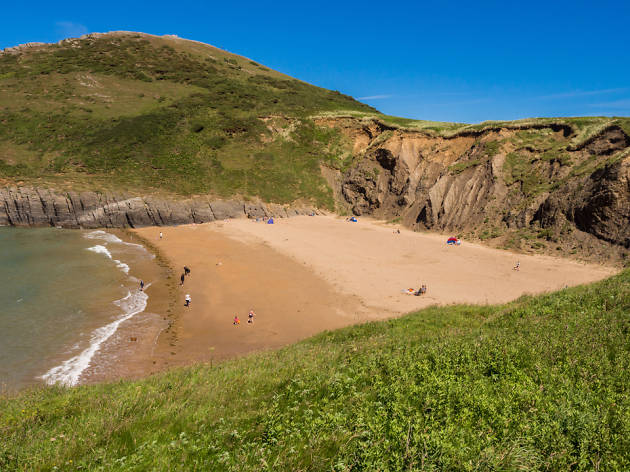 Photograph: Shutterstock
It almost doesn't look natural: a perfect rectangle of sand shaved out of the velvety Ceredigion hills. The single-track approach is storybook-sweet, past an impossibly green pasture with a single white-painted chapel. Trace the paths atop the headland first, then step down to the beach to catch the late-day sun. If you're lucky, a dolphin will poke out of the Irish Sea. Only the truly hardy join him for a swim, mind.
Discover the best things to do in Wales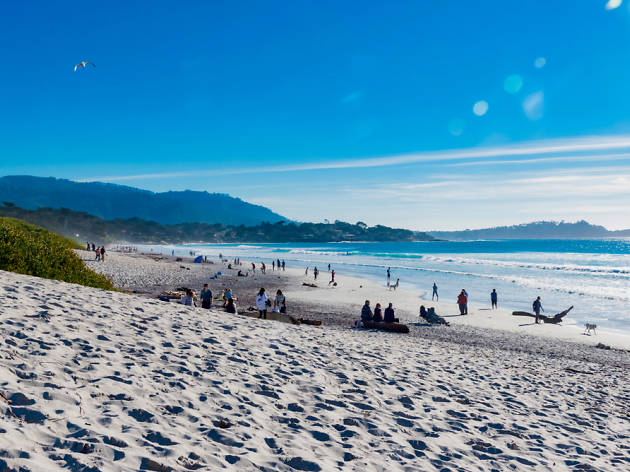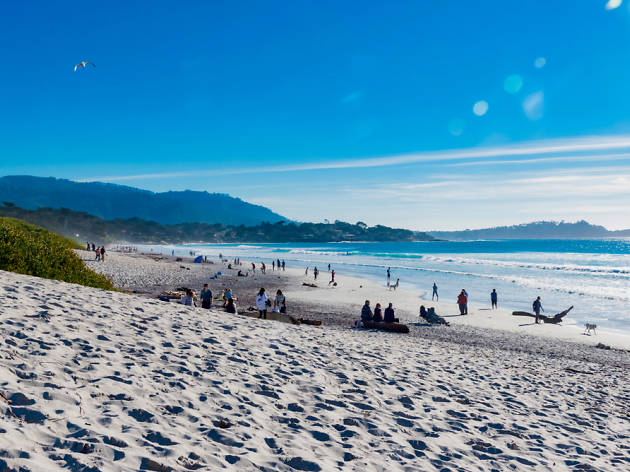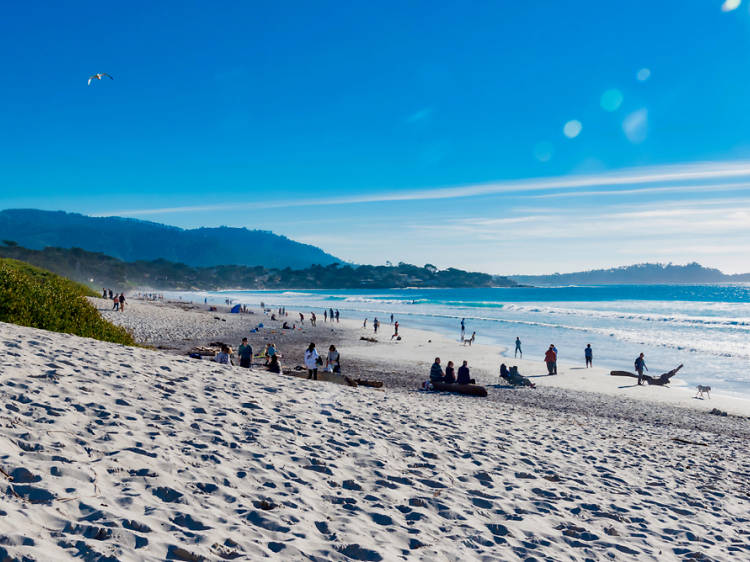 Photograph: Shutterstock/Diego Mariottini
13. Carmel-by-the-Sea, California, USA
Mind your manners. The quietly wealthy clifftop neighbourhood of Carmel (former mayor: Clint Eastwood) lends its silvery beach a private-island feel, and you don't want to be pegged as an outsider. In the morning mist, you'll swear you see the cast of 'Big Little Lies' jogging past – you never do know in this A-list hideaway. If you're so inclined, walk the mile from the beach entrance to Walker House, the granite beachfront bungalow designed by Frank Lloyd Wright.
Discover the best things to do in California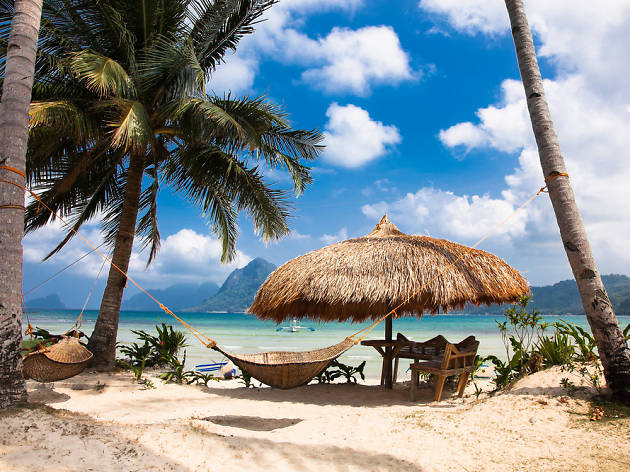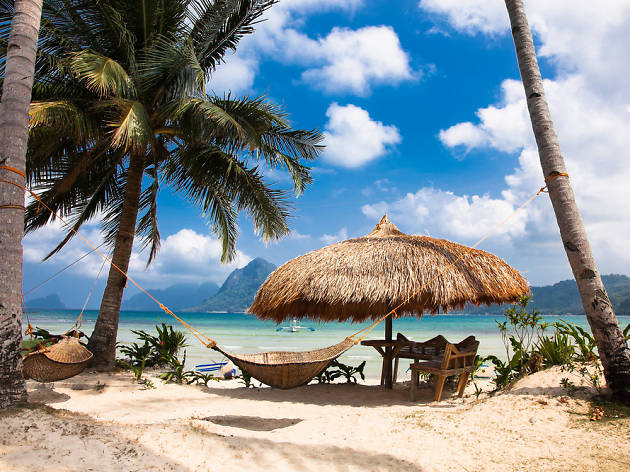 Photograph: Shutterstock
14. Marimegmeg Beach, Palawan, Philippines
What's there to do here? Dive and, er, dive. It is the Philippines, after all. And more than 100 species of fish flicker about sunset-coloured coral – along with swaying nudibranch and the odd lumbering dugong (native molluscs and mammals, to the uninitiated). Hook up with one of the 20 diving outfits stationed along the El Nido coast for your daily fix. If you're not certified, you'll still see plenty of dolphin frolicking among the outrigger boats moored offshore.
Discover the best things to do in the Philippines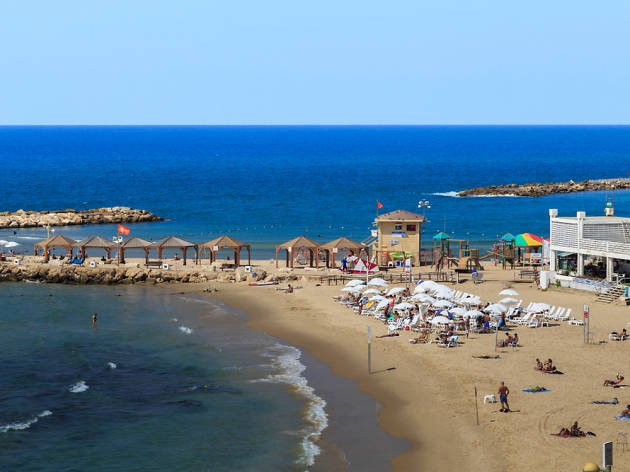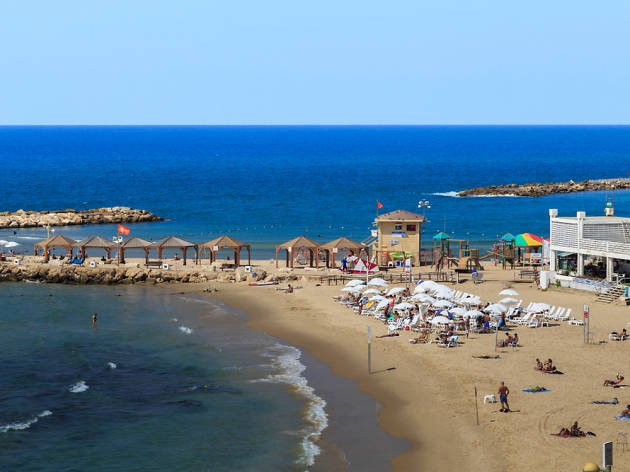 Photograph: Shutterstock/goga18128
15. Metsitsim Beach, Tel Aviv, Israel
Past Tel Aviv's famous party beaches, the massive Hilton and the gender-segregated areas, you'll find a clean, clubby strand delightfully short on beefcake and boobs – and that's despite a busy beach-volleyball court. Day-drinkers rejoice at obliging staff bringing frothy cocktails to shaded loungers. Neat freaks delight at the brand-new shower complex. After your rinse, follow the boardwalk to the farmer's market by the port.
Discover the best things to do in Tel Aviv
Want more travel inspiration?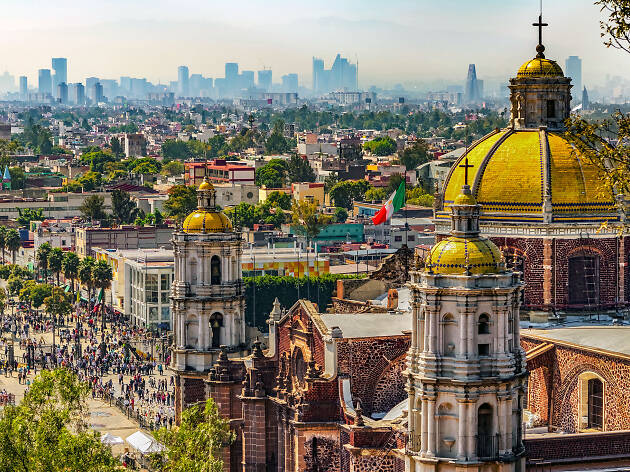 What's the greatest city in the world?