The 14 best restaurants in Chattanooga
Whether craving traditional Southern cuisine or a modern take on the comfort food, the best restaurants in Chattanooga deliver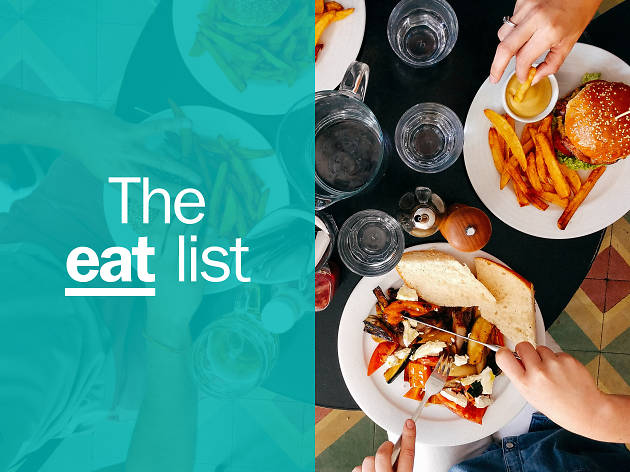 It's no secret that the American South offers some of the most deliciously unique food across the country. Although Nashville, Atlanta and Charleston have long hogged the national spotlight as food destinations, those looking to experience a smaller, more walkable city whose culinary scene focuses on sustainability and fresh ingredients should turn their attention to Chattanooga. Nestled in the Tennessee Valley, the city is home to a bevy of young and enthusiastic Southern chefs aiming to make their marks alongside plenty of old-school institutions that have been quietly serving to-notch plates for decades. From pricey date night spots offering a delightful ambiance to quirky dives serving fried chicken that would make any Tennessee grandmother nod in appreciation, the food served at the best restaurants in Chattanooga will undoubtedly revive your taste buds and fuel your desire to add a couple of nights to your hotel stay, giving your more time to cross off the very best things to do in town and, of course, dine at even more eateries.
Best restaurants in Chattanooga
1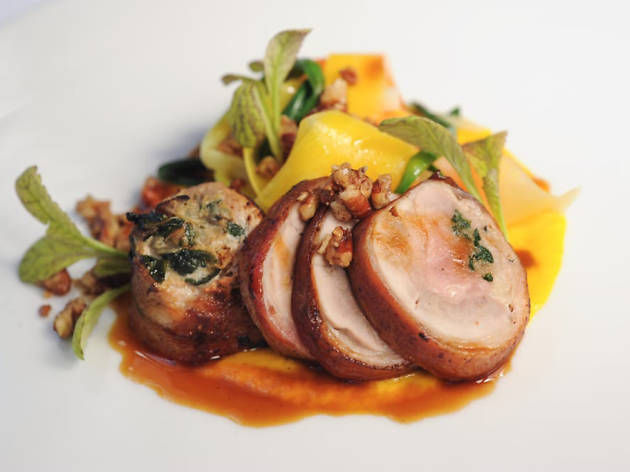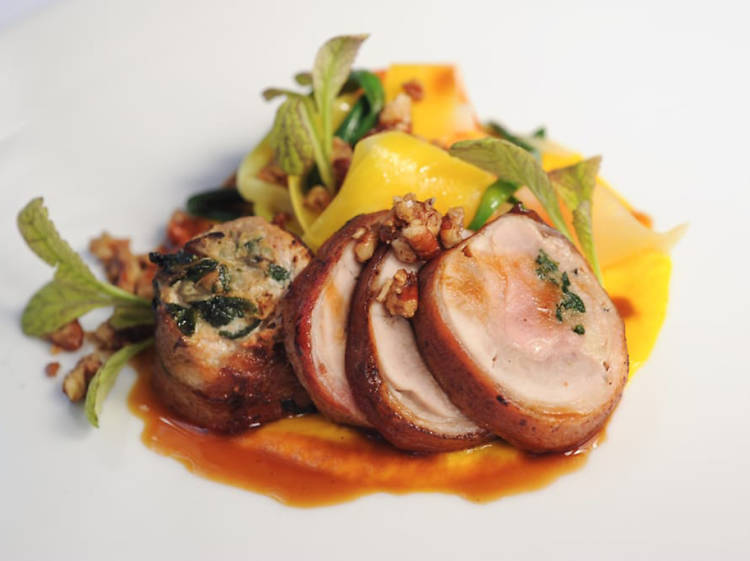 Photograph: Courtesy Yelp/Joshua C.
What is it: The most dependable pick for high-end dining for more than a decade, St. John's is a Chattanooga institution. Housed in a former grand hotel, you can expect a spacious, sun-drenched dining room featuring plenty of exposed brick and crisp linens.
Why go: The seasonal market offerings, made with the freshest local ingredients. Try the duck confit, a show stopper, and the always-in-demand beef tartare.
Price: Blowout to pricey
2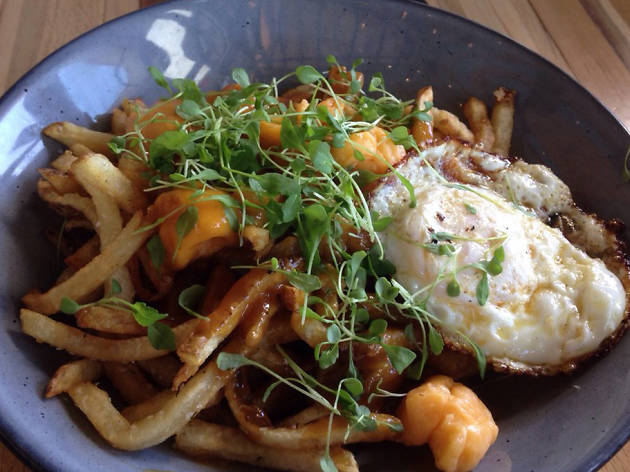 Photograph: Courtesy Yelp/Linda A.
What is it: Right next door to the hip hostel known as the Crash Pad, you'll find an arresting modern wood building that houses Flying Squirrel Bar. Sporting an industrial yet woodsy look (the space's focal point is a unique light fixture that looks like an upside-down canoe), the food here is consistently inventive and made with local produce from nearby Crabtree Farms.
Why go: Because you'll get to eat really good food without breaking your wallet. Try one of the infused spirits—maybe a cool and refreshing cucumber vodka or some jalapeño tequila if you're feeling frisky—to wash down inventive small plates like Cuban tacos.
Price: Average
3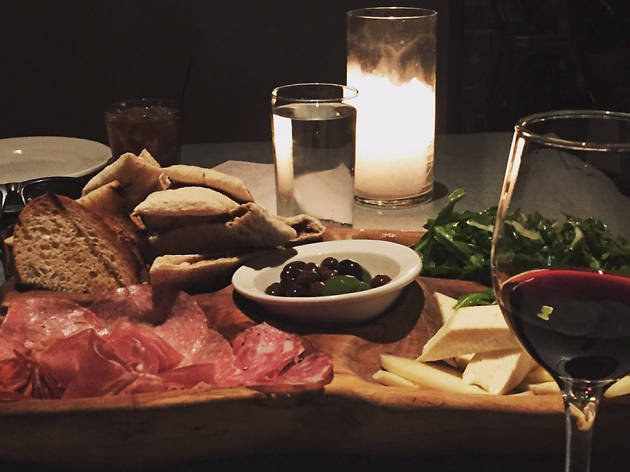 Photograph: Courtesy Yelp/Joli D.
What is it: Alleia Restaurant is owned by Chattanooga native and six-time James Beard award-nominated chef Daniel Lindley, who also happens to be the mastermind behind Nashville's celebrated 5th and Taylor. The Gramercy Tavern alum serves high-end Italian food in a minimalist yet cozy space peppered with clean, white accents. Delve into a fun conversation with some new friends at the center community table or snag a high-backed booth for some privacy.
Why go: Good food, obviously. Start with a generous antipasto plate and choose from a selection of house-made pastas, protein-focused large plates or perfectly crispy pizzas baked in the custom wood-burning oven on premise.
Price: Pricey
4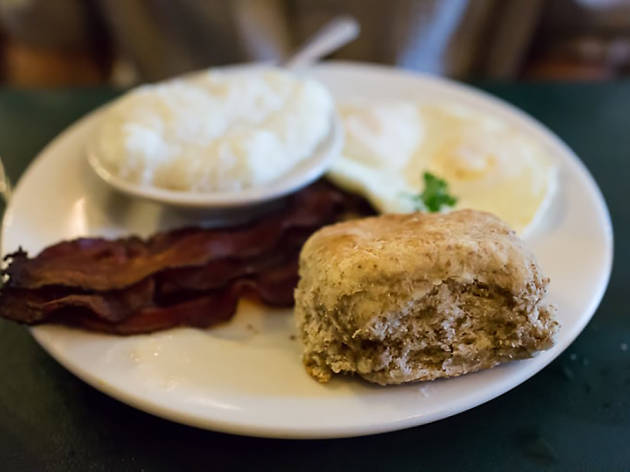 Photograph: Courtesy Yelp/Pam G.
What is it: Ask anyone in town where the best brunch spot is, and you'll likely hear an impassioned case for the Bluegrass Grill and its carb-forward menu filled with house-baked breads, fluffy wheat biscuits and hearty breakfast potato dishes.
Why go: Upon entering, notice the warm and welcoming couple (affectionately known as "mom" and "dad") that runs the place. You will feel like part of the family as soon as you sit down for a cozy meal. Plenty of vegan and gluten-free items make this a breakfast pick that can accommodate multiple dietary preferences. Since this is a local favorite, you'll want to arrive early as the line can stretch down the block in the afternoon.
Price: Bargain
5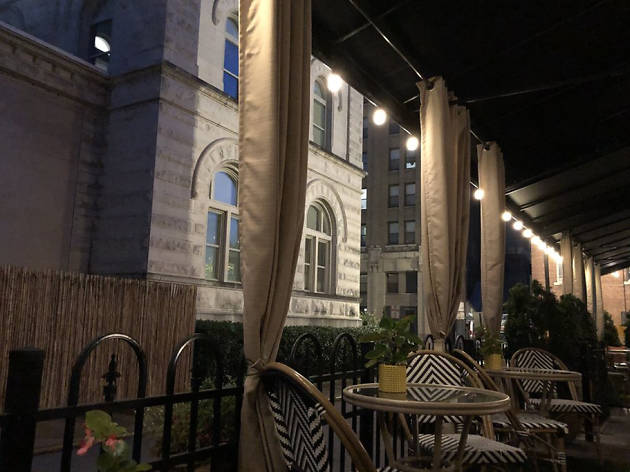 Photograph: Courtesy Yelp/Baylee P.
What is it: Matilda Midnight is a mid-century modern enthusiast's dream, boasting a tapas-focused food menu within the Dwell Hotel.

Why go: This spot is begging to be photographed and discussed on your Instagram feed. The unique lighting will make you feel like you're dining under the stars while the prohibition-style cocktails are sure to delight your taste buds in new and unexpected ways. In terms of food, make sure to try the crispy duck egg rolls and the Jasmine rice cakes.

Price: Average
6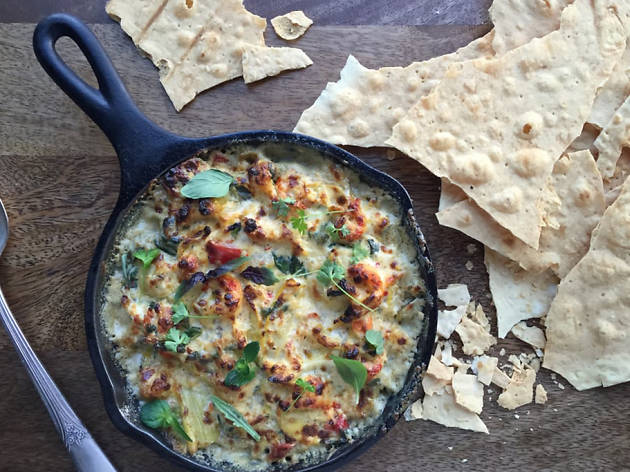 Photograph: Courtesy Yelp/Easy Bistro
What is it: Located in a light-drenched historic building that was once home to the world's first Coca-Cola bottling setup, James Beard award-nominated chef Erik Niel's Easy Bistro is welcoming and refined all at the same time.
Why go: If you're in the mood for Southern food, this is the spot for you. The Southern-inspired small bites include buttermilk fried baby squash blossoms with Calabrian chili and are the right precursors for main staples like the hearty brisket. With a magnificent bar program to boot, this is definitely a must-visit.
Price: Pricey
7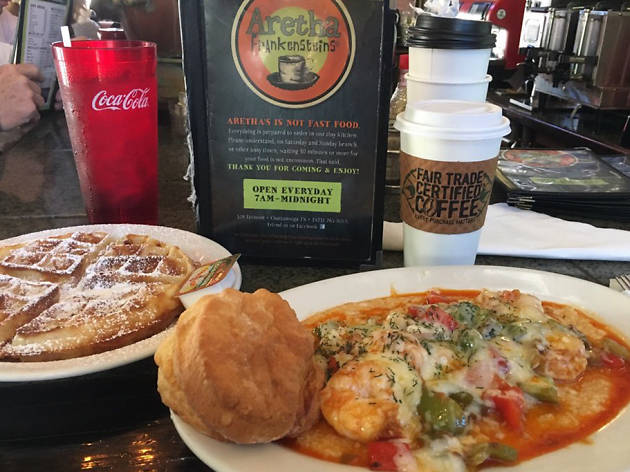 Photograph: Courtesy Yelp/M. P.
What is it: A mainstay for tourists and hungry college students, Aretha's serves signature pancakes along with a healthy dose of kitsch in a bright blue Victorian on one of North Chattanooga's historic residential streets.
Why go: All day breakfast menu (well, until midnight, at least)? Yes, please! You can't go wrong with shrimp and grits or one of the giant omelettes, but you'll want to make sure to order at least a small stack of pancakes as well. The line can get long, but you can sip on a free cup of coffee while you wait.
Price: Bargain
8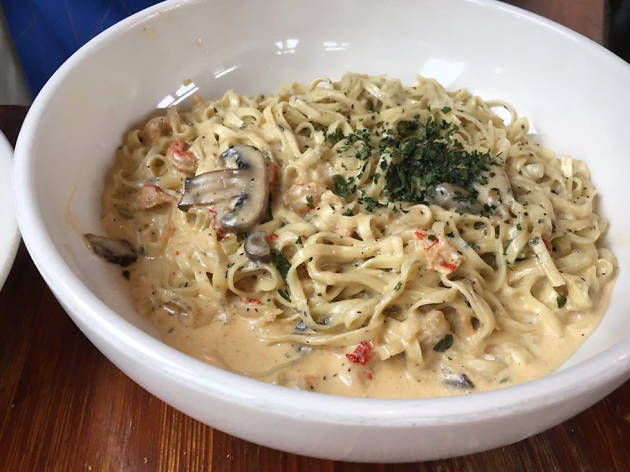 Photograph: Courtesy Yelp/Sydney S.
Tony's Pasta Shop & Trattoria
What is it: Admittedly, decent Italian can be pretty hard to come by in the South. Thankfully, Chattanooga has a couple of stellar options, with Tony's being one of the most established. Nestled in the heart of the endlessly charming Bluff View Arts District, Tony's is an excellent post-museum stop for a well-curated Italian wine list and glorious homemade pastas.
Why go: Not one but two patios flank the restaurant, which offers a selection of noodles and sauce for a custom entrée and popular favorites like the low country black pepper linguine. Of course, no meal at Tony's is complete without an espresso and a slice of the decadent tiramisu.
Price: Average
9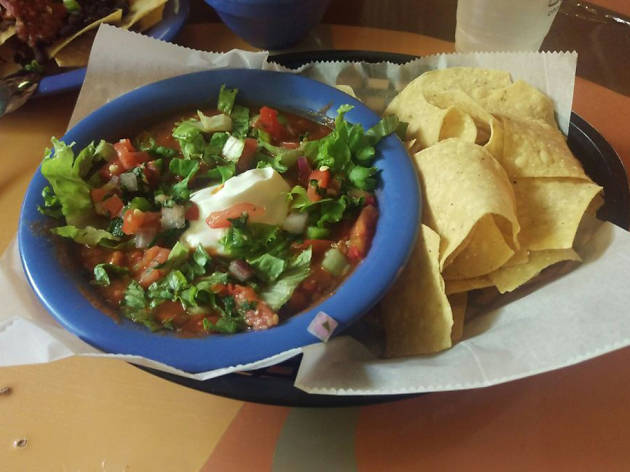 Photograph: Courtesy Yelp/Akshay D.
What is it: Fresh, affordable, relaxed and with plenty of local beer on draft, Mojo is a place that wins over a lot of weekly regulars. Southern fried catfish tacos with fresh jalapeños and pineapple salsa are always a favorite, but feel free to build your own taco, burrito or nachos.
Why go: Visit the St. Elmo location and wander around the rest of the historic district at the foot of Lookout Mountain.
Price: Bargain
10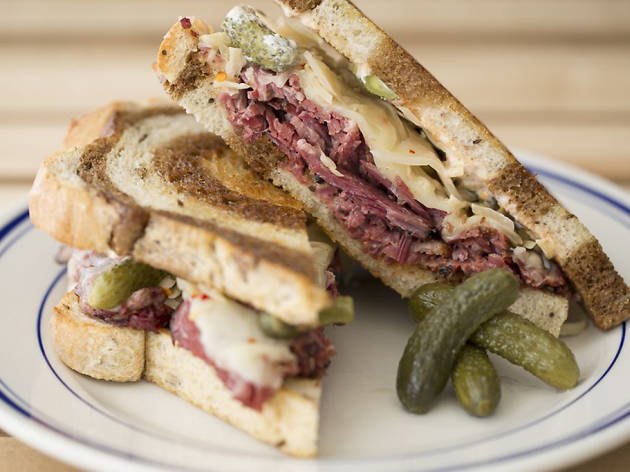 Photograph: Courtesy Yelp/Main Street Meats
What is it: The restaurant and butcher shop serves house-made pork rinds with harissa, sandwiches piled high with fresh sweet pickles and toppings, draft old fashioneds and more.
Why go: You can grab lunch and some key ingredients for dinner at the same spot. After your meal, head to the market and let one of the expert butchers guide you to your ideal cut of protein, then grab some fresh local eggs, artisan cheeses and chocolate chip bacon cookies to recreate the dining experience at home.
Price: Average to pricey
11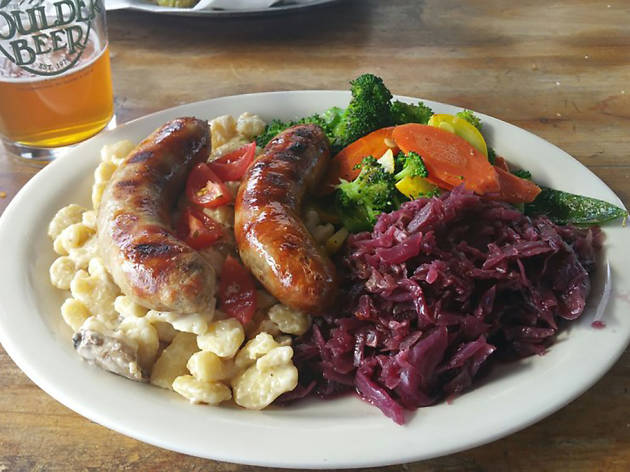 Photograph: Courtesy Yelp/David H.
What is it: Thanks to the Volkswagen plant that opened in 2011, there are quite a few German immigrants living in Chattanooga these days, which means that some exciting new German restaurants have sprouted up. The most beloved is Brewhaus, a casual German-American gastropub where you can usually catch a soccer game on one of the many TVs while enjoying a cold hefeweizen on draft and your choice of schnitzel, spaetzle and brats.
Why go: The real star of the Brewhaus show is the giant German pretzel—with various beer mustards for dipping, natch—that comes complimentary with any visit.
Price: Average
12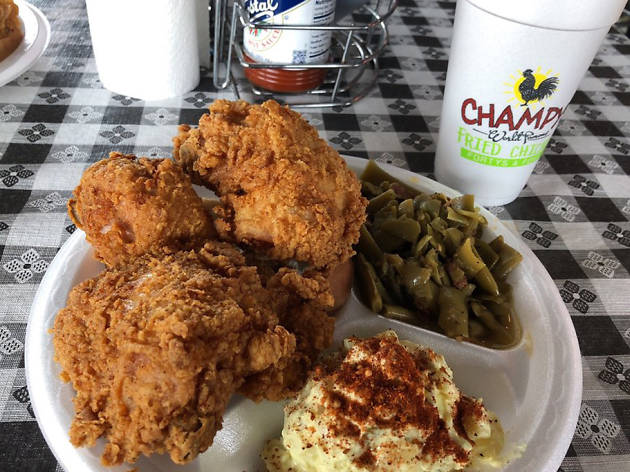 Photograph: Courtesy Yelp/Lashanda W.
Champy's Famous Fried Chicken
What is it: This scrappy Chattanooga fried chicken joint was started with just $7,000 in cash and a 40-year-old family recipe. Find a table in the neon-drenched dining room, grab a 40-ounce beer, choose light or dark meat and some no-nonsense Southern sides (slow-cooked green beans with ham, mashed potatoes with gravy, slaw and more) and get ready for your impending food coma.
Why go: If you're lucky, you might catch a blues band playing live music.
Price: Bargain
13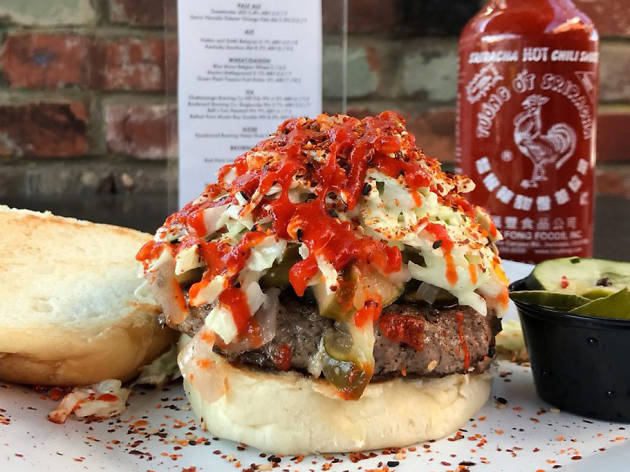 Photograph: Courtesy Yelp/Cara M.
What is it: A great burger spot serving delicious and organic food. Among the menu's standouts, find the fried green tomato burger, the gourmet bacon cheeseburger with Wagyu beef and both vegan and veggie options.
Why go: Given the city's culinary scene's focus on sustainability, it is no surprise that the most popular burger joint in town serves only organic, 100% vegetarian fed, antibiotic- and hormone-free meats in a LEED certified building. Eat well while feeling good about yourself.
Price: Average
14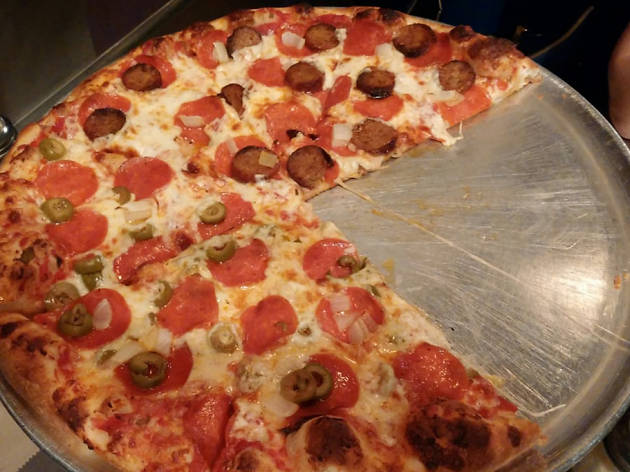 Photograph: Courtesy Yelp/Jase W.
What is it: For New York-style pizzas generously topped with fresh herbs and bubbly cheeses served in a decidedly hippie atmosphere, head to one of five Lupi's locations in Chattanooga.
Why go: Established in 1996, a huge portion of the ingredients used here are sourced from the owners' very own "pizza farm," Flying Turtle Farms, so you know that sustainability and farm-to-table practices are taken seriously.
Price: Bargain
Discover Time Out Market: the best of the city under one roof
More of the best in Chattanooga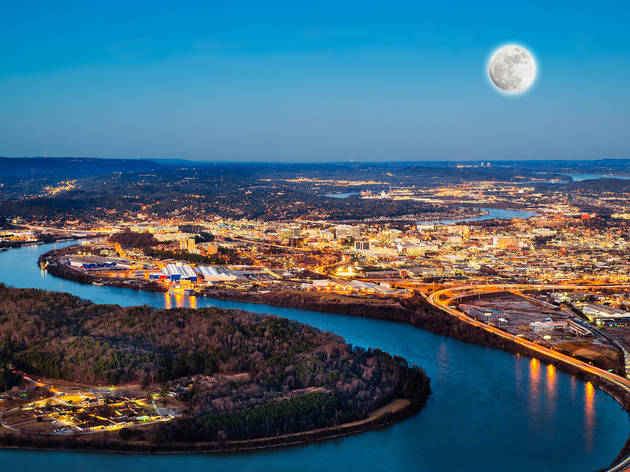 Surrounded by the natural beauty of the Tennessee River and the mountain ridges of the Appalachian foothills, it's no wonder this outdoorsy town is replete with fun things to do for locals and travelers of all stripes